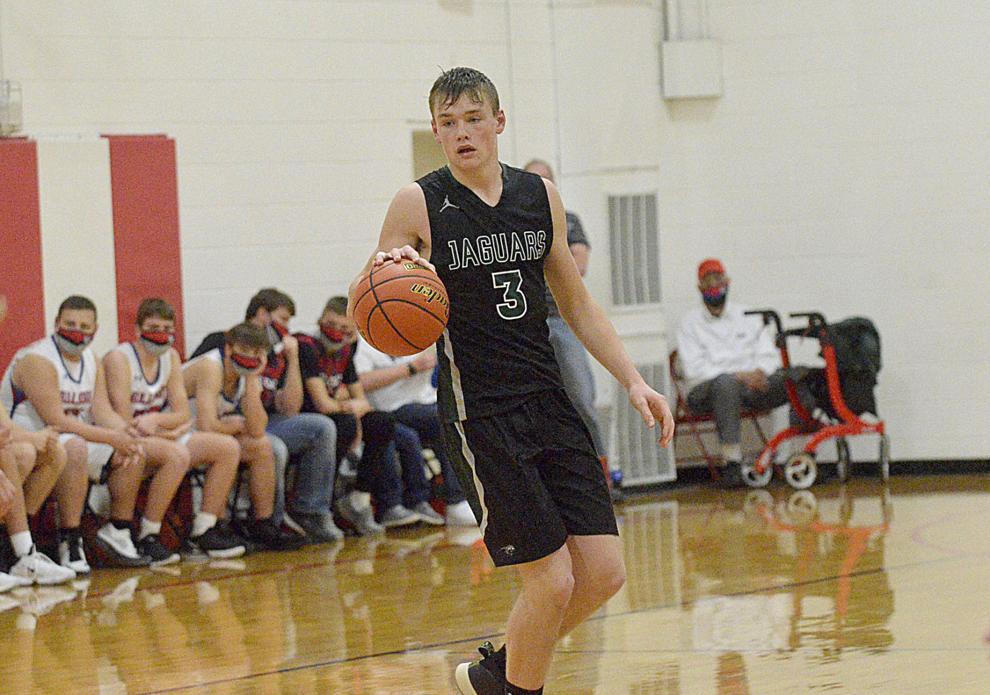 Howells-Dodge junior Blake Sindelar played one of his best games of the season, scoring 17 points and grabbing 12 rebounds to lead the Jaguars to a 61-45 win over D-2 No. 7 Humphrey St. Francis on Friday at home. 
The game was close through the early stages, but Howells-Dodge (8-4) held St. Francis (8-3) to just four points in the second quarter to pull away. 
"It was another good defensive effort for us," head coach Kevin Janata said. "The Flyers did a nice job fighting back into the game, getting it back to two in the second half. But then we were able to hit free throws down the stretch and seal the victory." 
The defensive effort by the Jaguars allowed them to capture a 24-15 lead before halftime. St. Francis cut the lead to two but Howells-Dodge outscored St. Francis 26-15 in the fourth quarter. 
Senior Jacob Tomcak finished with 14 points and six assists, and RJ Bayer scored 12 points. 
Howells-Dodge shot 20 of 35 from inside the arc and made 15 of 31 attempts from the charity stripe.
The victory is the fifth in a row for Howells-Dodge, which hasn't lost a game since Dec. 12. Besides the conference tournament, Howells-Dodge only has one remaining ranked team on its schedule, C-1 No. 8 North Bend Central (7-1) on Feb. 11.  
D-2 No. 1 St. Francis shows dominance against Howells-Dodge
Humphrey St. Francis senior and Husker commit Allison Weidner scored 29 points and recorded eight steals, leading the Flyers to a 75-33 win over Howells-Dodge on Friday. 
The Flyers (11-0) started the game firing on all cylinders, taking a 30-9 lead over the Jags (6-6) in the first quarter. 
"St. Francis played incredible during the first half of the game," head coach Scott Polacek said. "They moved the ball well against us and shot a great percentage. They did everything they needed to control the tempo. That is one solid team, top to bottom."
The Flyers continued to soar in the second and led 57-20 at halftime. HSF shot 7 of 13 from behind the arc and 30 of 55 from the floor. 
Junior Brooklyn Macholan led Howells-Dodge with eight points, junior Jaedyn Ratzlaff scored seven, sophomore Blair Fiala added five, senior Cassie Pieper scored four, senior Riley Pokorny finished with three and juniors Morgan Gall and Abigail Pieper, along with senior Janessa Schmidt, all contributed two. 
The loss snapped a two-game win streak for the Jaguars. Howells-Dodge is now 5-5 against St. Francis since 2014 but has lost the last four games. 
The Howells-Dodge girls played Lutheran High Northeast on Tuesday, and both the boys and girls teams will faceoff against Wisner-Pilger on Friday and Mead on Saturday. 
Peter Huguenin is a sports reporter for the Schuyler Sun. Reach him via email at SCHsports@lee.net