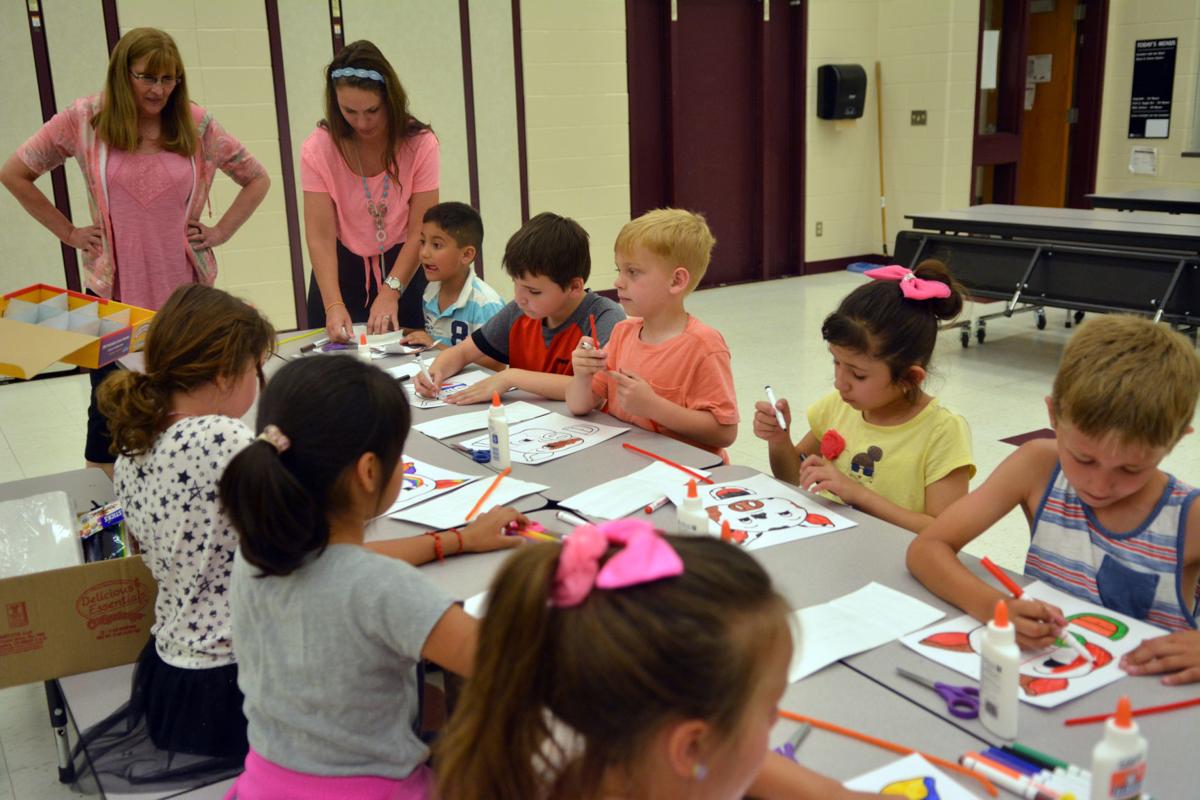 The Community and Family Partnership is funding 500 learning kits to be delivered to Schuyler Community Schools in July through the Sizzling Summer Enrichment Program, said Learning Kit Coordinator April Becker and CFP Coordinator Sarah Papa.
The kits will be focused on reading, writing and math activities and there will be 100 for each grade, first through fifth. They will include materials as well as ideas for parents to help their students learn and become better writers and readers, for example.
"We wanted to just make sure that we're not just giving them materials but that we're actually giving them ideas on how to support learning and basing it on each grade level," Becker noted.
Becker said right now she is just putting the kits together herself.
"A lot of the learning ideas are just things that I have gotten over the years working with the schools," she said. "So it's kind of just more using some of the knowledge I've gained through the schools to just add those ideas that are grade level specific."
She said the kits will be given to the administrators and they will choose how they are handed out.
The kits will include a couple books, a dry erase board, math flashcards and crayons, among other items, for the younger grades. For the older grades, there will items such as books, a composition notebook, crayons and a learning packet.
"I believe that this is very important," Becker said. "Getting any learning opportunities into the hands of students any summer is important but especially this summer where the school year was shortened."
She said these materials and ideas could spark some learning.
"I think that having these materials in their hands, having some of the ideas in their hands I think will really help to just kind of spark their learning, maybe spark some a little bit of writing creativity over the summer, and really give the parents some really short quick activities to help your student continue learning over the summer," she said.
Becker said she has been working on this for a couple weeks, around the same time the Girl Scouts reached out to the United Way and they passed the information along to Becker.
The Girl Scouts Spirit of Nebraska is also planning to work with the Sizzling Summer Enrichment Program to bring Girl Scout activity kits to Schuyler, said Outreach Manager Amy Hansen.
"They're putting together a bunch of kits for that area to hand out in the next few weeks. She offered to take our Girl Scout kits also to Schuyler when she goes," Hansen said. "So I'm working with her. She's putting quite a few kits together."
Hansen said she is working to try to get staff in Columbus to help.
"She's been great to offer to take some of those kits up in the Schuyler area too," she said.
The Sizzling Summer Enrichment Program has already seen some changes this year.
For these learning kits, one of the biggest challenges was just ordering and shipping and deciding at each grade level what materials would be useful, said Becker, who tried to put in items like composition books and dry erase boards that could be used more than once.
She said collaboration is very important.
"I've always collaborated with the Community and Family Partnership and, of course, always worked through the United Way but adding the Girl Scouts into this and being able to help them so they could get some of their activity kits out I think is just a good partnership," Becker said. "We have all of these things to get into the hands of students and if we could all help to make sure that they get where they need to be so that they are useful to people. I think that's a really good thing."
Be the first to know
Get local news delivered to your inbox!