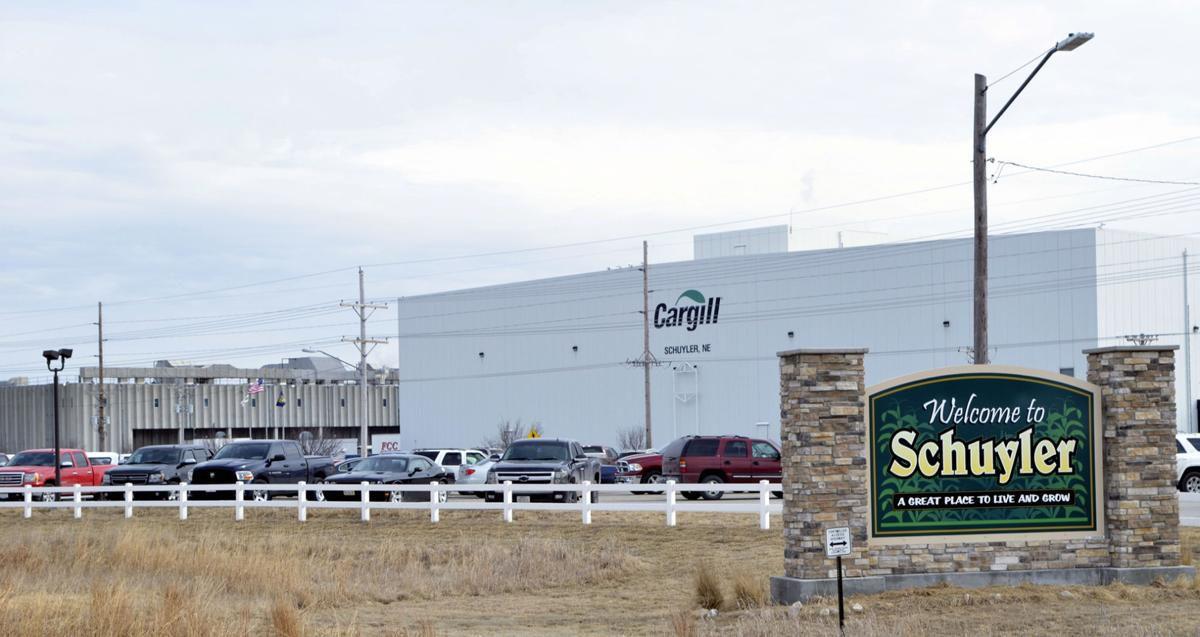 Two area meatpacking plants have temporarily closed their doors amid concerns over the ongoing COVID-19 pandemic.
Officials with Cargill in Schuyler and the Tyson Foods plant in Madison announced the immediate closure of their facilities.
Cargill's Schuyler protein facility began the process to temporarily idle Monday. Officials told the Telegram this was done out of abundance of caution and consistent with its commitment to prioritizing employee health as the local workforce deals with the community-wide impacts of COVID-19.
The company said in a statement that in working in partnership with its union, employees will be paid the 36 hours per week as outlined in its collective agreement.
"This was a difficult decision for our team as we operate an essential service, but our values are guiding our actions. Our focus now is continuing to keep our employees safe and getting our facility back to normal operations as soon as we can," said Jon Nash, protein Cargill Protein – North America lead. "This was a difficult decision for our team who are operating an essential service and are committed to delivering food for local families and access to markets for farmers and ranchers. We care deeply about our employees and their safety. They are everyday heroes on the frontlines of our food system.
"To prevent food waste, we will process nearly 8 million meals-worth of protein currently in our facility as quickly as possible. We greatly appreciate our employees who are working to complete this effort."
Cargill stated it is encouraging employees to be tested, promoting the importance of social distancing and asking anyone who has been sick or been around anyone with COVID-19 to stay home. While operational, Cargill offered up to 80 hours of additional paid leave related to COVID-19.
"While this location is idled and we adapt to operating during a pandemic, our work doesn't stop. Cargill provides an essential service to the world—providing the ingredients, feed and food that nourishes people and animals," Nash said. "We are working with farmers and ranchers, our customers and our employees to supply food in this time of crisis and keep markets moving."
The company also said it has been working closely with local departments of health and medical officials to ensure appropriate prevention, testing, cleaning and quarantine protocols are followed within its facilities.
"For several weeks, we have taken extra steps to focus on safety and remain at normal operations – including temporary wage increases and bonuses for our employees who are on the frontlines of the food system," Cargill stated in provided comments. "Over the past two months, we have also implemented additional safety measures like temperature testing, enhanced cleaning and sanitizing, face coverings, screening between employee stations, prohibiting visitors, adopting social distancing practices where possible and offering staggered breaks and shift flexibility. These measures will remain in place when we resume full operation."
Cargill is tentatively working toward the week of May 18 to resume operation, company officials noted.
The Madison Tyson Foods plant's closure comes after it had been announced the facility would work at reduced capacity on Friday and Saturday while testing its workforce.
"The health and safety of our team members is our top priority, and we take this responsibility extremely seriously. We are working with a third-party medical contractor to test all team members who work at our Madison, Nebraska, plant and have suspended all operations until test results are available," said Tyson Foods Communication Manager Morgan Watchous. "While the plant is idle, we are performing a deep clean and sanitization of the facility and are continuing to work closely with the Nebraska National Guard, state and county health officials to ensure our efforts meet or exceed state and national guidelines."
Watchous also noted the company had put in a host of safeguards at all its facilities to protect team members, including: taking employees' temperatures and installing an infrared camera to detect high temperatures; conducting wellness checks and screening workers for symptoms such as coughing and shortness of breath; supplying facial coverings to every team member and requiring their use; providing additional hand sanitizer stations; implementing social distancing measures; designating monitors at each facility to help enforce social distancing; relaxing its attendance policy to encourage workers to stay at home when they're sick and eliminating the waiting period for eligibility on short-term disability benefits so workers can receive pay while they're sick with the flu or COVID-19.
"Education is an important part of our efforts and we're doing our best to ensure our team members understand risk factors so that they can stay safe at work and at home," the spokesperson said.
Concerned about COVID-19?
Sign up now to get the most recent coronavirus headlines and other important local and national news sent to your email inbox daily.