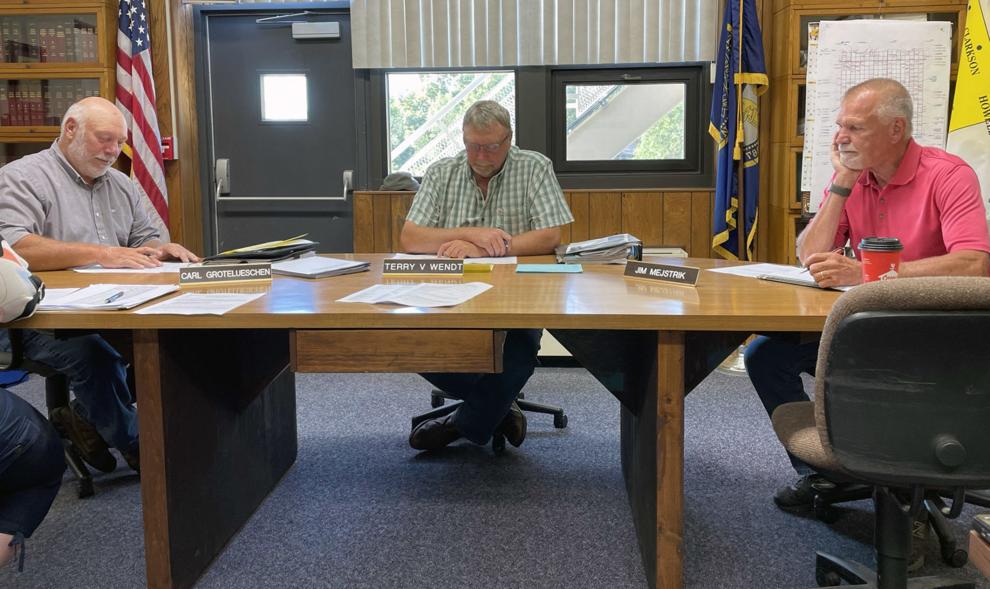 The debate surrounding President Joe Biden's 30 by 30 initiative during last week's Colfax County Board meeting ultimately led to one conclusion: Residents should educate themselves on the matter.
District 1 Commissioner Terry Wendt noted during the board's Aug. 24 meeting that he attended Gov. Pete Ricketts' town hall held Aug. 19 in David City opposing 30 by 30. The goal aims to conserve 30% of U.S. land and water by 2030.
Ricketts has said he is against 30 by 30 because it's vague and he is concerned how property owners would not have a say in their land after entering into a permanent easement.
Wendt added he would like to see Colfax County pass a resolution supporting Ricketts' executive order, which outlines steps to combat conservation easement efforts. For example, zoned counties would have the authority to review conservation easements and approve or deny them based on the county's comprehensive land use plan.
Many of Nebraska's 93 counties have passed similar resolutions, including nearby Butler County.
"A resolution isn't worth the paper it's printed on but to do something effectively, you might have to change some zoning rules and regulations," District 2 Commissioner Carl Grotelueschen said.
Unlike Butler and Platte counties, which do not have zoning, Colfax County does have a comprehensive land use plan, meaning commissioners could theoretically approve or deny conservation easements.
Grotelueschen expressed concern over the county seemingly telling its residents what they can or can't do with their property.
"Is it really our position to tell people that they can't put their property in something like this? They refer to it as a 'land grab'; it's voluntary. Nobody's going to knock on your door and say 'we're going to take your farm,'" Grotelueschen said.
"I think Gov. Ricketts is kind of jumping to conclusions. The federal government hasn't really put any information out. If you wanted to sign up today, you can't do it. There's nothing out there."
Colfax County Attorney Denise Kracl expressed similar comments.
"As a government, the one thing government can't do is tell people how they can and can't use their land. You just can't do that," Kracl said. "As long as that's a resolution, that's one thing but you have to be really careful because you can't tell someone what to do with their land. That's what the constitution is all about, protecting citizens from government. And you are government."
Wendt said residents wishing to participate in 30 by 30 need to be "cognizant of the fine print that's going to be on that contract."
Grotelueschen said his biggest concern with 30 by 30 is Colfax County potentially losing its source of revenue – property taxes.
"To me, the biggest downfall of this whole thing is, the only source of revenue that counties have is property tax," he said. "If you take a parcel of land and you put a permanent conservation easement on it, what's that piece of property going to be valued at? If somebody wants to sell it, they can still sell it but the easement stays on it, forever."
Additionally, Grotelueschen said that those who feel strongly about 30 by 30 should do research and come up with proposals for their county governments.
"The feeling that I'm getting is, the point of the resolution would be to educate people that they need to educate themselves," Kracl said at the end of the debate. "That this is out there, this is a possibility and they need to do their homework, and you're not really taking a position any one way or the other what they should do with their own land."
Kracl indicated she would look at what similar resolutions have been passed by other counties while Wendt noted he was going to get in contact with residents who are leading local oppositions against 30 by 30.
In other news, the Colfax County Board of Commissioners approved increasing the maximum tax request amount that political subdivisions can request from .0002475 to .00028488. Grotelueschen abstained from voting because he serves on the Schuyler Rural Fire District board.
Based on the taxes of property valued at $100,000, this would reflect a 13-cent increase. It also increases the county's tax request by $41,337.15.
The county's budget for the new fiscal year, which started July 1, will remain in line with the 2020-21 budget. Currently, the 2021-20 budget has $100,000 removed from the jail line item due to a reduction in the number of prisoners. Also included in the budget is a 5% salary increase for county employees, though that doesn't guarantee they will get the increase; that will be decided on in December.
Colfax County has also received $1,040,049 in American Rescue Plan dollars and is expected to receive that same amount at a later date. The funds have not yet been earmarked or spent.
The commissioners set a budget hearing for 8:15 a.m. on Sept. 14.