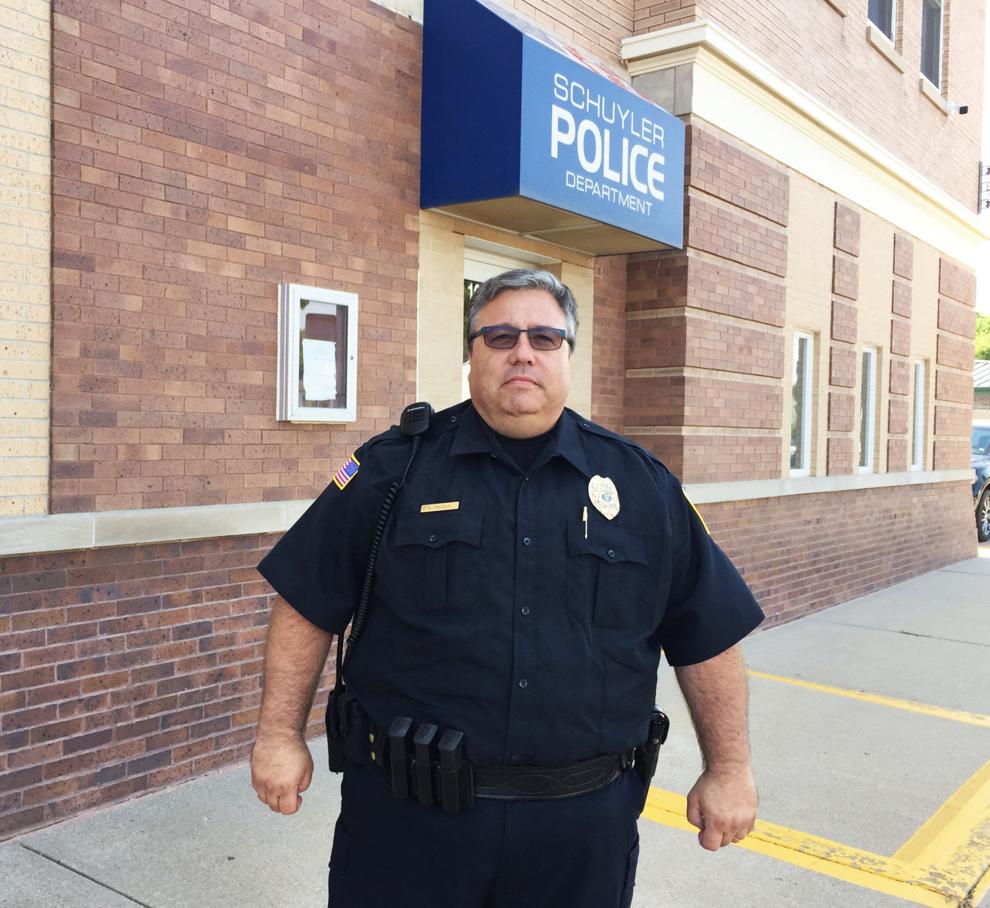 The outcome of Derek Chauvin's trial has left a lasting impact throughout the United States, including the small community of Schuyler.
On April 20, Chauvin, a former Minneapolis police officer, was found guilty on three charges: Second-degree murder, third-degree murder and second degree manslaughter, according to the Associated Press. George Floyd died May 25, 2020, after being placed on the ground and restrained by Chauvin during an arrest, which had been captured on camera then shared. The AP reported that Chauvin had his knee on or close to Floyd's neck for an estimated 9-and-a-half minutes.
Floyd's death resulted in demonstrations and some violence in Minneapolis and throughout the nation, according to AP.
"I do think that it's a catalyst that's going to forever change us," Schuyler Police Chief Robert Farber said.
Farber noted the case "saddened" him and said he believes most law enforcement officers to be appalled by the video of Floyd's death.
"I was extremely pleased that they had a trial, that the process worked, that justice was served and that it came to a conclusion," he said.
Colfax County Sheriff Shawn Messerlie declined to comment as of April 26 on the subject.
Overall, this case brings up the importance of police training and officers following their department's policies and procedures, as well as staying up to date on current trainings, Farber said.
"They really have to understand that other people … their worth, it matters. And I think it's (going to) impact us for a long time…" Farber said. "They can't just say, 'Well, I was I was doing what I was supposed to do' type of thing; they really have to be able to articulate, justify, that they're following their training, they're following their procedures. And that they have to do everything in their power to try to prevent things from that."
Another important aspect is a police officer stepping up when another officer, even a colleague, is not following department policy or is engaging in illegal activity.
"I think on the officer level, the message was getting missed or there was some confusion there, in my opinion," Farber added. "And I think that this incident, for sure, has taken everybody back and realizing we really need to hammer away at those points. It is your obligation to step up and intervene immediately."
On the other hand, there can be a difference in what law enforcement is trained to do and what the public may believe is the necessary form of action, he noted.
"What necessarily is the public going to think is reasonable? What can we do to bridge those two gaps?" Farber said. "I think that's the big challenge facing law enforcement - is reasonable behavior, because when you get snippets of an event … (and that information) can be pulled out so quickly. It's very difficult, because that information is out there (but) it may not be all the information."
Farber noted some policies at the Schuyler Police Department have changed, beginning when he took over as chief in July 2019.
The major of these updates is the department's use of force policy, which now mandates that officers intervene when seeing another officer violating policy or involved in illegal activity, and online training regarding use of force and defusing a potentially deadly situation.
Most notably, Farber said, the use of chokeholds and other restraint strategies, such as the bar arm, are not allowed. The bar arm is a headlock in which the other person's arm goes across the front of the individual's neck.
"Unless the officer is in a life-threatening situation, that's the last resort and they have no other option," he added. "But, under no circumstances, will they use a bar arm or any type of chokehold on an individual to take them into custody."
At the Columbus Police Department in neighboring Platte County, use of force and other related policies have been updated as well, according to Columbus Police Chief Charles Sherer.
"We've changed our policies to include cultural bias training and with use of force, chokeholds are only going to be used in a lethal force situation," Sherer said, in an April 20 interview. "We've also instituted a duty to intervene policy."
The Schuyler Police Department's Taser usage policy has been updated as well; it requires documentation whenever an officer's stun gun is drawn, even if the stun gun is taken out of its holster for display purposes. This can help serve as an early warning if any issues are coming up with an officer, Farber said.
"If (there are) officers that maybe have high numbers of incidences with use of force, or using a Taser, or any type of accidents, we're looking at things of 'OK, why is this happening? Why is 'Officer A' potentially having issues?' Even if these issues are all being reviewed and are OK, why is it that they're having so many? What can we do to prevent these things from happening?'" Farber said.
There are challenges the Schuyler Police Department faces, such as having difficulty in increasing diversity within the department.
A good chunk of Schuyler is Hispanic and, according to data available from the U.S. Census, a 2019 American Community Survey showed that 1,916 residents identified as Hispanic out of the total 6,284 individuals in the survey.
"As for recruiting minorities, women, people (who are) transgender, we're always trying to recruit the most highly qualified, educated, the best workforce we can," Farber said.
But, he noted, the difficulty lies in the ever-decreasing pool of applicants the department receives for police officer positions. In the past, he added, a law enforcement agency may get up to 100 applicants from which to hire. These days, though, it's much lower.
Multiple languages are spoken in the Schuyler community, which can cause language barriers, and some residents can hold negativity toward law enforcement, Farber said. Police officers, both in Schuyler and nationally, need to work toward bettering communication and relationships with the communities they serve, he added.
"It's (officers') obligation to ensure they have the public's trust and it's shaken, it's definitely shaken right now," Farber said. "And we need to do a better job. We've got to do everything we can to regain that trust. And that's the message I put out there."