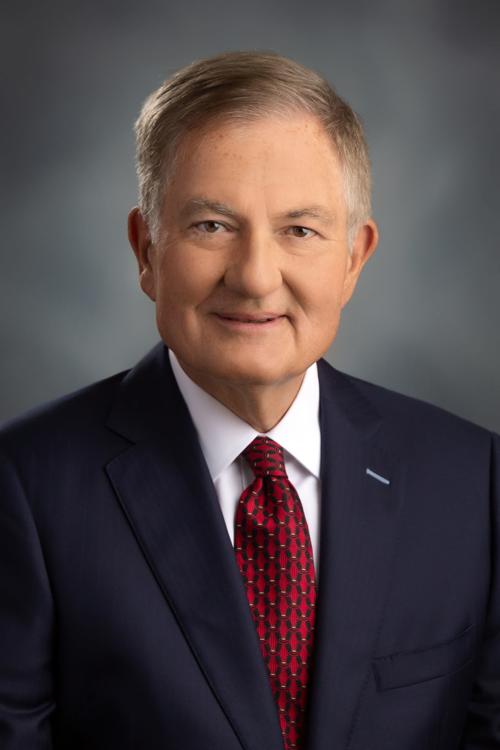 A longtime Schuyler businessman who has spent decades helping the community in various roles is officially calling it a career this summer.
Lyle Dostal, of Castlerock Financial Management Group, has announced his plans to retire from his role as a Certified Financial Planner ™ Practitioner and partner at the downtown Schuyler firm, 1011 B St. The Howells native, who will be 71 this year, will continue living full-time in Omaha with his wife, Elizabeth Schmidt Dostal.
"We've got a lot of ties to Schuyler," he said, noting his wife is actually a Schuyler native. "Although I'm retiring, people can still track me down through the business. I won't be a stranger."
Dostal has lived in Omaha, where the firm has another office, since 1989. But, Schuyler and Colfax County have always had his heart. Throughout the years, he served on the Schuyler City Council and the Planning and Zoning Commission, among other things. He was also active in a lot of clubs, including local Rotary and Sertoma chapters. That's why, in a way, it will be home no matter what.
"Through all of those interactions, I met a lot of fabulous people," Dostal said. "And I continued to have those great relationships throughout all of those years."
Dostal has always prided himself on hard work. He grew up on a family farm near Howells, where his work ethic developed at a young age, and eventually graduated from Howells High School in 1968. He did serve his country as a commissioned officer in the U.S. Army Reserve, though eventually went on to obtain an MBA from the University of Nebraska – Kearney, and a B.A. from the University of Nebraska – Lincoln.
Dostal and his wife have two grown sons, Jon (Carrie) and Nick (Leslie). Nick will continue to run Castlerock's Schuyler and Omaha locations. He noted he had mixed feelings about his father stepping away from their business.
"His retirement is bittersweet," Nick said. "I've been fortunate to get to work with my father. My dad has been a mentor, he has been with me every step of the way … I am very fortunate and blessed. Coming from Howells, his heritage is to work hard and take care of others … He has always been willing to lend a hand and help others."
Of course, they'll still see plenty of each other. Dostal said when he isn't visiting Schuyler, he will likely be spending plenty of time on the links with his grandson and Nick's son, 9-year-old Jack, who he proudly claims to be "my best bud." The fun out on the course will give him more time to bond with his grandson and work on his game a little bit.
"I don't embarrass myself," he said of his skill.
Those wanting to wish Dostal well are still in luck. Castlerock is hosting an open house in his honor from 1-4 p.m. June 26 at the fairly new Library Event Center in Schuyler.
"That's the beauty of slowly retiring," Dostal said of the planned gathering. "I have always appreciated Schuyler and Colfax County for embracing me and my family."
"Our family has been absolutely blessed because of Schuyler," he said, noting his hope people will come out to celebrate his dad's retirement. "There is so much we owe to it, so we're happy to be part of it."
Securities offered through J.W. Cole Financial, Inc. (JWC) Member FINRA/SIPC. Advisory services offered through J.W. Cole Advisors, Inc. (JWCA). Castlerock Financial Management Group and JWC/JWCA are unaffiliated entities.
Be the first to know
Get local news delivered to your inbox!