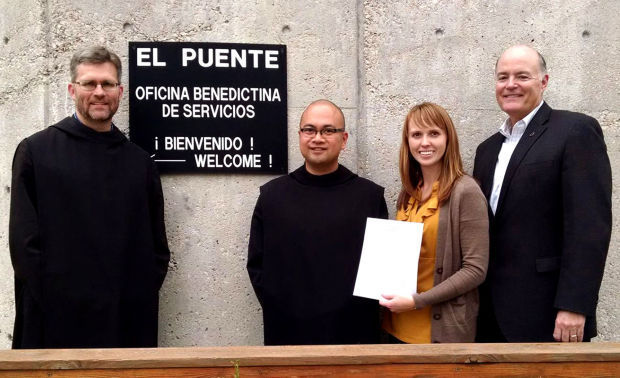 Christ the King Priory has provided immigration services to hundreds of people in the area for almost a decade.
The priory is hoping a new collaboration with Catholic Charities of the Archdiocese of Omaha will make those services even better.
In January, El Puente Immigration Legal Services will resume operation with the help of Catholic Charities. Brother Damian Cayetano, the new coordinator for El Puente, said the collaboration is a response to the needs of the community.
"The need for quality, low-cost or no-cost legal immigration services was a service we discerned was very important for our community," Cayetano said.
Jossy Rogers, program director for Catholic Charities of the Archdiocese of Omaha Immigration Legal Assistance Services, said goals have already been set for the collaboration to accomplish.
The first is to serve individuals with high-quality, direct legal assistance services and consultation. To do this, Catholic Charities will help position El Puente as the source for reliable information and immigration legal assistance for northeast Nebraska.
Education programs will also be provided, informing and advocating for the immigrant community and building bridges and understanding within the non-immigrant community. El Puente will provide two naturalization workshops annually, as well.
All of the services provided will come from a Catholic perspective, Cayetano said.
"As a Catholic ministry, it is important for us to communicate what the Catholic Church teaches about migration and refugee issues," he said.
When the office reopens, Cayetano said services will be rolled out slowly. He said it is important to begin with simple applications, like naturalization services, renewal of permanent residences, creating travel documents and filing deferred action for childhood arrival documents.
"Eventually we will expand the scope of our services to include more complicated issues and matters," he said.
For the past two years, Cayetano said he has been training to learn more about the job, going to workshops and conferences and studying. It was during a conference when Cayetano met three women with Catholic Charities.
"We started tossing around ideas on how to collaborate," he said. "The idea of El Puente becoming a satellite office of Catholic Charities is where the conversation began."
He realized balancing the service with his other responsibilities was going to be a challenge.
Cayetano started talking to Rogers, who had a desire to expand the programs offered by the Archdiocese of Omaha to rural areas.
In October, an agreement was signed between the two organizations.
"Catholic Charities is a very trusted name," Cayetano said. "They have a long and rich history of serving individuals and families in need."
He said Catholic Charities will provide the organizational and legal expertise needed to effectively continue the program. The organization also has the experience to deal with complicated matters, like deportation issues, El Puente may not be equipped to handle.
Other resources are also available to help with a variety of issues beyond what's offered by the two organizations.
"We have really close contact with two immigration law agencies in Columbus," Cayetano said. "We hope to continue collaborating with various organizations."
When El Puente started in 2005, Cayetano said the need for immigration services was strong.
At its height, El Puente handled 200 to 300 cases a year, he said.
Be the first to know
Get local news delivered to your inbox!