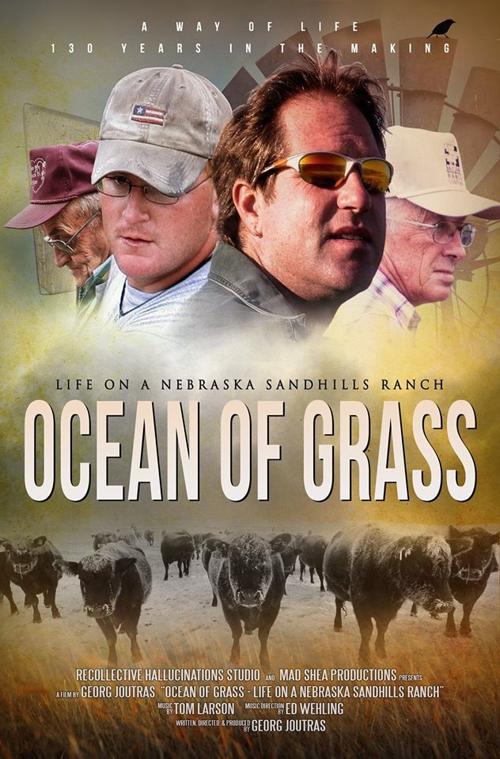 Georg Joutras was not sure how his film would be received. But when "Ocean of Grass: Life on a Nebraska Sandhills Ranch" debuted at the Kansas City Film Festival in 2018 to a sold-out showing, he knew he had something special.
For the past year, he's been working to distribute the documentary at theaters across Nebraska. Now, it's coming to Colfax County.
The Colfax Theater, 314 E. 11th St. in Schuyler, will be screening the film from April 12-14. Admission is $3 and showtimes are 7 p.m. on Friday and Saturday and 2 p.m. on Sunday. For Saturday's screening, Joutras will be present for a Q-&-A session.
"The reaction has been way past anything I would assume to happen," Joutras said. "I knew the film was good and it had a lot of heart and emotion, and people reacted to it positively, but selling out our first show was amazing."
Joutras grew up in Ogallala on the edge of Sandhills, a region encompassing a quarter of Nebraska. It's life on this dune and grass filled prairie that the photographer captures in his debut documentary. The movie follows a year in the life of the McGinn family cattle ranch, residing in northeast Custer County between Dunning and Anselmo. Audiences members are given a window into the lives of the family and their neighbors as they work through the four seasons.
"It's really a film about the feel of the place and the people and the landscape and how they deal with everyday life," Joutras said. "And it shows the goodness in the people out in this part of the country, which you don't find everywhere."
Joutras first met rancher and painter Laron McGinn through mutual friends in Lincoln back in 2003. McGinn eventually invited him to visit his family's 130-year-old ranch. A friendship soon sparked, which resulted in Joutras working with the McGinn family on a photography book called "A Way of Life," published in 2007.
Wanting to do more, Joutras started work on a documentary film in 2014 to capture the rancher's way of life. About 15 interviews are used to narrate the lives of the ranchers who are filmed over a two-year period. The entire project took four years to finish, with the post-production process alone (editing, color grading, etc.) taking 22 months to complete. In the end, Joutras cut down more than 100 hours worth of footage into an 84-minute film.
"When I started doing the editing, the cream rose to the top in terms of the scenes that really needed to be in the film," Joutras said. "It really kind of made itself. People ask me how I did this scene or that scene or how I got it all worked together as it did. And honestly, I have very little memory of doing it, it's like you're in the zone… it just kind of happened."
Joutras said he edited by instinct, with his goal of making the final product an artistic piece visually, with every shot intended to look as good and as authentic as possible. The film's musical score written by University of Nebraska-Lincoln assistant professor Tom Larson adds to the film's intensity in a story that Jourtas said will surprise people.
As the film continues to be screened across the state, Joutras is already thinking about his next project. His current idea is to do a documentary on rodeo culture in Nebraska, but in the end, it's all about finding the right inspiration.
"I've got some ideas. I want to keep it something in the Midwest," Joutras said. "Obviously, I don't want to make the same film over, even though I've had a lot of people ask me to make sequel two and sequel three and just keep going with different families, but I want to branch out a little bit more … I think when the time's right, something will make itself known to me and it'll be like 'yep, that's what I need to do.'"