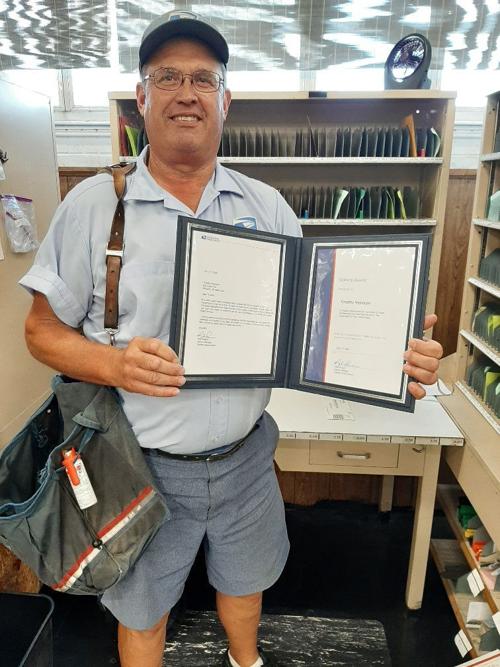 Longtime Schuyler resident Tim Heavican is enjoying his first official week of retirement after he stepped away from being a postal worker in Columbus.
Heavican, who delivered mail for more than three decades, once got a good laugh when the police were called on his supervisor.
Every year, the supervisors at the U.S. Postal Service follow mail carriers on the route and timed them. One year, his supervisor, Eric Korus, was following him in a brand new truck that didn't yet have license plates. Korus said a woman on the route saw the truck without plates following the post office vehicle and called the police.
"One of the people on my route must have seen him following me and thought he was suspicious," Heavican said. "I do remember that. That was good."
It's all in good fun. Both laughed about it on Friday.
It was a beautiful day, Heavican said, reached by phone on his last route. It hadn't hit him yet.
What he didn't know was he was driving toward 31st Street, where a group in the cul-de-sac had put together a poster celebrating Heavican on his retirement and Teri and Ed Kinzer had made a card and banana bread.
The Kinzers are part of Heavican's regulars, people who he visited with when he was delivering mail.
"I kind of know a lot of people on my route. There's some that just want to stop and visit for a few minutes," Heavican said. "You come to enjoy talking to them over the years."
Heavican has had the same route for almost three decades, and over that time there have been more changes than just the advent of Amazon and automatic mail sorting.
"One family, they moved in (as) newlyweds and now they've got about five kids and the oldest is in high school now," Heavican said. "It's kind of neat seeing families growing up and their kids are off to college when you can remember them being just a little two-year-old running around. That's kind of neat when I've been on the same route for the last 27 years."
He also said he doesn't see kids outside as much.
Ed Kinzer said he was a bit sad when he first found out his postman was retiring because it meant they wouldn't see their friend on a regular basis.
"He's just been a great postman," Ed said. "It's an accumulation of his positive attitude on the job all the time. His consistency with his smile and the way he goes about doing his job. Sometimes a person's character is revealed by the way they treat people on a regular basis."
Korus said he has always been dependable and gets along with everyone.
"It's sad to see a good employee go," Korus said. "But at the same time, he's earned it. It's his time to retire and enjoy life now."
There have been some wild moments along the way.
One time, Heavican called Korus and told him a man with Kansas license plates was asking him about a man in a house on his route. Korus said the man with Kansas plates was asking personal questions about the man in the house, like where he worked.
"So I went out there and turns out, it was a private investigator from Kansas," Korus said. "I asked him not to talk to employees anymore and if he had any questions he needed to talk to me and he basically told me I had no business being there talking to him."
Korus said the man was parked in front of a fire hydrant and Korus told the man to move his car or he would call the police for illegal parking.
At that point it turned kind of nasty, he added.
"I left and the cop showed up and he actually wound up getting ticketed for having a handgun without a license," Korus said.
For now, Heavican's life will be more focused on his six grandchildren than on any wild mail route adventures. Heavican, who has three adult children, has a seventh grandchild on the way.
"We enjoy them. We like to take vacations together. They're pretty young yet. I think the oldest one is 12, and then down (to) like 8- and 9- and 2-years-old," Heavican said. "They're all young and they enjoy swimming and stuff like that. We were just down in Branson with the grandkids and had a good time down there."
Be the first to know
Get local news delivered to your inbox!