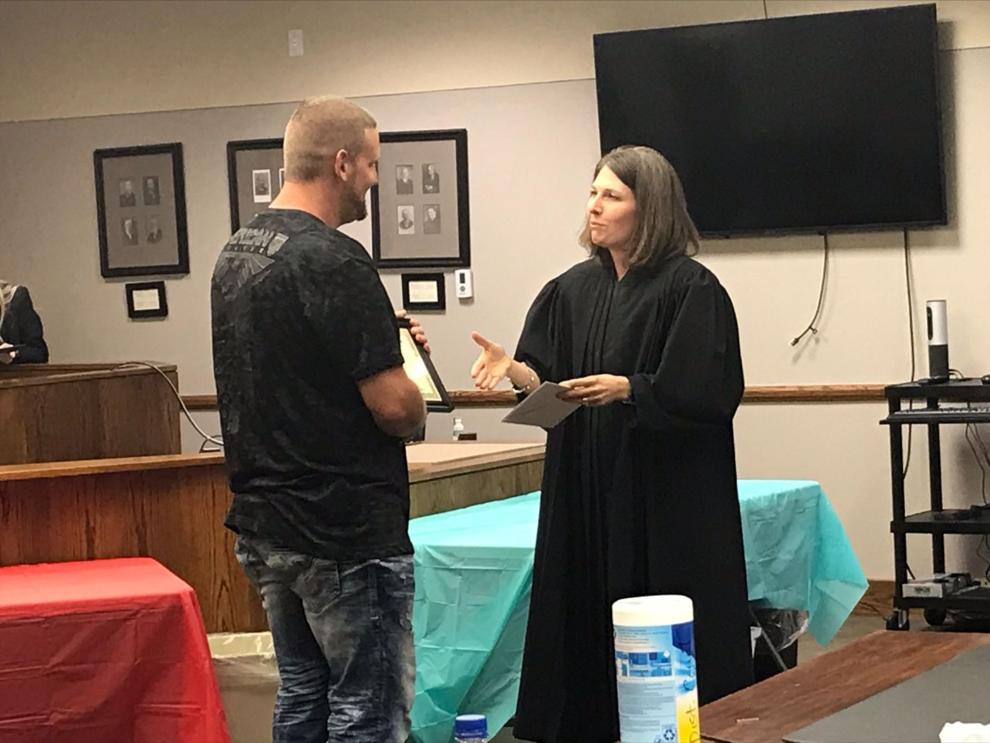 Two years ago former Schuyler resident Daniel Johnson was in the midst of a methamphetamine addiction and facing serious charges following a bad night in a hotel room. These days, Johnson's life is going the best it ever has for him.
Six months clean and sober with a steady job and relationships on the mend, Johnson credits the positive direction his life has taken to Problem-Solving Court, from which he graduated on Aug. 31. Also known as drug court, the program is an alternate route through the justice system for nonviolent drug-related offenders.
Born in Kearney, Johnson lived in Schuyler until the age of 7 when he moved to and grew up in Columbus. Now 33-years-old, Johnson started smoking marijuana and drinking alcohol when he was just a pre-teen.
"I had stayed out one night and my parents were worried about me, they didn't really know where I was at, so they called the cops," Johnson said. "It all started with a truancy ticket back when I was 13-years-old."
Johnson was sentenced to six months of probation but those six months turned into four years because he continued breaking the law. He said he started selling methamphetamines to make money during high school, but it wasn't long until he tried it.
"I didn't like it at first," Johnson said. "But then I kind of realized it made me feel better, I didn't have to deal with things; it would numb things. I struggled with meth addiction since I was about 17 years old."
Johnson graduated from high school in 2005 and finally made it through probation, but things got worse, he noted.
"I started breaking into a bunch of places in Columbus," Johnson said. "At 19-years-old, I got sentenced to five to eight years in prison for burglary. I was running around stealing stuff to try and support my habit."
He completed a substance abuse program in prison and, once he was released on parole in November 2011, did better for a while. Johnson said he attended Central Community College-Columbus for welding and stayed away from drugs and alcohol.
But a friend of his had been smoking and drinking while on parole and Johnson said he thought he could handle it. He soon found himself trapped in the cycle of addiction, which led to him doing meth again.
A series of ups and downs including marriage, sobriety, having a child but then losing custody of the child, falling into homelessness, jail for seven months, a second marriage and dealing with a strained relationship culminated to one night in August 2019 that changed the trajectory of his life.
At the time, Johnson checked into a hotel room in Schuyler to eat and rest before reporting to probation. But that night also included meth, meth that, unbeknown to him, was an intense mix of hallucinogens. Johnson destroyed his hotel room and seriously injured himself by jumping from a bathroom window.
Johnson said police officers later told him what happened because he couldn't remember it. The next thing he knew, Johnson noted, was waking up in a hospital in Omaha.
"They (hospital staff) didn't even know my name because I was so messed up," Johnson said. "My wife had to identify me."
After release from the hospital, Johnson completed a rehabilitation program in Columbus, during which he was charged with multiple offenses including assault of a peace officer, obstruction and destruction of property.
Johnson said he received a call from Colfax County Attorney Denise Kracl who told him he'd been selected for Problem-Solving Court. Through his battle with addiction, waking up in a hospital bed is what put his addiction into perspective, he added.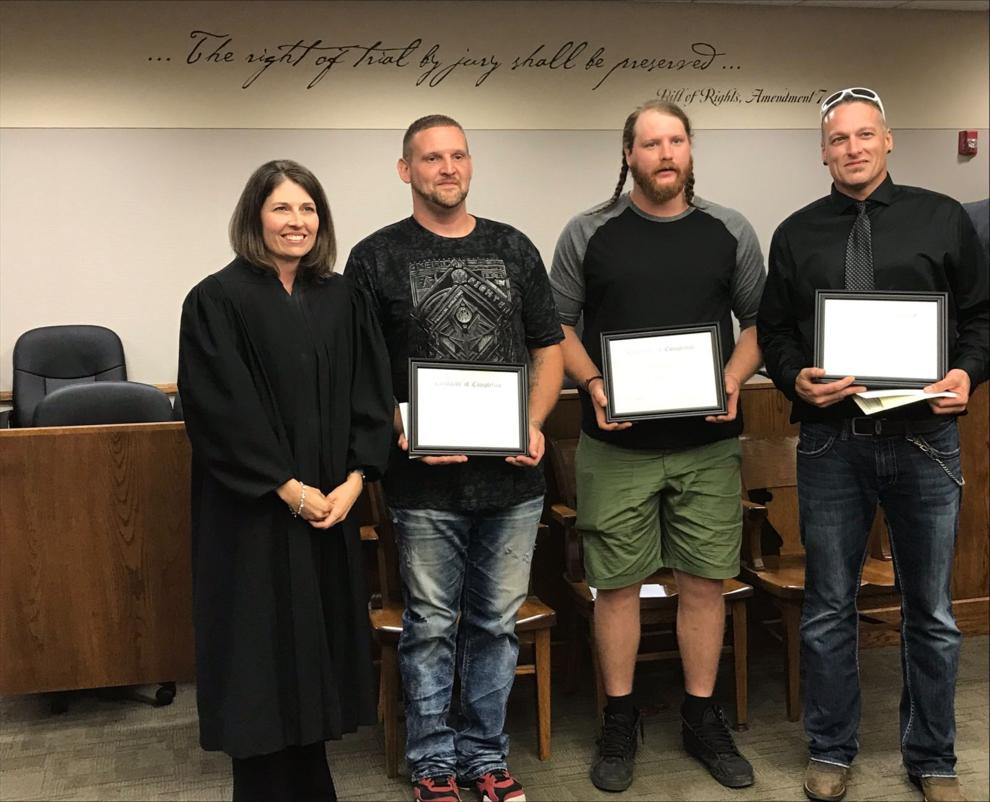 "…I thought I could control things," Johnson said. "I thought, 'oh, I could use a little bit here. It's going to take away what I'm feeling' or 'it's going to make me feel better.' Waking up in the hospital really put into perspective that this is going to kill me."
At first, Johnson said, he was skeptical of the program but ended up accepting the offer. And he said he's glad he did.
"It was a blessing that she called me," Johnson said. "I'm so grateful she did when she did. And that everybody gave me the help that I needed."
According to the Nebraska Supreme Court's website, the purpose of a Problem-Solving Court is to reduce recidivism by utilizing early intervention, appropriate treatment, supervision and consistent judicial oversight. Those who complete Problem-Solving Court can have their original charges dismissed, but those who fail are sentenced on the original charge.
Johnson said he frequently received visits from the officers in the program and that they helped him talk through his problems and come up with a solution. He said he's learned how to secure employment, how to cope with his emotions, holding himself and others accountable and giving back to the community.
Learning coping skills has been especially beneficial. Not having those strategies is what led him to fail at maintaining his sobriety before, he added. 
Johnson is one of three men who became the first to graduate from the program. The other two graduates had been facing charges out of Saunders County.
"He is the first person we've put into the Problem-Solving Court and he will successfully complete (it)," Kracl said during an Aug. 24 Colfax County Board meeting.
The Fifth Judicial District Problem-Solving Court expanded to Colfax, Butler and Saunders counties not that long ago.
"Here in our county, we're … just hitting on 18 months (of Problem-Solving Court). All of 2020 and up to August of 2021," Kracl said.
Johnson now resides in Norfolk. He said he has been sober for six months and free of meth and marijuana for two years.
"It's an impressive feat," Kracl said. "He has a good job, he's working at the grocery store warehouse up in Norfolk. Things are going well for him. We're really excited."
Being the first Problem-Solving Court graduate for Colfax County is a good feeling, Johnson noted.
"It's kind of a proud moment because … just showing that everybody deserves a second chance and, despite how long their record is, everybody has the ability to change," he said. "It definitely made me proud."
Johnson said he still has some things to learn, such as fiscal responsibility. And he's not completely done with Problem-Solving Court as he's elected to continue with a mentorship program there.
"I'm really grateful for the things I have today," Johnson said. "The friends I have in recovery [and] getting back the relationship I have with my family; because I've hurt them over and over and over again but they've shown me nothing but unconditional love through all of this. It's just such a blessing."