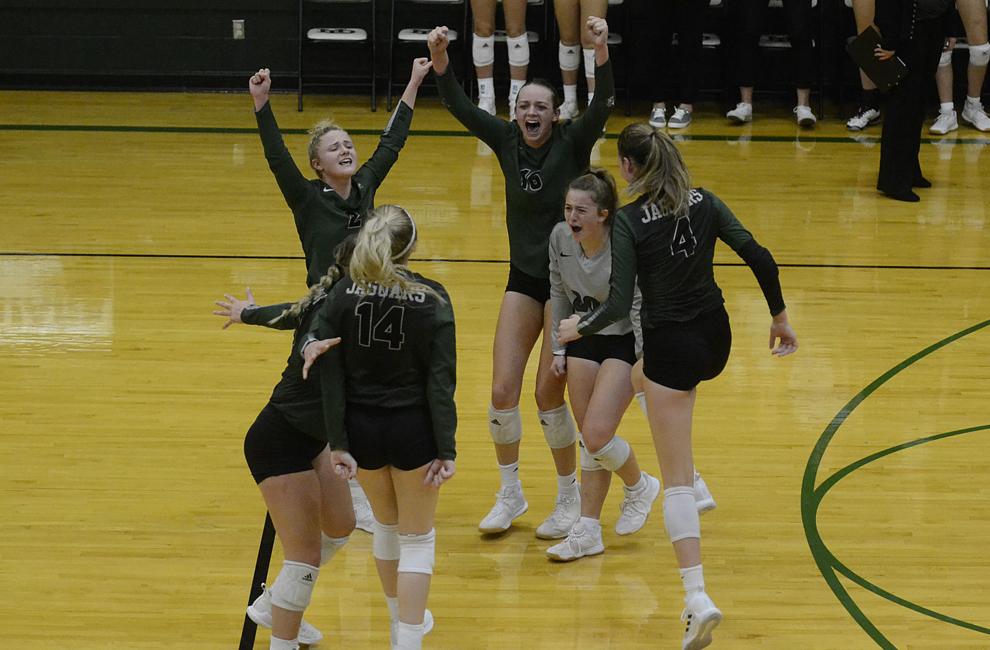 Howells-Dodge earned runner-up Saturday to cap the East Husker Conference tournament at West Point-Beemer.
The Jaguars were the No. 1 seed and defeated Wisner-Pilger in the semifinals to advance to the championship match against Oakland-Craig. The Knights defeated Howells-Dodge in a five-set match for the conference championship and ended the Jags eight-match win streak.
Clarkson/Leigh finished in fourth place following back-to-back losses in the semifinals and the third-place match. Oakland-Craig took down the Patriots in the semis while host Wisner-Pilger gave Clarkson/Leigh its first back-to-back losses of the year.
Howells-Dodge def. Wisner-Pilger 21-25, 25-22, 25-20: The Jaguars defeated Class C-2 No. 3 Wisner-Pilger in three sets Saturday to advance to the East Husker Conference tournament championship match.
Howells-Dodge came back from a set down as it tallied 36 kills and eight service aces. Grace Baumert recorded 16 kills and Natalie Pieper and Ellie Baumert had seven each.
Ellie served a match-high four aces and Brooklyn Macholan posted a pair. She also set up 20 assists for the Jaguars, and Blair Fiala finished with 14 assists.
Macholan was a defensive presence with nine digs and four blocks, and Pieper ended the match with eight digs and four blocks. Fiala had eight digs and two blocks and Ellie had seven digs with three blocks.
"We had a plan going into the Wisner-Pilger game and it took us a bit to get adjusted, but in the end it worked in our favor," Howells-Dodge head coach Taryn Janke said. "We kept pushing all the way through with our serves and being aggressive."
Oakland-Craig def. Howells-Dodge 25-17, 10-25, 25-22, 16-25, 15-3: Howells-Dodge fell to the No. 2-ranked team in Class C-2.
The Baumerts posted 10 kills each and Macholan had eight as Fiala recorded 18 assists and Ellie had 16.
Fiala dug a team-high 11 shots, Ellie ended with nine and Jade Bayer recorded seven. Macholan, Grace and Ellie blocked five shots each.
Janke said it was an "awesome accomplishment" to be one of the final four teams in the conference tournament with the other three teams all ranked in the top five in Class C-2.
"When you have two teams with players both recruited to great colleges, it gets competitive, which is what you want to see," Janke said. "We just made some errors and couldn't get out of a rut. Our passing went down, which affected our hitters to place the ball.
"We missed some serves at crucial times and towards the last two sets, we couldn't stop the Helzer girls. They had an awesome day of volleyball, but we told our girls that we still got runner-up in one of the hardest conferences in the state and they should be very proud."
Howells-Dodge's record was 23-3 entering Tuesday's match against North Bend. It'll host Tekamah-Herman in its regular season finale Thursday.
Clarkson/Leigh at EHC tournament: The Patriots finished in fourth place as it dropped both matches on Saturday.
Oakland-Craig was the opponent in semifinals in a matchup of No. 1 and No. 2. The Knights won it in three sets 25-20, 24-26 and 25-20.
Wisner-Pilger, the third-ranked team in Class C-2, defeated the Patriots 27-25 and 25-20 in the third-place match. The Gators finished the match with 31 kills, 29 digs and six service aces.
Following the tournament, Clarkson/Leigh's record stood at 22-5. The Patriots concluded the regular season Tuesday against Oakland-Craig.
Clarkson/Leigh def. BRLD 25-19, 25-13: The Patriots defeated BRLD in its EHC tournament opener on Oct. 14.
Chloe Hanel was the most productive Patriot with 20 digs, 12 kills and two service aces to lead the team in all three categories.
Makenna Held recorded 26 assists as Clarkson/Leigh posted 29 kills. Kennedy Settje recorded nine kills and one ace.
Defensively, Gracelyn Eisenmann dug nine shots while Tanyn Larson and Hanel both blocked two shots.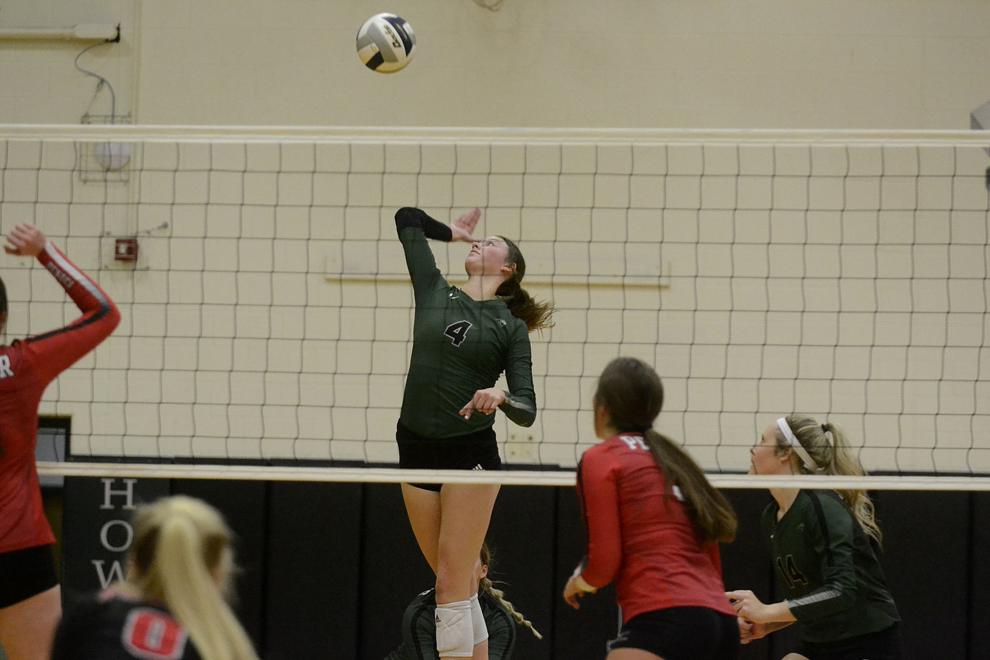 Howells-Dodge def. Pender 25-18, 25-22: Pender gave Howells-Dodge everything it could handle, but the Jaguars' offense was the difference in their EHC tournament opener on Oct. 14.
Howells-Dodge recorded 30 kills compared to the Pendragons' 14. Ellie Baumert and Natalie Pieper had seven each and Grace Baumert finished with six. Fiala and Ellie each put up double-digit assists with 11 and 10, respectively.
Grace's nine digs led the squad in the back row as Fiala tallied eight and Ellie had seven to go with three blocks. Macholan and Carly Bayer both blocked two shots.