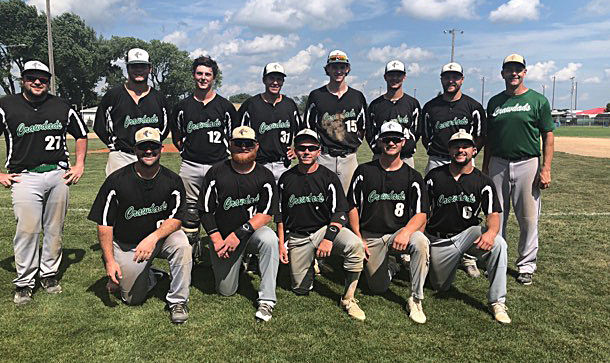 Summer town team baseball is as American as apple pie. Contrary to popular belief, many of these baseball teams are made up of very talented athletes, some who are playing baseball at the collegiate level.
No, these are not out of shape, has been ball players.
In addition to the tremendous ability of the players, the games themselves are a great bargain played in beautiful local ball parks that are umpired by certified and competent men in blue.
One of the finer examples of this level of baseball can be found in eastern Nebraska in the Dodge County Baseball League.
The Leigh/Schuyler Crawdads are one of the teams in this prestigious league and they annually have one of the finer teams to come watch play a ballgame.
The team manager is Keith Manak. He has assembled another team of athletes from the Leigh-Schuyler-Columbus area for the 2021 Crawdads.
The Crawdads have already played two games this season and own an 8-4 win over Scribner and a 9-5 loss to the Dodge Diamondbacks.
Players who have participated in games this season for the Crawdads are Andy Alstadt, Dylan Benne, Brady Harrison, Brandon Konz, Connor Luedtke, Jacob Morse, Trev Muth, Jesse Prado, Tucker Ramaekers, and Josh Spenner. 
The teams making up the 2021 Dodge County Baseball League are the Blair Dawgs, Dodge Diamondbacks, Leigh/Schuyler Crawdads, North Bend Benders, Scribner Hogs, Wahoo Wombats and the West Point Bombers.
Based on returning talent and past performances, the league appears to be three team battle between Dodge, Wahoo and Leigh/Schuyler.
The rest of the Crawdads' schedule is June 13 at Wahoo, June 17 at West Point, June 20 home versus Blair, June 24 home versus North Bend, June 26 at North Bend, July 1 at Scribner, July 8 at Dodge, July 15 home versus Wahoo, July 18 home versus West Point and July 22 at Blair.
The Crawdads play all of their home games at Merchant Park in Schuyler. It is a very family, user friendly experience to attend one of the home games. The cost is only $5 per person and the concessions are reasonably priced.
Take advantage of experiencing this hidden treasure in eastern Nebraska. Taking in a Dodge County League baseball game on a Tuesday evening or a Sunday afternoon is true Americana and fun for the whole family.
Doug Phillips is a freelance writer for the Schuyler Sun. Reach him via email at SCHsports@lee.net.