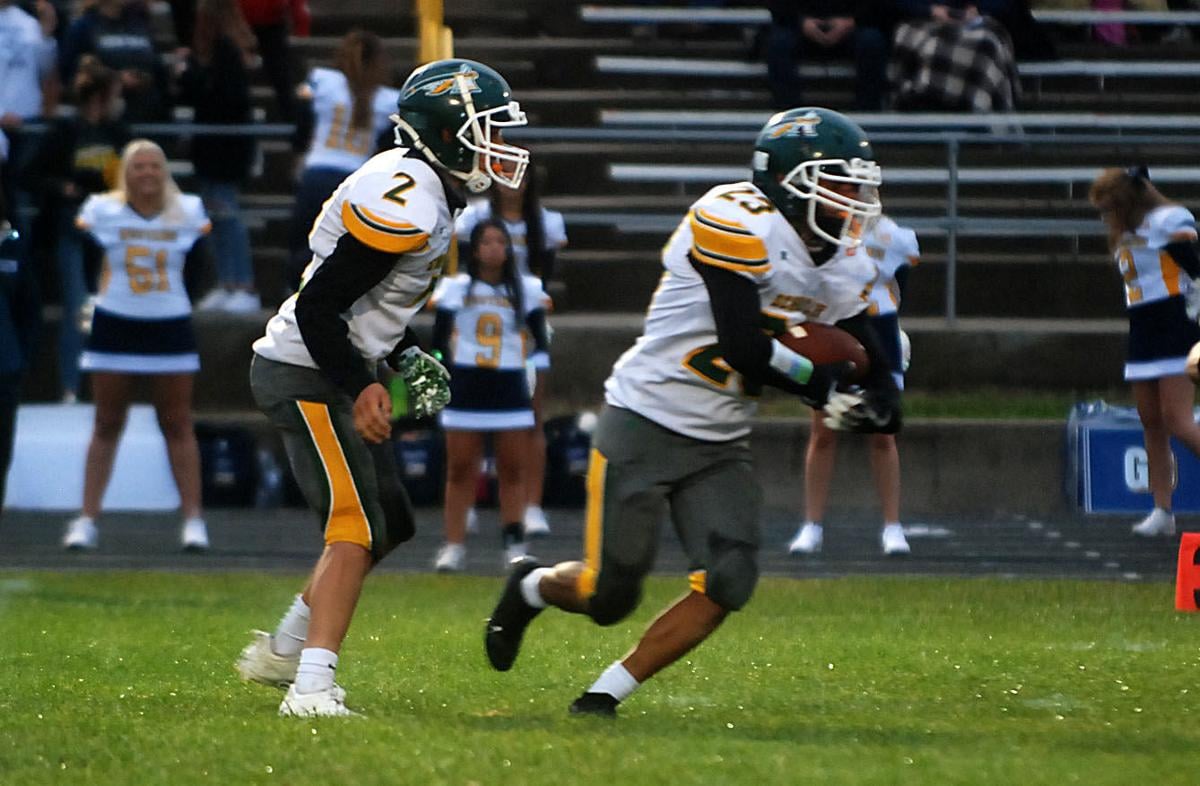 Schuyler Central High School football went into last Friday's game hoping to win its second consecutive game but they was throttled by Raymond Central in a 50-7 final. The loss dropped the Warriors to 1-3 on the season.
Fresh off their 14-6 win over Douglas County West a week earlier, SCHS head coach Jason Ankrah wanted to see how his team would react following a victory. He found out that his team needs to rebound in search of a winning formula that can put together consecutive victories.
"This came as a surprise to us tonight in some ways but in some ways not, "Ankrah said. "This was a very exciting week for us because of our victory last week. The first thing I said to them was to learn how to handle a win. We had a loose attitude in practice, which I love because you have to be a little loose to have fun, but we were a little too loose and it caught up with us tonight."
The Warriors never could get started on offense and only mustered 11 total yards. Had it not been for quarterback Dennis Martinez's 54-yard touchdown jaunt in the fourth quarter, Schuyler would have been held to negative-43 yards of offense.
Martinez led Schuyler Central in rushing with 26 yards on 14 attempts. He also completed one of his eight pass attempts for five yards. Johnathan Gonzalez, who rushed for over 100 yards against D.C. West, was held to a negative-8 yards on eight carries, while Diego Maganda lost 12 yards on a failed fake punt run. Diego Svoboda was on the receiving end of the 5-yard toss from Martinez.
"Our offensive line was not able to handle their blitz," Ankrah said. "They were blitzing almost every down. Our kids looked shocked with the blitzes, but we worked on that all week so we knew what was coming."
Defensively, the Warriors had no answer for the Mustangs' quarterback - Conner Kreikemeier. Kreikemeier was a one-man wrecking crew for much of the first half for the Raymond Central offense. In the first 24 minutes he had touchdown runs of 22, 11, 10 and 29 yards and tossed a 57-yard scoring bomb to Travis Nelson to give the Mustangs a 34-0 halftime lead.
Kreikemeier ended with 103 yards rushing on 10 attempts and he was 9 of 16 through the air for 146 yards giving him 249 yards of total offensive in only three quarters of action. 
"That Kreikemeier kid is a strong and athletic quarterback. He is one heck of a player," Ankrah said. "With Logan View coming up we are going to stress keeping our heads up. We have to work on the little things on defense. We have to go back to the drawing board. We have to go back to doing tackling drills. We don't like to do that in the middle of the season, but we showed that we need that again."
This is Homecoming week for Schuyler Central High School. The Homecoming football game against Logan View/Scribner-Snyder is scheduled to kick-off at 6 p.m. at the SCHS football complex. The Royalty Coronation will take place at the football field immediately following the game.
Doug Phillips is a freelance writer for The Schuyler Sun. Reach him via email at SCHsports@lee.net.
Be the first to know
Get local news delivered to your inbox!