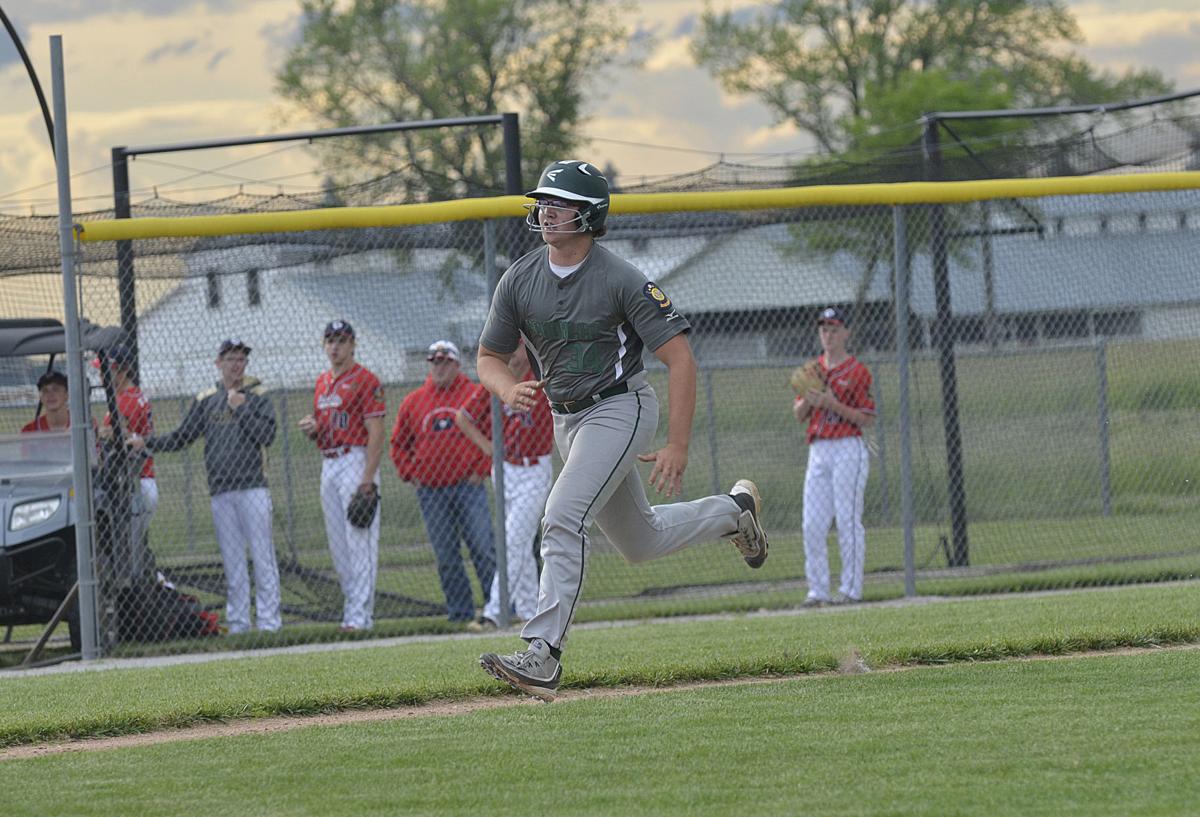 The Schuyler Legion Juniors came up just short in a wild, offensive showcase on June 11, falling 14-13 in five innings at David City. Schuyler scored in every inning but the first, David City pushed runs across the plate in every inning but the fourth and both had monster frames at one point in the game.
David City's came in an eight-run third while Schuyler plated six in the fourth. But it was the third column of the line score that might have told the story of the first column. Schuyler committed five errors to just two for David City and fell to 0-5 with the loss.
"Pitching, pitching was big. We hit the ball a lot better tonight, too," coach Thomas Heavican said comparing the effort to a 13-1 loss to David City a week earlier. "Our relief pitcher, I think he had seven strikeouts. When you have a guy that can come in and do that, it's a big, big help."
Heavican was referring to Colton Bohac who came on in the third, allowed three hits, walked four but struck out eight.
Bohac came on in the third after David City had already scored four runs and taken an 8-5 lead. He walked his first batter but then struck out the next two. Two more hits and a walk brought in four more for the hosts.
After that shaky finish to the inning, he struck out the side in the fourth then allowed two walks to come around in the fifth on a one-out single and a wild pitch.
David City scored three times in its first at bat and led 4-2 after two. Schuyler took a third-inning lead when Bohac singled in a run following two leadoff walks, Kyle Horejsi brought in another on a single to center and Johnathon Vega singled to right for a 5-2 advantage.
Schuyler had a chance for more with runners at second and third and none out but went down swinging in the next two at bats and grounded to second for the final out.
David City then plated eight on three hits, two walks and three errors.
Logan Nelson cut into the  seven-run hole in the fourth with an RBI single to right, Horejsi followed two hitters later with an RBI double to left then Merrick Kort blasted a grand slam over the left field fence, and suddenly it was 12-11.
Diego Svoboda drew a two-out walk two hitters later but Schuyler was unable to add anymore.
But following Bohac striking out the side following a dropped third strike in the fourth, Schuyler hitters struck again on a Caden Shonka bases-loaded walk tying the game in the fifth. Bohac gave his side the lead on a wild pitch. Up 13-12, the rally ended there with back-to-back ground balls.
Two David City walks started the bottom of the fifth. Bohac struck out the next hitter but a single to left then a wild pitch scored the game-winning runs.
"This should definitely help us going forward. We should definitely be able to build off of that," Heavican said. "We hit the ball better. We switched up some batting drills in practice, and it's obviously working.
"The kids keep working hard. They keep their heads up. We were down, gave up a really big inning, went down big, kept their heads up and battled back. I was proud of that."
Nate Tenopir is the sports editor of The Schuyler Sun. Reach him via email at SCHsports@lee.net.
Be the first to know
Get local news delivered to your inbox!