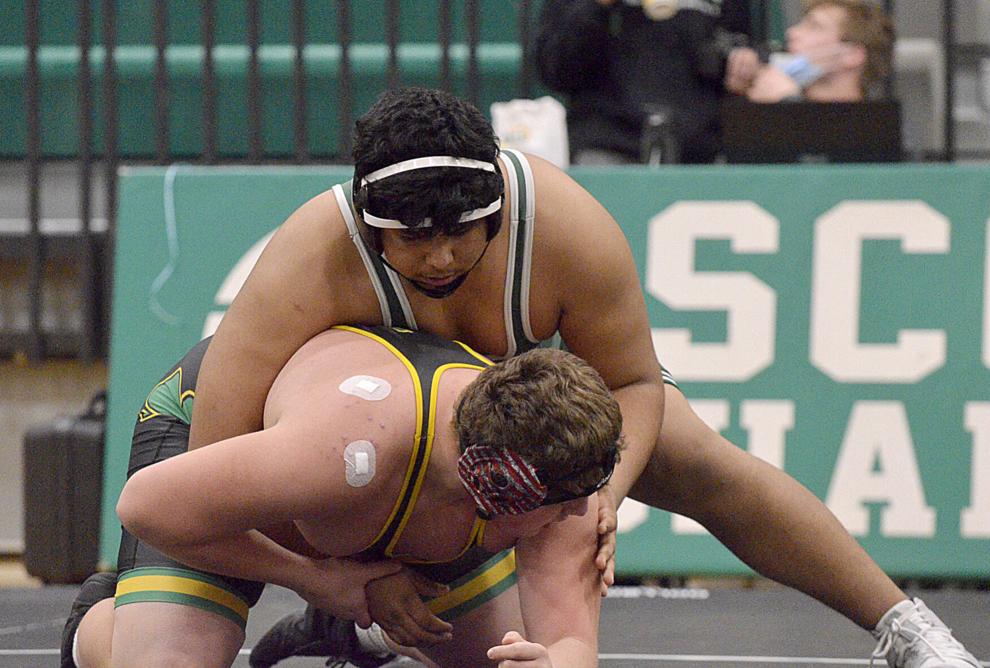 The Schuyler Central High School wrestling squad put on another brilliant showing by sweeping to the title at the Oakland-Craig Team Dual Meet held at Oakland-Craig High School on Saturday.
The Warriors won all five of their duals to capture the title, defeating Wahoo 36-33, Oakland-Craig 73-6, Crete 61-12, Syracuse 38-36 and Centennial 48-21.
Schuyler had five wrestlers go through the day without a loss. Undefeated Warriors included Ivan Perez at 106 pounds, Johnathan Gonzalez at 145, Diego Maganda at 152, Jhony Escobar at 160 and Daniel Jerez at 220.
Perez picked up a 10-5 decision over Jet Nuckolls from Wahoo, scored a fall over Ben Loftis from Oakland-Craig at 4:45, gained a major decision 11-3 over Jaime Ramos from Crete, was unopposed against Syracuse and pinned Trayton Stewart from Centennial in 15 seconds.
Gonzalez was unopposed against Wahoo, pinned Travis Uhing from Oakland-Craig in 49 seconds, pinned Anthony Frahm from Crete at 1:45, was unopposed against Syracuse and picked up a fall at 1:11 over Cyrus Songster from Centennial.
Maganda was unopposed against Oakland-Craig, Crete and Centennial, gained a 5-3 decision over Griffin Lausterer from Wahoo and a 7-2 decision over Barrett Bischoff from Syracuse.
Escobar earned a 6-3 decision over Jacob Andresen from Wahoo, picked up a 6-5 decision over Jack Pille from Oakland-Craig, won a decision over Zachary Binder from Crete by the score of 5-2, gained a 16-1 technical fall over Isaiah Reed from Syracuse and was unopposed against Centennial.
Finally, Jerez pinned Noah Visger from Wahoo in 1:36, was unopposed against Oakland-Craig, defeated Kennedy Vicente Vasquez from Crete by a score of 4-3, picked up a fall over Chance Buchanan from Syracuse in just 19 seconds and pinned Nickolas Keith from Centennial at 1:12.
Other Schuyler Central wrestlers participating in the event were: Trey Svatora (0-3) and James Castanon (1-1) at 113, Brayan Romero (4-1) at 120, Jesus Hernandez (3-2) at 126, Freddy Basilio (2-3) at 132, Jesus Carrasco (4-1) at 138, Chris Escobar (2-3) at 170, Edgar Diego (3-2) at 182, Gabriel Moyao (3-2) at 195 and Bryan Romero (1-4) at 285.
"We went 5-0 in the duals," Schuyler Central head coach Jeremy Hlavac said. "We had some very good performances from our kids and that was great to see."
Hlavac encouraged the Schuyler wrestling fans to attend the dual against Logan View this Thursday night in the SCHS gymnasium. The event is scheduled to begin at 7:00 p.m. The annual Schuyler Central High School Wrestling Invitational will then be held two days later on Saturday. It is set to begin at 9 a.m.