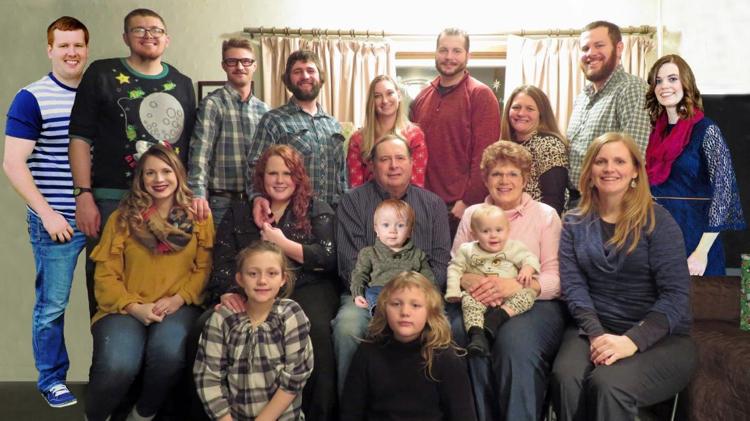 The Tom and Ann Vrbicky family was honored as the 2018 Family of the Year at the annual banquet Knights of Columbus St. Anthony of Padua Council # 2716 on Saturday, March 17.
It has been 36 years since Tom and Anne Vrbicky's paths crossed. The day was April 11, 1982, Easter Sunday, and "The Rumbles" were playing at the Oak Ballroom in Schuyler, Nebraska, and both had attended the dance. Tom came with his friend, Kevin, and Anne with her sister, Cyndi. Cyndi and Kevin knew each other and started visiting, and Tom asked Anne to dance. As they say, the rest is history....
Tom, the oldest in his family, grew up in rural Clarkson, Nebraska, with his parents, one sister and one brother. He attended St. John Neumann grade school through the 8th grade and graduated from Clarkson High School in 1974. Anne Albin is the oldest of six children, three brothers, two sisters, and grew up in Valparaiso, Nebraska. She graduated high school in 1975 from Bishop Neumann High School in Wahoo, Nebraska, and later received her Bachelor of Science degree in Home Economics in 1979 from the University of Nebraska-Lincoln.
Tom, and the former Anne Albin were married August 6, 1983, at Saints Mary & Joseph Catholic Church in Valparaiso, Nebraska and are approaching their 35th wedding anniversary. They are parents to seven children--Andrew, Gregory, Jennifer, Mark, Regina, Constance and Peter and grandparents to four and one on-the-way grandchildren. All the children except Connie graduated from Clarkson High School, and Connie graduated from Leigh High School.
Tom and Anne farm and live near rural Clarkson, Nebraska and have been parishioners of Divine Mercy Parish in Schuyler, Nebraska for the past 22 years. Tom serves as an usher. Prior to that they were parishioners at Saints Cyril & Methodius Catholic Church in Clarkson. Tom joined the Clarkson Knights of Columbus #7887 as a charter member in 1981 and served as deputy grand knight and later transferred to the St. Anthony of Padua Knights of Columbus Council #2716 in Schuyler, Nebraska. He has been a third degree knight for the past 37 years where he helps with the K .of C. car show and Labor Day food stand. Tom is also a past junior board member for the Farmers Union Co-op Supply Company in Clarkson.
Anne is a cantor/song leader at church and has done this job for almost 35 years as well as directing the mens' K of C choir at St. Augustine's. She also taught second grade CCD in Schuyler for a number of years, served on the parish council as secretary, is on the liturgy committee and a member of the Ladies of Divine Mercy Altar Society. When Anne isn't involved in church activities, she judges 4-H exhibits at the various county fairs and state fair. She is a past member of the Stanton County Extension Board and past member of the Clarkson Library Foundation Board.
In their free time Tom enjoys hunting, reading and keeping up on world current events, and Anne enjoys photography, sewing and cooking and exhibiting at the county fair. She also likes making barn quilts and hopes to learn to sew an actual quilt.
Andrew, the oldest child, and his wife, Tiffany and children Cheyenne, Brandi and Alaina live near Little Rock, Mississippi. Andrew graduated from Northeast Community College in Norfolk, Nebraska, with an Associate of Applied Science degree in Automotive Technology. He is employed by the Mississippi Department of Transportation as an Engineering Technician 5 and on weekends works part-time for a private land company as a surveyor. Tiffany graduated from Mississippi State University with a Bachelor of Science degree in Elementary Education and is a 4th grade math and science teacher at Oakland Heights Elementary in Meridian, Mississippi. They are members of Holy Cross Catholic Church in Philadelphia, MS, where Tiffany teaches CCD, and Andrew has assisted with in the past.
Tom and Anne's second oldest, Gregory, and his wife, Catherine, reside in Raeford, North Carolina, where they attend St. Elizabeth of Hungary Parish. Catherine is a Special Agent with the United States Army Criminal Investigation Division (CID), currently serving at the Fort Bragg CID Office. Greg operates his own consulting firm, specializing in business training, management, and project coordination. He is assisted by the couple's dog, Meeko, who serves as perimeter security and enforcement at Greg's office. On weekends, Greg is also employed by Cypress Vineyards where he assists in vineyard operations, wine tastings and event services. Last year, Catherine coordinated the North Carolina Law Enforcement Torch Run for Special Olympics at Fort Bragg and will again do so this year. Though unable to participate in the run, Greg was able to assist Catherine with event day operations to ensure its success. The couple will be moving to Germany in late fall, as Catherine has received report orders for November.
Jennifer, the oldest daughter, lives in Omaha, Nebraska and graduated from Briar Cliff University in Sioux City, Iowa, with a Bachelor of Science degree in Environmental Science and a minor in Biology. While in college she went on a mission trip to Honduras to lay water pipelines in a small village there so that they would have clean drinking water. She has also gone on a pilgrimage to Fatima, Portugal. Jennifer works as a Shipping/Receiving Specialist for Elman & Company, a commercial printing company. Prior to this, she worked 2 years at Canfield's Sporting Goods as a Sales Lead and before this she worked 7 years with The Nature Conservancy as a Land Management Specialist. The Conservancy allowed her to work in a number of different states across the country. Jennie enjoys traveling and trying new things. For her 30th birthday last year she went sky diving, and her future plans are to hike the Camino de Santiago in Spain in the fall of 2019. Jennie attends St. Thomas More Catholic Church in Omaha, NE.
Mark, the fourth and middle child, and his wife, Bonnie, currently live in Kearney, Nebraska, with their seventeen-month old son, Benjamin. They attend Prince of Peace Catholic Church. Mark graduated from Wayne State College in Wayne, Nebraska, with a Bachelor's degree in Broadcasting and a minor in Journalism. He currently works as an e-Commerce warehouse teammate at The Buckle, Inc. Bonnie is studying to attain her Master of Physician Assistant Studies degree from the University of Nebraska Medical Center on the University of Nebraska-Kearney campus. They have both been involved in their parish community in recent years, volunteering to teach CCD to high school students in Pender, Nebraska, where they were past parishioners at St. John the Baptist Catholic Church. Mark also served as a lector there. While in Pender, Mark was employed by The Pender Times newspaper, and Bonnie worked as CNA at a nursing home in Emerson, NE.
Regina, of rural Osmond, is engaged to her fiancee, Jacob Gubbels, and will be married this coming October at St. Joseph's Catholic Church in Pierce, Nebraska, where they both attend mass. Regina has worked the past seven years at Bomgaars in Norfolk, Nebraska, where she is the head of the large animal and pet health departments as well as in charge of wild bird products and the latest addition of bees. She also cashiers and does her own receiving. Jacob has been a maintenance technician for the past seven years at the Husker Ag ethanol plant near Plainview, Nebraska, and is also a nine-year member of the Plainview Volunteer Fire Department.
Constance (Connie) Meyerink and her husband, Zach, were married last September and are expecting their first child this summer. Zach is a Journeyman Lineman for IBEW, and Connie is a homemaker. Prior to marriage, Connie was a caregiver for special needs individuals with Lifescape of Sioux Falls, South Dakota, and before that with North Star Support Services in Wayne, Nebraska, while attending Wayne State College. She graduated with a Bachelor of Science degree in Business/Human Resources. Due to the nature of her husband's line of work, they travel in a camper across the United States and attend church services in whatever town they are located. Connie and Zach enjoy reading the Bible together daily and reflecting upon the scriptures.
Peter is the youngest of Tom and Anne's seven children and works at HyVee in Columbus, Nebraska. He also attends Versatile Support Services for special needs adults in Columbus. Peter enjoys ushering at church and taking down and putting away the hymn numbers. Peter is quite computer savvy and enjoys working on the computer and his iPad. He lives at home with his parents and attends Divine Mercy Parish in Schuyler.
Honors presented
Other honors presented  on Saturday were: 
The Knight of the Year was Doug Eisenmann. The Lady Knight of the Year was Mary Svoboda.
50 Year Members – Lumir J. Brabec, Marvin A. Hladky, Raymond E. Ladwig, Delwayne A. Pavel.
Honorary Life – Gale V. Mares, Robert W Molacek, Edward J. Neesen, Alan L. Sucha.
Honorary – Paul N. Dirkschneider, Galen Juranek, Gerald E Hoelscher, Galen W. Kehrli, David W Mach, Albin M Moore.
25 year Members - Eric D Cerny, Jeffrey A Gall, Myron A Tuma.