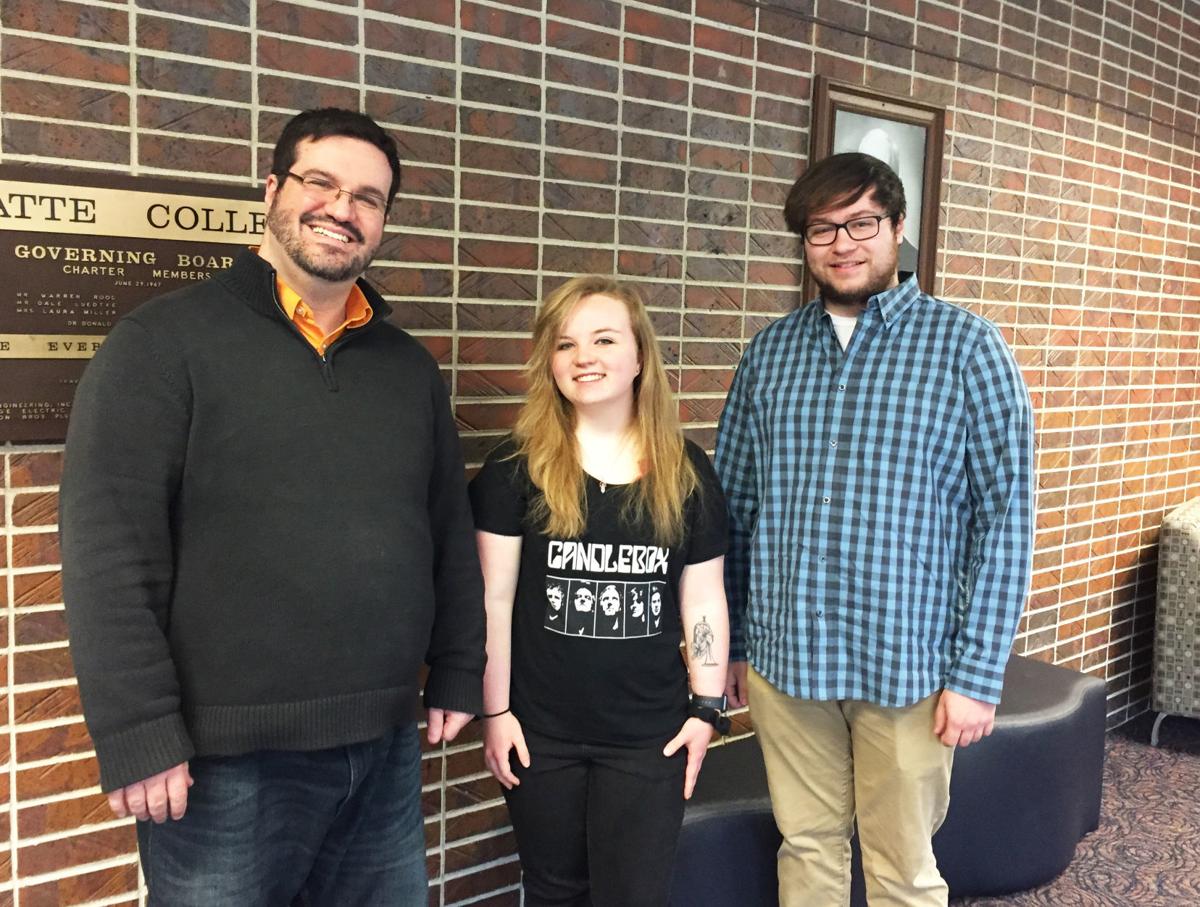 When flooding from the Loup and Platte rivers overwhelmed places like Columbus last March, Jeff Kitson knew he needed to do something to help those affected.
Being the vocal music director for Central Community College-Columbus, he wanted to do it in his own, unique way: Through song.
He wasn't able to get a full show together in time for his spring choral concert, but months of preparation by his students may pay off during the fall choral concert being held at 7 p.m. Thursday at First United Methodist Church, 2710 14th St. The concert, "Rain Come Down", is free to the public and attendees are encouraged to make free-will donations of any kind.
Kitson had plenty of time to think about how the flooding would affect what he and his two choirs, Spectrum and the College Chorus, would do in commemoration of the catastrophic event. He discovered a piece of music that he felt perfectly reflected the feelings of people around the Platte River and the solemn nature of that time period.
"I found 'Rain Come Down', this beautiful piece and I said, 'I have to do this," Kitson said. "The opportunity for fall presented itself."
Along with the titular song, the choirs will perform a variety of pieces that will reflect both the beauty and the danger of nature. His students have been preparing for the show since the beginning of the year and many of them have done more than their fair share of hard work in order to make the show as good and as beautiful as it can be. They have seen the performance grow thanks to hard work from their fellow choir mates and the strong leadership of their director.
"We've been really excited ever since we came back from Austria and the Czech Republic," said CCC sophomore Ally Phillips. "It's been really exciting to show the freshmen what we can do and having them involved in building this group. It's really been a great experience to show them what a college group can sound like."
You have free articles remaining.
Phillips has plenty of first-hand experience as to how the flooding affected towns all over the state. Her hometown was among the worst-hit areas of the state and the damage is still being repaired, even as snow fell on Tuesday morning.
"I come from a little town called Dannebrog, Nebraska, and it was actually hit by the flood really bad," Phillips said. "It was featured on ABC News (with) 3 feet of water rushing through the town, and that town has two rivers (North and Middle Loup rivers) and those grow so high. People are still recovering out there. There's still people pumping water out from their basements, so it's really great to show them that we see you, we hear you and we support you."
The context behind the content is a vital part of what Kitson wants to do with every choral performance, whether it speaks to people about flooding or agriculture or poverty, just to name a few.
"To me, it's always about the message, it's never (just) about showing off," Kitson said. "To me, it's about showcasing the students and what they can do."
He is excited to see how the group meshes on stage Thursday night. He said he's pleased with the work that he's seen up to this point.
"I feel fantastic," Kitson said. "This group that we've got has some of the best attitudes that I've seen, and they're learning how to work really, really hard. Attitude is everything."
All involved are hopeful that people can get the message of hope transferred by the assembled students that night and see just how impressive the students can be - through their message and their music.
"I think it's great to show people how great a college can sound, how amazing CCC can be for other people and how this little college can impact a huge group of people," Phillips said. "I think that's really special."
Stay up-to-date on what's happening
Receive the latest in local entertainment news in your inbox weekly!