If there is a slide, however subtle or gradual, away from the carefully designed nonpartisan spirit and nature of Nebraska's unique one-house Legislature, George Norris and John Peter Senning might have been the first to spot it.
Norris was the father, the steward, the leader and the guide who convinced his fellow Nebraskans to venture out alone into uncharted political territory more than 80 years ago.
In 1934, they said yes to a one-house, nonpartisan legislature, small and compact, highly visible and amazingly accessible, out in the open in full view and without the two-house conference committees.
There is no move underway to wipe out the nonpartisan election of state legislators in Nebraska, but attempts to inject partisan influence have become far less subtle recently.
Incumbent senators are targeted, partisans are recruited and funded to conduct increasingly partisan races; legislative scorecards are compiled by political parties and transformed into a bill of charges.
And in 2017, legislative leadership posts were methodically filled by election of a predetermined slate of candidates.
Leadership now is almost entirely composed of Republicans, although some senators suggest the more accurate and important description of that slate of chosen leaders would be "dependably conservative," a characteristic that was far more valued than seniority or experience a year and a half ago.
Today's Legislature is composed of 31 Republicans, 16 Democrats, one Libertarian and one registered nonpartisan.
While Republicans comprise an overwhelming majority, they will tell you that it is the Democrats who more often vote together as a bloc.
And now the Republican governor is becoming more actively engaged in nonpartisan legislative races, recruiting candidates in selected contests and helping fund them.
But his primary targets not only are Democrats but also incumbent Republicans — or, this year, a former Republican — who have not supported him on key legislative issues or have voted to override his vetoes.
Meanwhile, the partisanship that used to visibly leap to the surface only during congressional redistricting battles every 10 years seems to come bubbling up more often now as senators essentially divide more along party lines. Perhaps especially on proposed election reform.
Did the founders of Nebraska's unique one-house, nonpartisan legislature see this coming?
Clues found in Box One
Let's take a peek inside Box One to see if there are any clues.
This is University of Nebraska political science Professor John Peter Senning's records, housed on the University of Nebraska-Lincoln campus in the archives of History Nebraska, formerly known as the Nebraska State Historical Society.
Senning was an important ally and key supporter of the single-house system championed by Norris in the 1934 election and instituted by Nebraska voters through passage of a constitutional amendment.
The German-born Nebraska academic later became the go-to guy for students from across the country and legislators from more than a dozen states who became interested in following Nebraska's lead; their letters fill some bulging folders in Box One.
"No one is opposed to the system except the professional politicians and some of the lobbyists," Senning responded to John Ohles of Minneapolis on July 14, 1937, following adjournment of the first session of the one-house legislature.
Box One contains plenty of evidence the nonpartisan nature of the new legislative experiment was critically important to Norris after his experience in the U.S. Congress.
Senators should vote their convictions and represent their districts without regard for, or dictates from, political parties, Norris argued.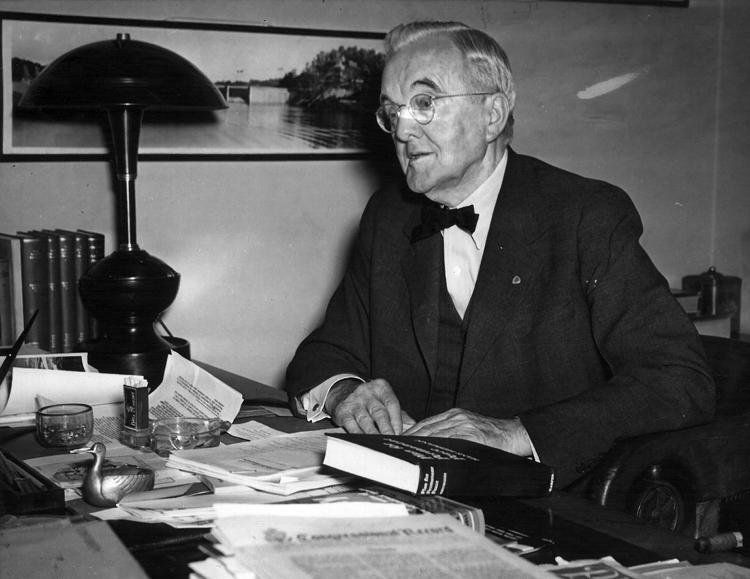 "Men in legislatures, elected on a partisan platform, are inclined to follow the bidding and dictates of party machines and party bosses," Norris said.
"Senator Norris, while making concessions on other points, was adamant on this," Senning wrote.
"In the light of our experience so far, these same objections strongly favor the nonpartisan choice as one of the factors that produced the unusually high average personnel of our first unicameral," he wrote following that first legislative session.
On March 14, 1938, Senning highlighted what still is a startlingly open legislative process where all bills receive public hearings, committee executive sessions are open to the news media and legislative action is centered in a single arena.
"It brought the whole process of legislation into the open where the press could record the actual proceedings step by step and where the public was able to follow the acts of the representatives," Senning wrote E.W. Patten of Denver on March 14, 1938.
Much later, on Dec. 26, 1945, Senning would write C.B. Rudow of the Detroit News that a survey of 200 Nebraskans found only 5 percent would want to return to a partisan legislature.
And on July 15, 1947, Senning wrote a letter to the Christian Science Monitor stating the only objections to the nonpartisan nature of the new legislature after its first decade came in the form of "rumblings from the direction of congenital party men."
The nonpartisan feature was "most stoutly insisted upon by Norris," he stated.
'Too much credit'
Norris served in the U.S. Congress for 40 years and experienced the domination of party and partisanship. He was elected to the House five times as a Republican, then elected to four terms in the Senate as a Republican before abandoning his party to support Democratic President Franklin D. Roosevelt.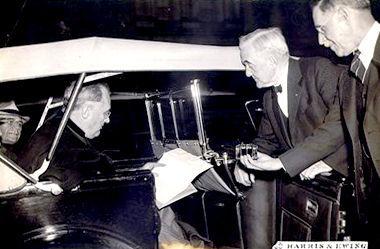 After leaving the GOP, Norris was able to win a fifth Senate term from Nebraska as an independent, or nonpartisan, candidate in 1936 before losing his final re-election battle as an independent in 1942.
Eleven years after his death in 1944, the power and sway of partisanship was on full display as his Nebraska successors in the Senate essentially made his case for him.
When the Senate established a special committee in 1955 to select five outstanding former senators whose portraits would be permanently displayed in the Senate Reception Room, the committee solicited recommendations from 160 American historians and biographers.
Norris was recommended by more of those scholars than any of the other 41 names that were submitted.
But the committee dropped Norris from consideration "under threat of a filibuster" by Nebraska's two conservative Republican senators, Roman Hruska and Carl Curtis, according to the historic account on the U.S. Senate website.
There is a letter from Norris to Senning tucked into a folder in Box One, dated Nov. 10, 1934, and mailed from McCook.
And it gives credit for this nonpartisan, one-house experiment to the people of Nebraska.
"I am of the opinion that the workers for this amendment are inclined to give me too much credit," Norris wrote.
"This victory for better government has been made possible by the intelligence and patriotism of the voters."