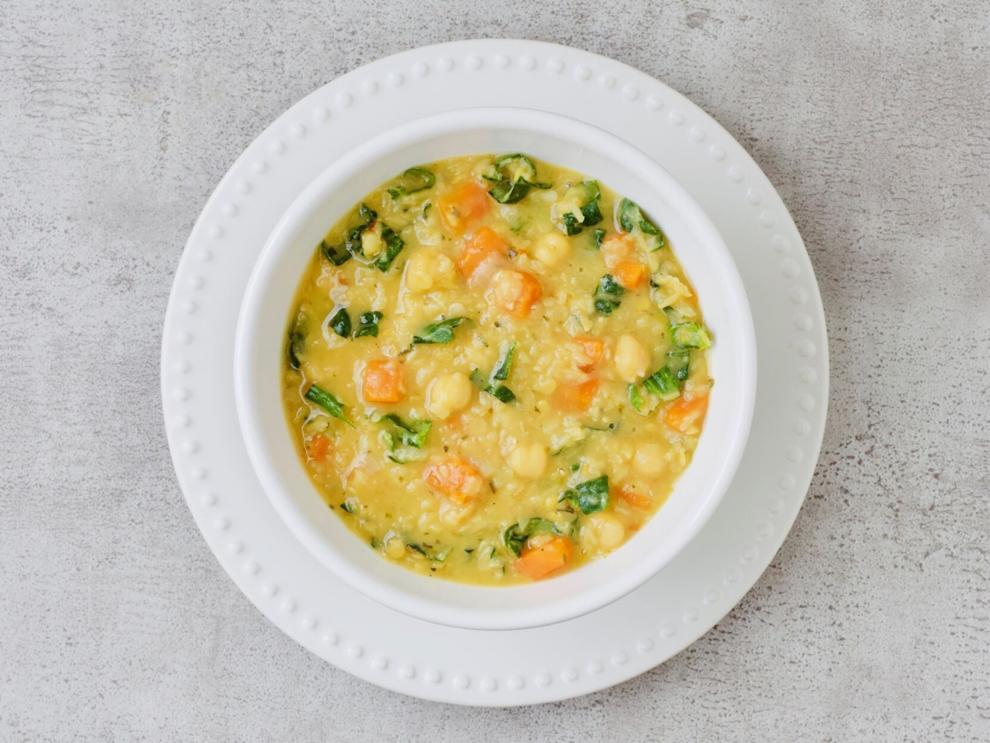 I love to meal prep on Sundays to get ready for the week, and there's usually always a lentil soup on the list. Lentil soups keep well when made ahead of time, and they always soothe the soul when you warm up a bowl.
Spring Lentil Soup
2 tablespoons olive oil
1 cup finely diced onion
1 tablespoon minced garlic
1 cup finely diced carrot
1/2 to 1 teaspoon salt
2 teaspoon Italian seasoning
Pinch red chili flakes
4 cups vegetable stock
2 cups water
1 cup dried red lentils, rinsed
2 bay leaves
1 cup cooked chickpeas
1 cup shredded leafy greens (such as kale, arugula, spinach or chard)
2 tablespoons lemon juice
1. In a large soup pot, heat oil over medium heat. Add onion, carrot, garlic and 1/2 teaspoon salt; cook and stir until onion is tender, about 5 minutes. Stir in Italian seasoning, and red chili flakes; cook for 1 minute.
2. Stir in vegetable stock, water, lentils and bay leaves. Bring to a boil. Reduce heat, and simmer uncovered for 30 minutes. Stir in chickpeas and greens, simmer for 3 minutes just to wilt the greens.
3. When ready to serve stir in lemon juice. Season to taste with salt.
Rinse the lentils well under cold water; I find a fine mesh strainer works best
Serve this soup with warmed up pitas or locally made bread
If you don't have cooked chickpeas, you can add whatever cooked beans you have on hand.
(Kary Osmond is a Canadian recipe developer and former television host of the popular daytime cooking show "Best Recipes Ever." Her easy recipes include helpful tips to guide you along the way, and her love of plant-based cooking offers healthy alternatives to some of your favorite dishes. Learn more at karyosmond.com.)