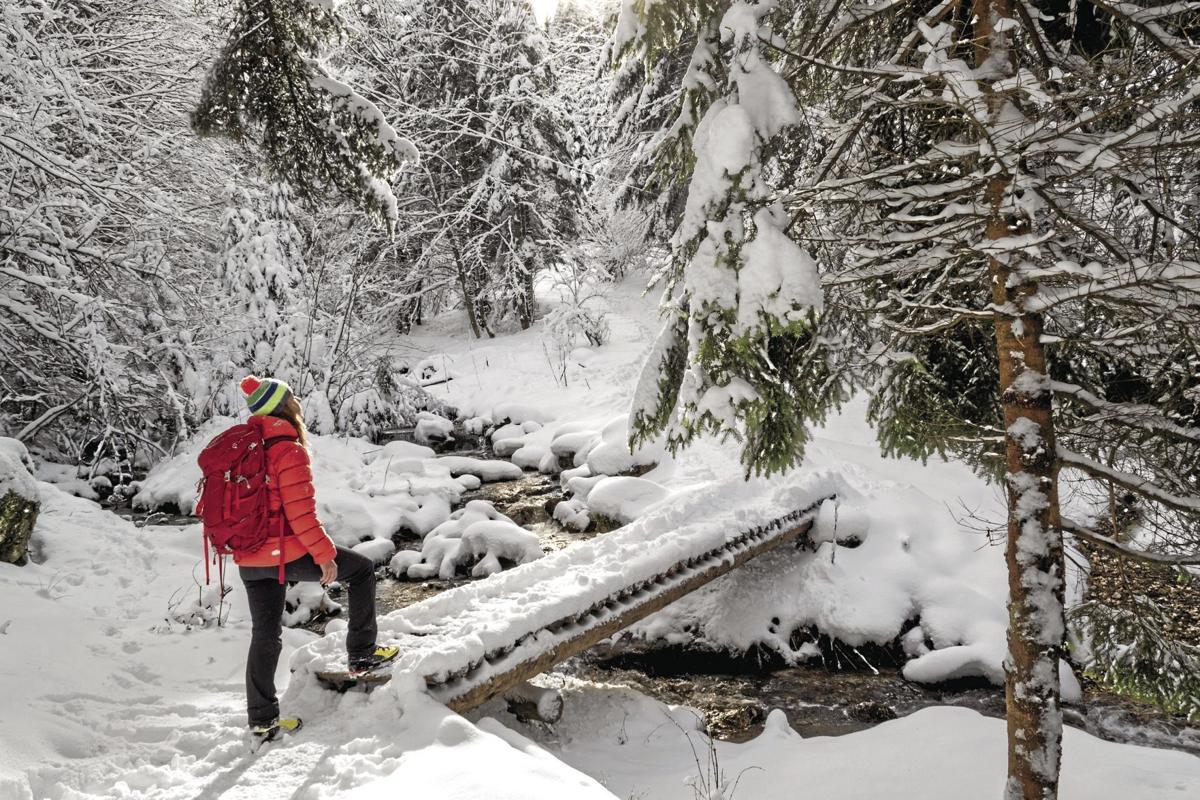 Hiking skyrocketed in popularity during the pandemic, but few people are willing to brave trails when the temperature drops.
Winter may be one of the best times to experience nature's beauty, says Steve Henry, author of the St. Louis edition of "60 Hikes Within 60 Miles." Winter is his favorite hiking season because the cold banishes bugs and mosquitos, bare trees expose scenic vistas and freezing water creates beautiful icicles.
Winter hikes require more preparation and call for some special considerations. We talked to dozens of enthusiasts and consulted Henry's book to get the best tips on how to safely enjoy the wonderland outside.
Before you go
The cold drains batteries faster. Keep your phone near your body for additional warmth. Be smart about battery usage by dimming your screen, turning off notifications and using low power mode.
If you plan to hike alone, let a family member or friend know where you're going and when you expect to return.
Don a base layer that wicks sweat away from your body, a middle layer to keep heat in and an outer layer to protect against wind and rain. You should be able to adjust and remove layers to avoid getting too sweaty or cold. Avoid cotton. Don't forget a warm hat, gloves and a neck gaiter.
Invest in wool hiking socks and hiking boots with the right fit and grip. Some trail conditions may require ice cleats, snow grips or snowshoes to prevent slipping.
Remember the days are shorter. Build in extra time in case you get lost or make more frequent stops, so you'll still return before dark.
Look at your intended destination for the duration of time you plan to be there. Trail conditions will change as ice or snow melts later in the day.
Think about the ride back
To avoid tracking mud into your car, bring a change of shoes or lay down disposable bags. If you are hiking with a dog, bring a towel for the dog to lay on.
And check in advance if restrooms are open and available in the park.
On the trail
You may feel less thirsty in cooler temperatures, but hydration is still important. Carry enough water for the hike in an insulated container to prevent freezing.
It can be difficult to regulate body temperature when hiking in the cold. If your layers are too heavy while walking, you may start sweating, which can freeze and make you even colder. Save warmer layers for when you stop.
Towering, snow-covered trees are magnificent to behold, but be careful around trees loaded with ice or snow. Loose or broken limbs can fall and injure or even kill hikers. Take a minute to look up when you stop to catch a view. Also be wary of standing near large icicles, which may be melting and at risk for falling.
Know signs of hypothermia
If you or a hiking buddy start shivering or getting confused or forgetful, get to shelter or warm up immediately. Hypothermia can quickly become dangerous.
RELATED: 7 tips for avoiding wintertime injuries and falls