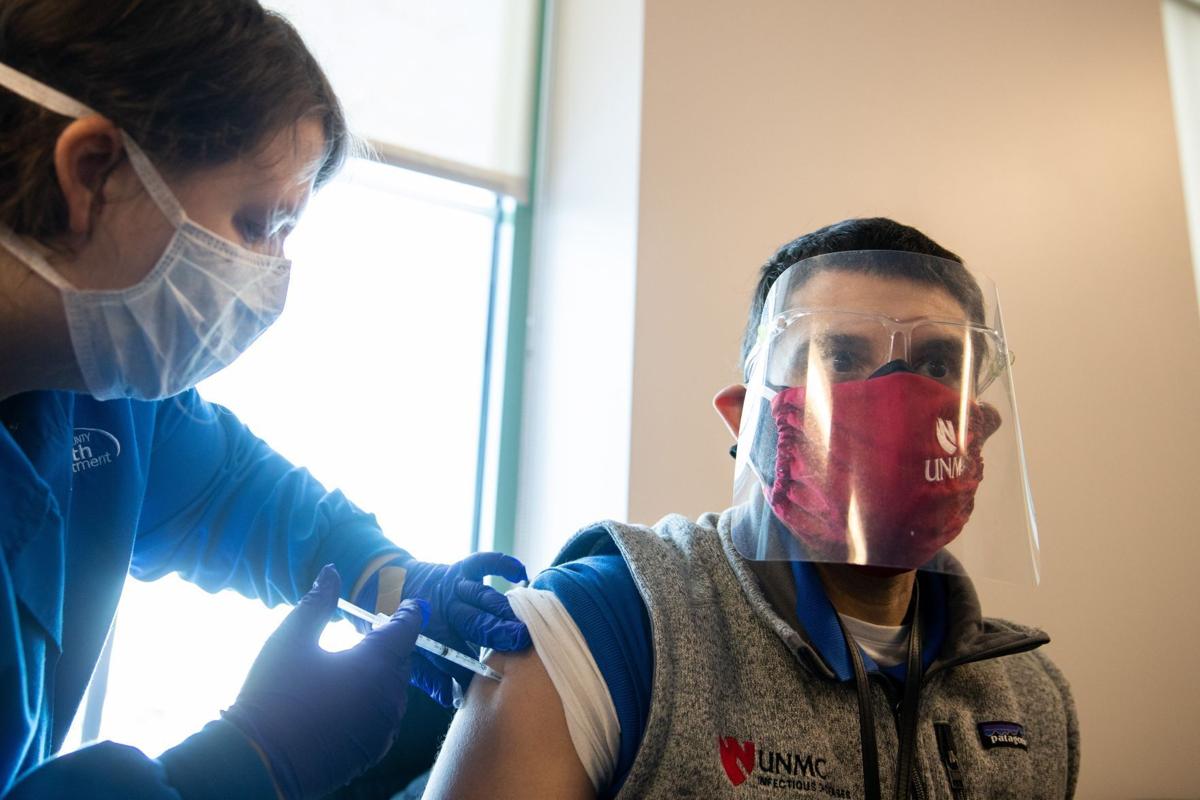 Not everyone can be first in line to get the COVID-19 vaccine.
Federal and state officials announced last week that they would add people 65 and older and some younger people with high-risk medical conditions to the next phase of COVID-19 vaccine recipients.
The addition of those groups will add tens of millions of Americans — including 400,000 or more Nebraskans — to the queue of people next in line for the vaccines.
That next phase initially was to include people 75 and older and essential workers deemed necessary to keep society running. According to the Nebraska Department of Health and Human Services' website, updated late Friday, the list of essential workers includes firefighters, utility workers and teachers as well as people in food processing, transportation, the U.S. Postal Service and public transportation.
How expanding access to this now-much-larger group will go when vaccine supplies remain limited is not yet clear.
Meanwhile, Nebraskans in the 75-plus group already have been swamping phone lines at local health departments seeking to sign up for the shots.
Some health experts say expanding the rollout will eliminate bureaucratic barriers and get vaccines into as many arms as possible as quickly as possible. Others are concerned that it might not speed the process and could lead to frustration if people can't get the vaccine more quickly.
"It's a lot of competition," said Phil Rooney, a spokesman for the Douglas County Health Department. "Get more vaccine, and it solves the problem pretty quickly."
State health officials cautioned last week that it will take about four months to work through the now-expanded list of people who are next in line for the inoculations.
Angie Ling, incident commander with the state health department, said expanding the next group will not interfere with a smooth rollout of the vaccine. Both state and local health departments have good plans in place to get people vaccinated, she said.
"I think it gives us a larger group to vaccinate, so it might take a little bit more time," Ling said.
The state hopes the federal government will increase its allocation of vaccines "so we can get those shots in arms even faster," she said.
As of Monday morning, Nebraska's vaccination rate ranked 11th among states, including 10th in percentage of its population that have received a first dose and 12th in those who had received both doses.
Nebraska's distribution rate for vaccinations was fourth-highest. But because of the disparity between distribution and shots administered, it ranked only 24th in percentage of distributed shots that have been put into arms.
Ling acknowledged that the expansion could create some unrealistic expectations among those waiting for their shots.
"Just because you're on a priority group," she said, "doesn't mean you're going to get vaccinated tomorrow."
Ling also noted last week that Nebraska health officials are about two weeks away from starting vaccinations for the next group.
Rooney, from Douglas County, said the change isn't likely to disrupt operations.
"Most of the plans have been made in pencil," he said. "We've been able to pivot pretty quickly."
The Douglas County Health Department injected 1,000 doses during its first vaccination clinic last week. The county's first phase of vaccinations, which includes health care workers, is expected to continue through January.
"It's not sitting on shelves here," Rooney said. "We're getting it and we're getting it out."
But the expansion has left some wondering where they and their loved ones will fall on the new, larger list.
Antonia Montana of Omaha is ready and waiting to sign up her 82-year-old mother, who lives in her own home. The Douglas County Health Department plans to launch its own signup site within days, and a state website is expected to launch online registration at the end of the month.
But Montana doesn't know how people will be prioritized once they do sign up — first come, first served or some other breakdown by age and health condition.
"This next phase is going to be huge," she said.
And some in the essential worker category feel like they're losing ground.
Tim Royers, president of the Millard Education Association, said teachers already have been pushed back. The teachers union meets weekly with school officials, who meet weekly with the health department.
Initially, teachers were looking at the end of January or early February to receive their shots. Now, the union is being told it will be March at the earliest.
For teachers, he said, it's as if they have been asked to run a half-marathon and are within striking distance of the finish line, only to be told they have to complete a full marathon.
"We're already seeing the impact, and it's having a demoralizing effect on teachers," said Royers, noting that Millard has held in-person classes all school year despite the fact that a large number of teachers had concerns about the safety of that approach.
One frustration is that teachers would be easy to vaccinate because they're already in place in school buildings. If doses were available, they could line up with little notice and get through quickly.
Royers said teachers know county health officials are doing everything they can to get doses out. The problem comes down to available shots. And teachers don't necessarily want to say they should get shots before vulnerable people do.
"In an ideal world, we wouldn't be picking and choosing," Royers said.
The Omaha Education Association last week said Omaha Public Schools teachers are concerned about returning to teaching students in person five days a week before the teachers have been vaccinated. The school district announced the switch would be made starting next month.
Robert Miller, the association's president, said the organization is encouraging teachers in the 65-and-older group to get the vaccine. Others, however, now will be in the much-larger group.
Eric Reeder, president of United Food & Commercial Workers Local 293, which represents food workers in Nebraska, said he's not happy about the shift.
Food workers have been declared essential in Nebraska and told they need to keep working, he said. When it comes to vaccination, they should be close behind first responders. "These people are already in high-risk positions," he said.
Reeder said he has been in touch with several meatpacking plants, many of which have sent employees questionnaires so they can compile a list of those interested in the vaccine.
One plant has reported that close to 60% want the shot; another was at about 50%.
The union earlier partnered with Omaha-based Meridian Clinical Research to help recruit plant workers for a clinical trial of a vaccine candidate.
It was a challenge. Some immigrants, even those who now are U.S. citizens, come from countries where trust in government is low, Reeder said. Now that both vaccines have been approved by the Food and Drug Administration, he said, workers' attitudes toward them are more positive.
Those who participated in the trial and got a dummy shot now will be getting the real thing. Reeder, who was among the participants, expects the first of his two doses in about a week.
Dr. Mark Rupp, chief of the University of Nebraska Medical Center's infectious diseases division, said the 75-plus group initially was placed in the next phase of vaccination — after health care workers and staff and residents of long-term care facilities — because of their outsized risk of hospitalization and death if infected with COVID-19.
For the 75-plus group, he said, the risk of hospitalization is eight times higher than that of adults 18 to 30. The older group's risk of death is 220 times higher. For those 65 to 74, the risk of hospitalization is five times higher than that of young adults and their risk of death is 90 times higher. Where some see a disconnect, he said, is that the 65-plus group initially was set to get their shots after a fairly large group of essential workers. Many essential workers are younger and at lower risk of hospitalization or death.
Dr. Bob Rauner, president of Partnership for a Healthy Lincoln, said he leans toward vaccinating those 65 and older because of their increased risk and because the virus is so widespread.
At the same time, he understands the economic arguments for prioritizing essential workers.
"There are good arguments on either side of this thing," he said.
Rauner said it is important for health officials to be open and transparent about such decisions. Most people will be reasonable if they understand why choices are being made.
"They want to know someone didn't put their thumb on the scale and get their buddy vaccinated first," Rauner said.
World-Herald Staff Writer Henry J. Cordes contributed to this report.