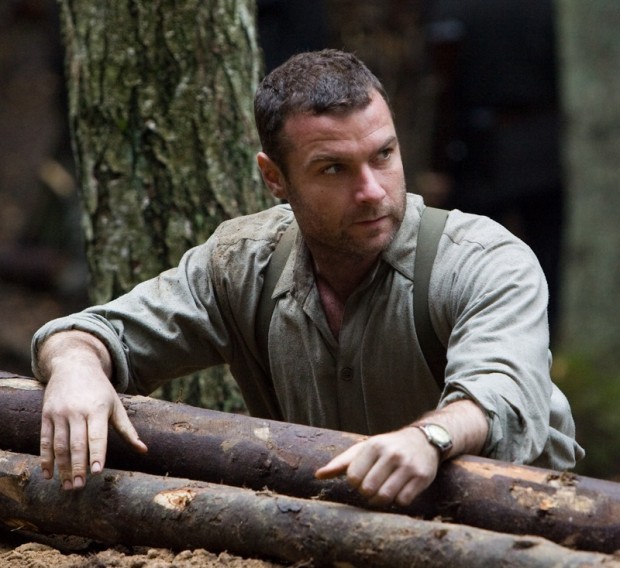 When writer Lauren Paige Kennedy met with actor Liev Schreiber in L.A.  in October, he arrived for the interview dog-tired after a wakeful night with his 17-month-old son, Sasha. (His girlfriend Naomi Watts gave birth to their second son Samuel Kai in December.) But parental fatigue didn't stop Schreiber from giddily swapping baby pics with Reese Witherspoon when she stopped by their table to say hello. Nor has parenthood mellowed his sometimes provocative opinions, such as his take on the Holocaust's long-term impact on Jews and the subject of Defiance, his new movie opening wide today and co-starring Daniel Craig. Click read more for the interview and check out the Defiance trailer below.
How does a self-professed "control freak" handle parenthood?
I do think I'm neurotic. But not about the day-to-day. I'm not worried
about Sasha falling. I worry about him having dark, existential
thoughts. And that I won't be exactly what he needs.
Defiance is about family, too.
It's about some brothers. They have contradictions; they're very human.
People can see themselves in this situation. If you get wrapped up in
the family-conflict drama, then suddenly you find yourself in the
You're of Ukrainian-Russian descent and half-Jewish. Why is it important to tell this survivors' story?
There is an anti-Semitism among Jews as a result of surviving the
Holocaust. Every year, we make these movies or have tributes and
memorials, and what we forget is all the Jews who lived and how they
lived and the circumstances they found themselves in, in order to
survive. Some of them had to lie, or commit adultery. Some of them had
to kill, to give up children, faith, their identities. And then live
with a tremendous amount of very real existential shame about who they
are and the fact that they are alive.   
This movie speaks to that shame?
I wanted to make a film that dealt with some of those contradictions … and the aftermath [of World War II], the self-inflicted anti-Semitism. Many [survivors] came here [to Los Angeles], ran this industry … I've never seen so many blonde, blue-eyed Jews in my life! The nose jobs! This is an outrageous thing to say, but I think the advances of plastic surgery are directly tied to the Holocaust. I really believe that. A lot of Jewish groups will be very upset by my saying that, but I would defend it. The Holocaust created a tremendous amount of self-loathing. I bring it up in context of what I think is so special about [director] Ed [Zwick]'s film. It's what [the Nazis and their conspirators] put these people through. It's the cost of war. It's the price of genocide. And it's with you for centuries.
Defiance could be a game-changer for you. You're known for being this serious, intellectual actor, but in this role you're more brawn-iac than brainiac.
This thing about me being "intellectual"? You know that joke about the guy in the village? He says, "I built you a bridge. I built you a school. I was mayor for four years. But you screw one goat!" [Laughs] You do one Shakespeare play!
It's like Hamlet: Everybody in the audience thinks they're Hamlet. It's
the same with comic book heroes. I have nothing to prove. I was hired
to play the role. And I have eaten so many chicken breasts in the creation of Wolverine because, if you haven't noticed, I am massively muscular and big right now. The first two months of the project were about the mass slaughter of chickens, in the interest of developing Sabretooth. He's buff. That's 30 grams of protein every three hours. Hugh [Jackman] and I are sort of known as the Hitlers of the chicken world.
What can you give away? Throw the fans a bone!
Hugh and I are old friends …. and our personal relationship played into the story. There's a catch that I think people are going to be excited about, and certainly talk about. Big secret. So it helps that Hugh and I are so close.