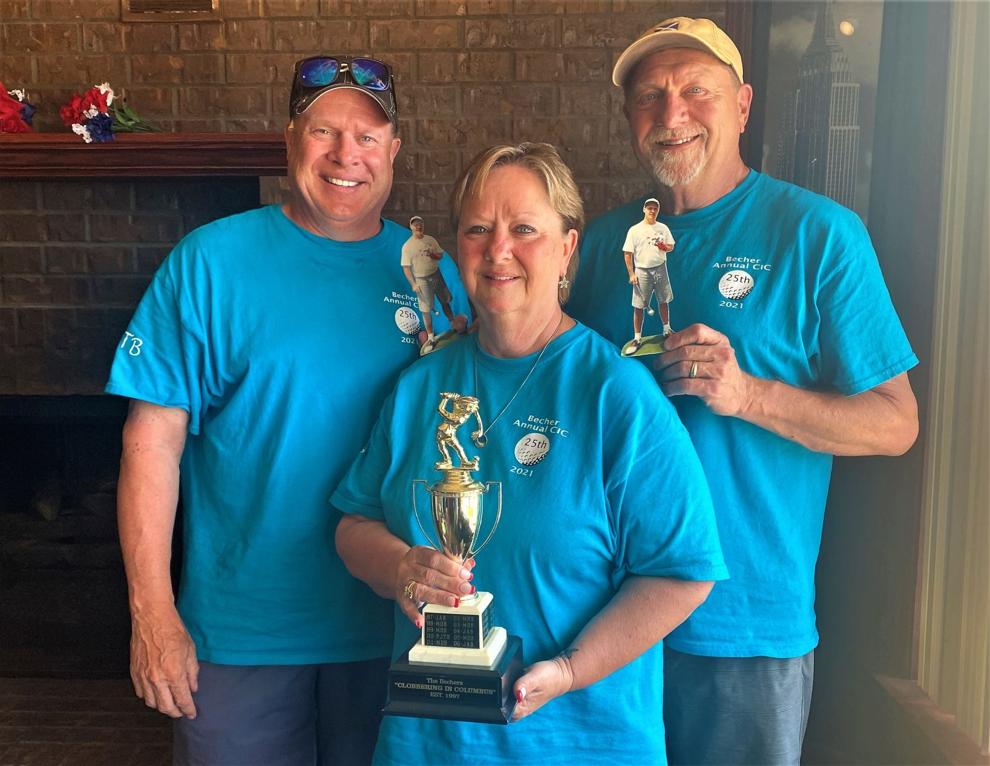 Twenty-five years ago, Mike and Jeff Becher were going to play a round of golf when they decided to invite their youngest sibling, Pat, to tag along.
When Pat rolled up to the first tee box at Quail Run Golf Course, the youngest Becher threw over to his older brothers T-shirts commemorating the event. Little did they know then, but this would become an annual tradition.
The next year, the Becher brothers invited their sister, Michelle, into the mix.
But sadly one of them hasn't played in the tournament for the last 20 years.
Pat passed away in December 2001 after a bout with stomach cancer. He was 31, leaving behind his wife, Jill, and their son, Blake, who was just about to turn two.
Although Pat passed away, he's still with them. The siblings bring with them two small cut-out pictures of Pat which rides along with them on their golf carts.
On Friday, Mike, Jeff and Michelle wrapped up the 25th annual Becher Clobbering in Columbus – a term coined by Jeff the first year they held the event. The winner gets his or her name engraved into the trophy, which stays with them – along with a case built by Mike - until the next outing.
Following Friday's golf tourney, the Bechers went to The Pawnee where they sipped Bloody Marys and tall glasses of cold beer while reminiscing about past golf competitions and, of course, Pat.
Mike, Jeff and Michelle all shared turns providing some good-natured, sibling ribbing at one another. When it comes to their thoughts about Pat – aside from some light teasing – they had nothing but kind words to say about their brother.
"He had no enemies. Nobody didn't like him," Mike said. "He just loved people and people loved him."
Michelle said her younger brother helped out with the Boys Scouts of America while also volunteering his time by mentoring other youths in the community.
"He was one of those people who would do anything for anybody," Michelle said.
Jeff summed up Pat's supportive nature by saying, "He's always a Pat on the back."
Pat passed away after the fourth golf tournament but Michelle, Mike and Jeff made sure to continue the tradition ongoing. They always have a fourth person for the group, which rotates year-to-year, including one time where Jill played with them.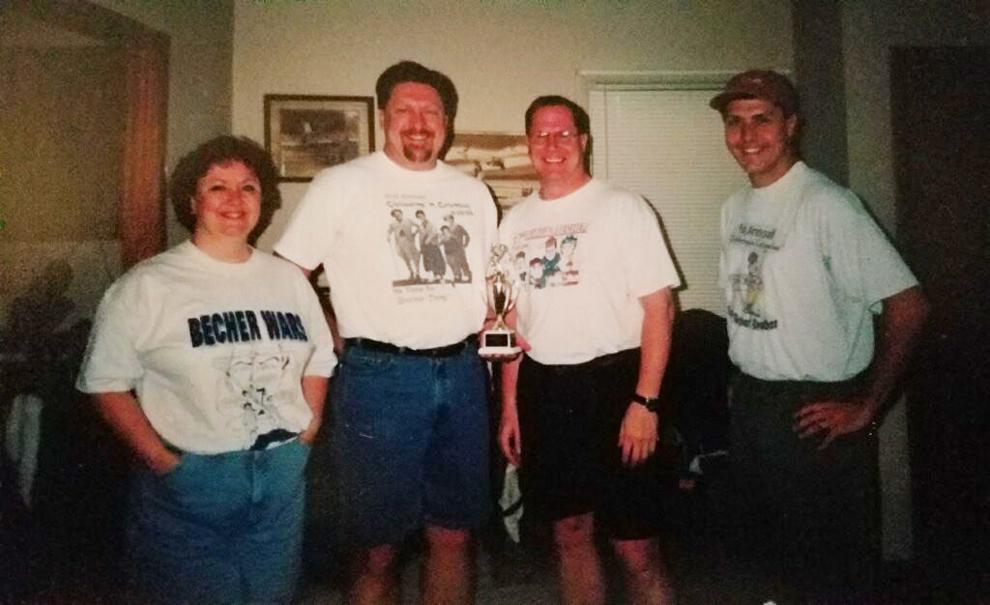 The Bechers said even though Jill is not a blood relative, they still consider her a part of the family. They added she was terrific with their mother, who passed away earlier this February.
Jill would have been at the golf outing on Friday but she was with Blake, who just moved to Georgia a couple of months ago. Michelle and Mike added Blake is doing great.
The Bechers all grew up together in Columbus. Michelle - whose last name is now Ronan - and Jeff currently live in Omaha while Mike still calls Columbus home. Pat also lived in Columbus before he passed away.
After the initial golf tournament, the siblings took turns coming up with the T-shirt designs for each year – this time around Michelle was tasked with the clothing. They hang on to them each year, they said, adding Jeff brought all the past outing's shirts to the competition in 2020.
There's always a competitive spirit to the golf tournament. For example, Michelle made it known she was the one who won this year, as well as the one before.
Mike was quick to chime in he's the only one in the family to bag a hole-in-one during the tournament.
While they are competitive, it's always in good fun. The siblings said they are supportive of one another when they hit a good shot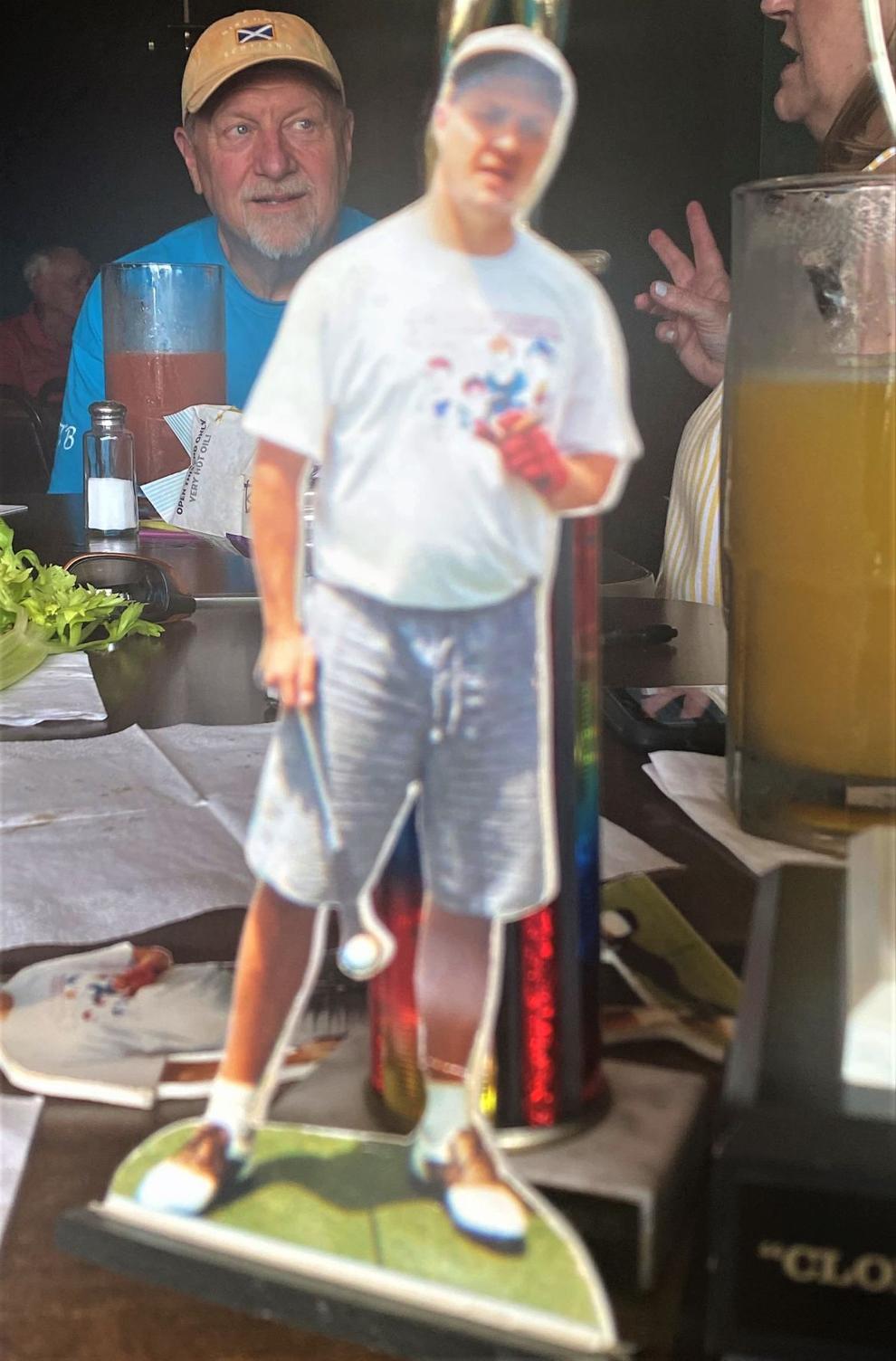 "It's a lot of fun," Michelle said. "We have a blast."
Jeff is the only one between the three who plays regularly, jokingly saying Mike and Michelle take their golf clubs out once a year.
"I just handicap for these guys. I'm not about winning," Jeff said, which got a big laugh from the people around him, before adding, "That was a little facetious."
But trio point out these good times that they've shared for a quarter of a century wasn't possible if not for Pat.
"If Pat wasn't the kind of person he was, we wouldn't be doing this," Mike said.