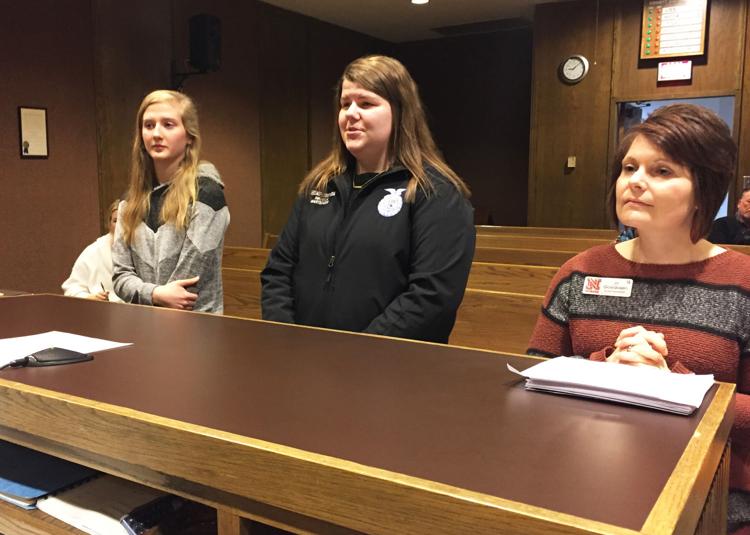 4-H programs are off and running again this month following a seasonal lull that was exacerbated by COVID-19.
4-H activities usually drop off a little after the summer fair season ends, but many of the fall and winter events that were planned for Platte County 4-Hers were delayed, canceled or moved online due to a surge in COVID-19 cases.
At the beginning of December, Platte County Extension Educator Jill Goedeken told the Telegram that most 4-H programs were on hold.
But there is a silver lining. If there was a good time for COVID-19 to hit hard and put 4-H on pause, it was probably during the seasonal lull in November and December.
But with the start of the new year, 4-H is off and running again.
"We are charging full steam ahead at this point," Goedeken said.
4-H Council Representative Crystal Klug agreed that most 4-H clubs and activities usually begin rolling again in January.
Online enrollment is now open for Platte County 4-H participants, leaders, council members and volunteers. Many clubs and groups associated with 4-H are also starting back up and holding their first meetings this month.
"We have our first Clover Kid meeting and then Thursday night we have our archery club meeting. Clubs are getting going again. We have our annual 4-H leader training and another council meeting happening on Jan. 25," Goedeken said.
Platte County Clover Kid Club is a club for prospective 4-Hers who will turn 6, 7 or 8 during the calendar year. Goedeken said the first Clover Kid Club meeting took place on Monday.
Platte County 4-H leader training at Ag Park, 822 15th St., is scheduled for Jan. 25. Leaders will need to RSVP by Friday. Information on how to RSVP can be found on the Platte County Nebraska Extension Facebook page.
In other 4-H news, a Dec. 4 post on the Platte County Nebraska Extension Facebook page announced the new 4-H Council representatives.
They include Angie Reardon, Chelsa Reardon, Logan Went, Adyson Groteluschen, Kim Went, Reese Janssen, Niels Schmidt, Sandi Seckel, Gretta Kinnison, Jared Sweeter, Levi Lutjelusche and Crystal Klug.
According to another Dec. 4 post on the Facebook page, the outgoing 4-H Council representatives included Katie Stone, Kevin Brandl, Jon Blaser, Nancy Wiese and Beau Klug.
In addition to their participation on the 4-H Council, Crystal and her husband Beau are 4-H leaders for the Silver Star 4-H Club. Crystal said they have just begun organizing the club's first meeting of the year.
Insofar as preparation for summer fair activities, many 4-H participants may still have some weeks to go.
Crystal said kids planning to show pigs, goats or sheep at the Platte County Fair usually start looking to pick out livestock in February or March. Meanwhile, most people planning to show cattle will have already started in the fall, Crystal said.
"I feel like January is the time for 4-H enrollment and trying to get people enrolled and then we start to have 4-H meetings," Crystal said. "From January on, it gets a little busier and there are more activities."