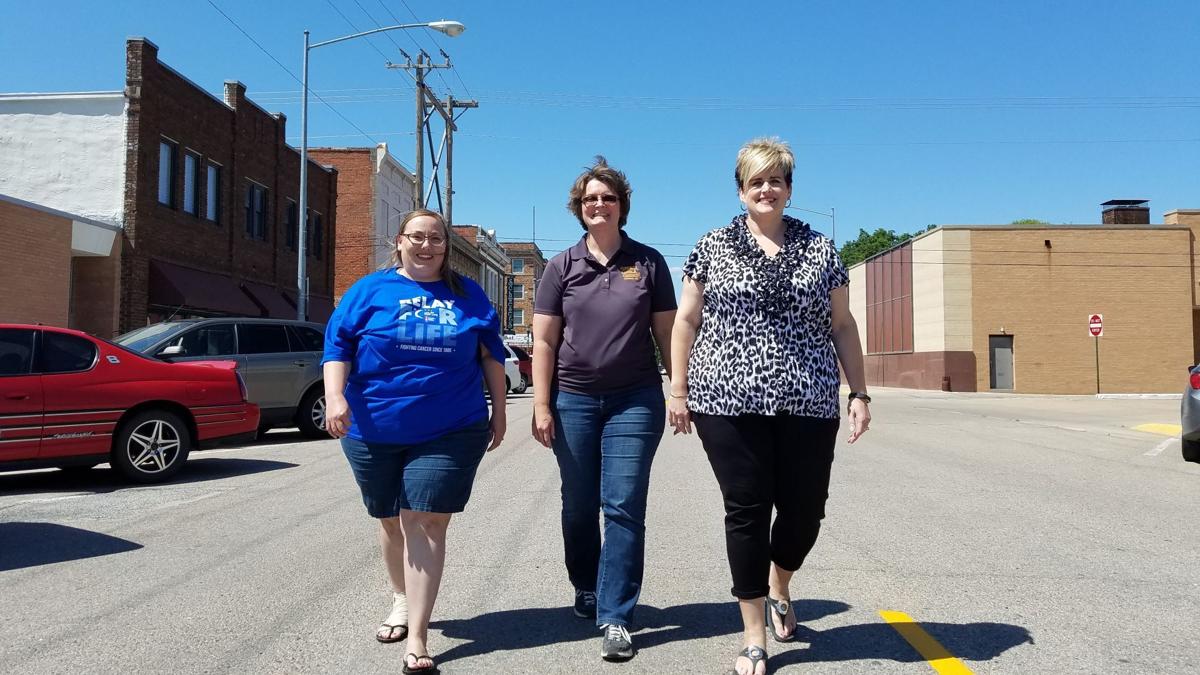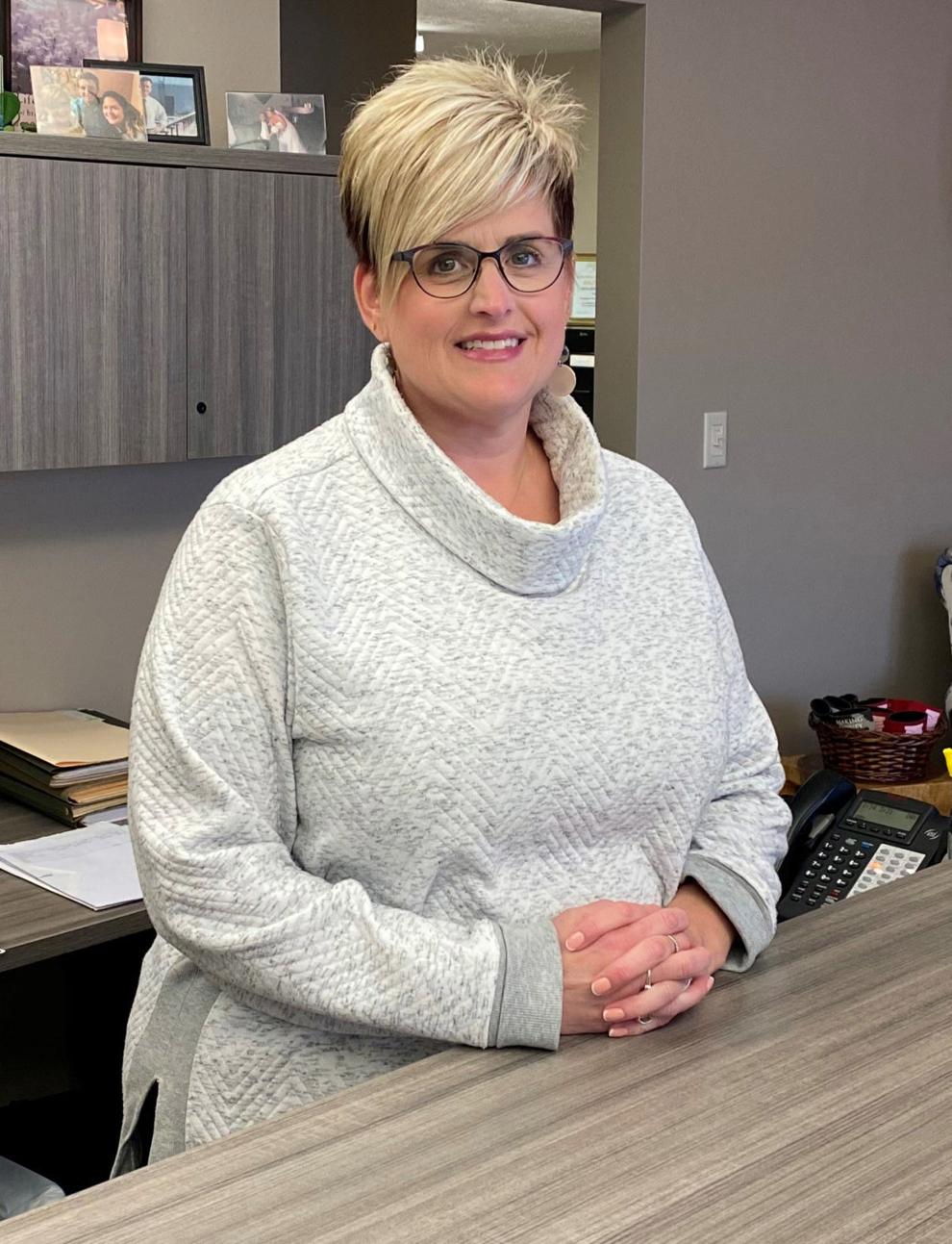 An office manager by trade, Columbus resident Robbin Cutsor puts her customer service skills to use by bettering the community.
Cutsor is perhaps most known for her volunteerism with Relay for Life of Platte County – a cause close to her heart – as well as the CASA Connection of Platte and Colfax Counties and City of Columbus Board of Parks Commissioners.
The Columbus native has faced challenges throughout her life, such as a diagnosis of multiple sclerosis (MS), but those who know Cutsor say that hasn't stopped her from remaining a loyal friend who's dedicated to various causes.
"She always gives to the community," said Suanne Boswell, a close friend of Cutsor's. "She finds something she is passionate about and she works to make it better and to do whatever she can to make it either a better organization or make it a better experience all around."
Small town girl
Born in Columbus, Cutsor's family moved to Genoa in the fourth grade; this was before the Genoa, Monroe and Silver Creek school districts consolidated to form Twin River Public Schools.
She enjoyed her time growing up in Genoa and remembers making a lot of friends.
"It was good growing up," Cutsor said. "My dad started a convenience store up in Genoa and so that's why we moved there. It's kind of what we did there ... that is where my love for customer service came from."
Cutsor said the business – named Kookie's Mini Mart – was the first convenience store in Genoa. After graduating from high school in 1992, however, Cutsor and her father moved to Columbus.
She immediately began working at BD but quickly realized the job wasn't for her.
"(I) didn't love working factory work, that wasn't something that was my calling…" Cutsor said. "(I) worked at a couple of other places but ended up working in the office at Columbus Steel Supply for my very first office job. Schaecher Prokopec Wealth Management is where I have been for the last eight years. It's just me and three financial advisers; I like it a lot. They're good people … and I really love customer service!"
Cutsor met her husband, Joel, through mutual friends, and they married in 1997. The couple has a 16-year-old daughter, Reagan, who is a sophomore at Columbus High School.
She assists with Reagan's activities with competitive dancing at a local studio and color guard at CHS.
"Reagan dances with iDance Project Elite Competition Team. We do travel with their competition team," Cutsor said. "It starts up here in February. I'm really excited because it's really fun to go watch those girls do what they love and you create a family with all of the kids and parents. We spend a lot of time together at the competitions!"
Along with her job and daughter's activities, Cutsor is out in the community giving back to nonprofit causes that are important to her.
'She's an awesome lady'
Cutsor's father passed away from cancer at the age of 52 in 2004, resulting in her finding a way to help others facing a similar situation. She's been involved in the local chapter of Relay for Life on and off since 2008; she was an event leader for five years and a team captain chair for three years.
"At that point in time, I was … determined I was going to raise money in order help with funding research and to not let that happen to other people at such a young age," Cutsor said.
Boswell met Cutsor through Relay and noted that she 'brought a lot of spark' to the organization.
"If it's like Relay for Life, she wanted to make sure it was something that everybody felt a part of, whether (it's) a caregiver or a survivor or somebody who had lost their loved one to cancer," Boswell said. "She just wanted to make sure you felt included and cared for. I think she does that in all the different organizations she's in.
Cutsor added that she's loved her time with Relay and had some successful years.
"This town is so awesome with (Relay); they're so giving and we were so lucky to have a very successful event for several years here in town," she said. "In 2012, Platte County had been recognized for raising a total of $1 million since its inception!"
Cutsor has been an advocate for CASA for seven years and has served as treasurer for its board of directors for five.
"I think my favorite part of being a volunteer for CASA is that you are the one constant person that's going to be there," she said, noting the kids are sometimes taken away from home for a long time or multiple times throughout their young lives.
"I take pride in being that one constant person they're going to see every month that's not going to change, someone to make sure they have what they need and the judge gets to hear their wants and needs in their current situation."
The cause is important to her, Cutsor said, because it's not the child's fault  they were removed from a bad situation that they couldn't control.
Additionally, Cutsor has been serving on the Board of Parks Commissioners for about seven years. She was asked after getting familiar with the board while heading events for Relay.
"It's interesting to be in (those) meetings and learn the small little part of how the City works to take care of our local parks," she said.
A strong belief in God is valued by Cutsor. She's volunteered as a Midweek teacher for five years at Peace Lutheran Church on Wednesday nights. The purpose of the hour-long class is to teach youth about Jesus and help foster their faith.
"Peace is a really good family," Cutsor said. "I enjoy being a part of that. My daughter was confirmed there. I've been a Lutheran my whole life. It's really important to be a part of that family and to believe in God as your savior."
Facing the battle
Cutsor has struggled with multiple sclerosis since 2002; MS is a disease in which the immune system attacks the protective shield on nerve endings.
"I made a decision a long time ago that my MS diagnosis was not going to run my life," she said. "I have relapsing-remitting and I'm really, really lucky it was diagnosed early and I received treatment right away."
Previously, she gave herself a shot for about 14 or 15 years but now she ingests a pill. Cutsor noted people experience MS differently. For her, she's often fatigued and has trouble with her balance. She considers herself lucky, though, because others with MS have more severe symptoms and difficulties.
"I feel very fortunate and blessed to where I'm at right now with MS because it doesn't necessarily always work out this way," Cutsor said.
Looking forward
Cutsor has the qualities of a good friend, according to Boswell.
"(She) loves her Huskers; she was very excited this year that the first kick off game of the year was on her birthday," Boswell said. "She's a very loyal friend, very loving, generous, is always there when you need somebody to talk to."
Cutsor plans to continue working for her current employer, stay involved in the community and, of course, remain in Columbus.
"I really enjoy being part of the growth in Columbus. I think there's a lot of potential here," Cutsor said. "In the big picture of things, I'd hope that someday, Reagan graduates from high school and comes back here to raise her family, too, because it is a good community; there are a lot of great things happening here."