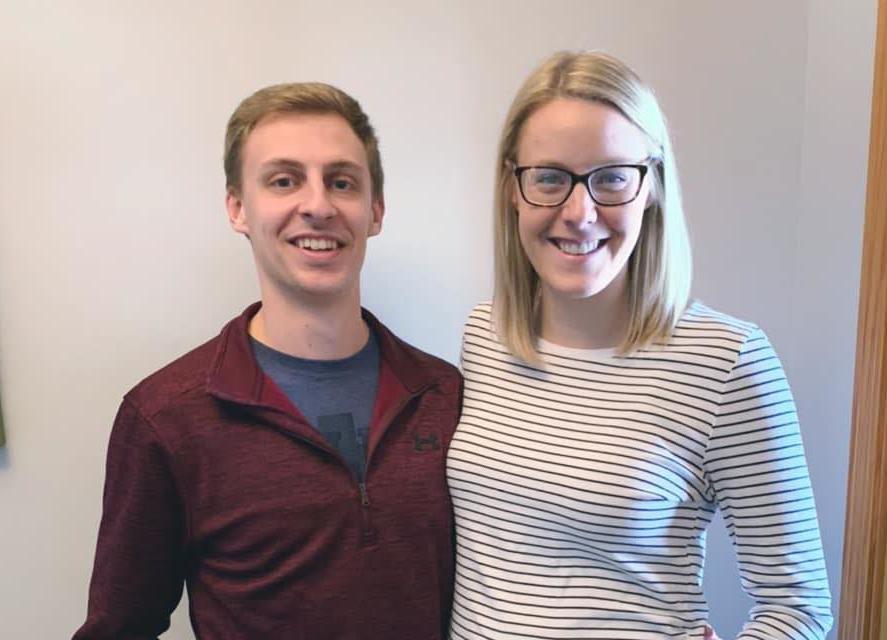 Editor's note: In honor of the new year, The Columbus Telegram is publishing a new two-week series, "20/20." We first profiled five older Columbus residents and now have transitioned to residents in their 20s. See previously published stories at ColumbusTelegram.com.
Reaching the mid-20s holds varying significance for many different people.
Some hit the benchmark of paying off their student loans, others step foot into their dream jobs and some start adding numbers to their immediate families. The latter is currently where 24-year-old Allison Brockhaus and her husband, Brennan, are sitting.
The Columbus natives are expecting to bring a baby boy into the world this April. Allison, who works as a Certified Public Accountant (CPA) for a local accounting firm, said that heading into her 20s she really wasn't positive about the trajectory her life would take.
"I couldn't even tell you, I guess," Brockhaus said of what she anticipated at this juncture in her life. "I always just say that everything happens for a reason. In March (2019) I passed my CPA exam too, so I'm a licensed CPA here in Columbus. So, I mean, it's crazy that we are where we are now."
Brennan Brockhaus agreed that life always deals an interesting hand, noting his excitement over the upcoming birth of his son.
"I think it's just going to be a fun life change, you know?" Brennan, 25, said. "There are changes in life and this is the next chapter, so I'm just looking forward to it."
You have free articles remaining.
Brockhaus and her husband both graduated from Scotus Central Catholic High School in 2013, and then attended Wayne State College. Both graduated in 2017 and returned home to Columbus. Brockhaus, who started interning with Schumacher, Smejkal, Brockhaus & Herley during her sophomore year of college, accepted a full-time position. Brennan went on to teach social studies at Boys Town Duncan Day School.
It was really never in question about whether the duo would return to Columbus, she said. It's where both of their families live and where they feel at home.
"We're both pretty much homebodies – I am anyway," she said. "So, it was kind of a no-brainer to me that I would for sure come back. For him (at the time) it depended on what teaching jobs were available. But, lucky for us, Duncan isn't too far of a drive from Columbus."
When Brockhaus isn't busy crunching numbers at work, she said she enjoys playing coed slow-pitch softball, crafting activities and hopping on Pinterest to gather good ideas for around-the-house projects.
Softball is something she said she loves; but, she likely won't be playing again for some time because of her expected delivery.
"That will probably be the end of my softball-playing days, at least for this summer," she said.
Brockhaus has a lot going on in her life, and she can't begin to predict what will happen with her family another five years down the line. But for now, she's happy with where she has landed.
"A lot of our friends say, 'wow, you have your life together,' and I'm like, 'man, I don't think so,'" she said. "It's definitely crazy to think about where I was, and where my husband was, five years ago. I never would have thought that we'd be married and have a kid coming and have a dog and a house; it's crazy how things fall into place and when they do, the timing of everything."
Sam Pimper is the news editor of The Columbus Telegram. Reach him via email at sam.pimper@lee.net.
Get local news delivered to your inbox!
Subscribe to our Daily Headlines newsletter.