COLUMBUS — Samuel Garay climbed out of his special buggy with help from his father, Jose.
The smiling 7-year-old then bounced down the track at Pawnee Park's Memorial Stadium during Saturday's We Can Run, Walk and Roll event before crossing the finish line.
It was a big accomplishment for Garay, who was born with paralysis on the right side of his body and unable to walk until he underwent a number of operations on his knee.
He still has issues with the bones in his right leg.
"We were at the doctor in Omaha just last week," said Garay's grandmother Jessica Froehner. "The doctor told us that it would be a good idea to cut the bones a little bit to make Sam more comfortable. But Sam heard this and yelled, 'No. I have a race to go to!'"
The Garay family has two years to decide when the boy's operation will be.
"Thinking about the surgery makes my tummy hurt," Garay said.
Before Saturday's race, Garay made sure he got some help from above.
"I wanted to pray with my family before the race," he said. "I wanted God to make my feet still work during the race so I could win."
You have free articles remaining.
We Can Run, Walk and Roll, which was held for the seventh time, is sponsored by Columbus Community Hospital as an event for people of all abilities.
"It's such a fun atmosphere to see people cross the finish line," said Doug Janssen, director of rehabilitative services at the hospital. "Families are waiting here to see their loved ones make it. Really, it's a way that everyone can complete the race next to each other."
The event, which includes 5K and 1-mile races, also raises money for special AmTryke bikes and tricycles provided to those with disabilities.
"The AmTrykes are very adaptable to those who have many different abilities," Janssen said.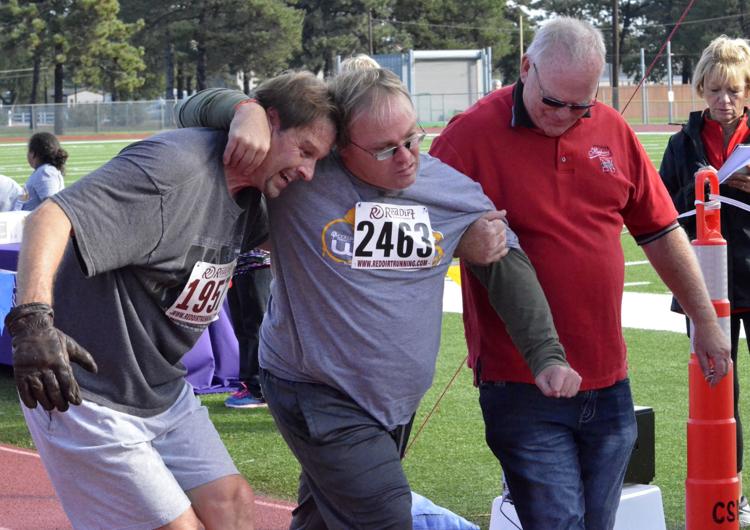 Heath Zinnel asked his brother, Gary, to stop pushing his wheelchair about 20 yards from the finish line. Gary and family friend Brian Beck positioned themselves so they were able to hold Zinnel upright as the trio completed the event together.
"This is maybe the fifth time I have been out here," Zinnel said. "I want to keep coming because I really hope to make it 1 mile all alone."
The Columbus man was in a traffic accident in 2002 and in a coma for three months. Physical therapy helped him regain some function, but he still needs the wheelchair for mobility.
Zinnel said the best part of the annual race is making his son, Logan, proud of him.
"We all come out here and no matter how well we can walk, we just keep moving," he said. "There is so much hope here in all of us. We all want to make it."