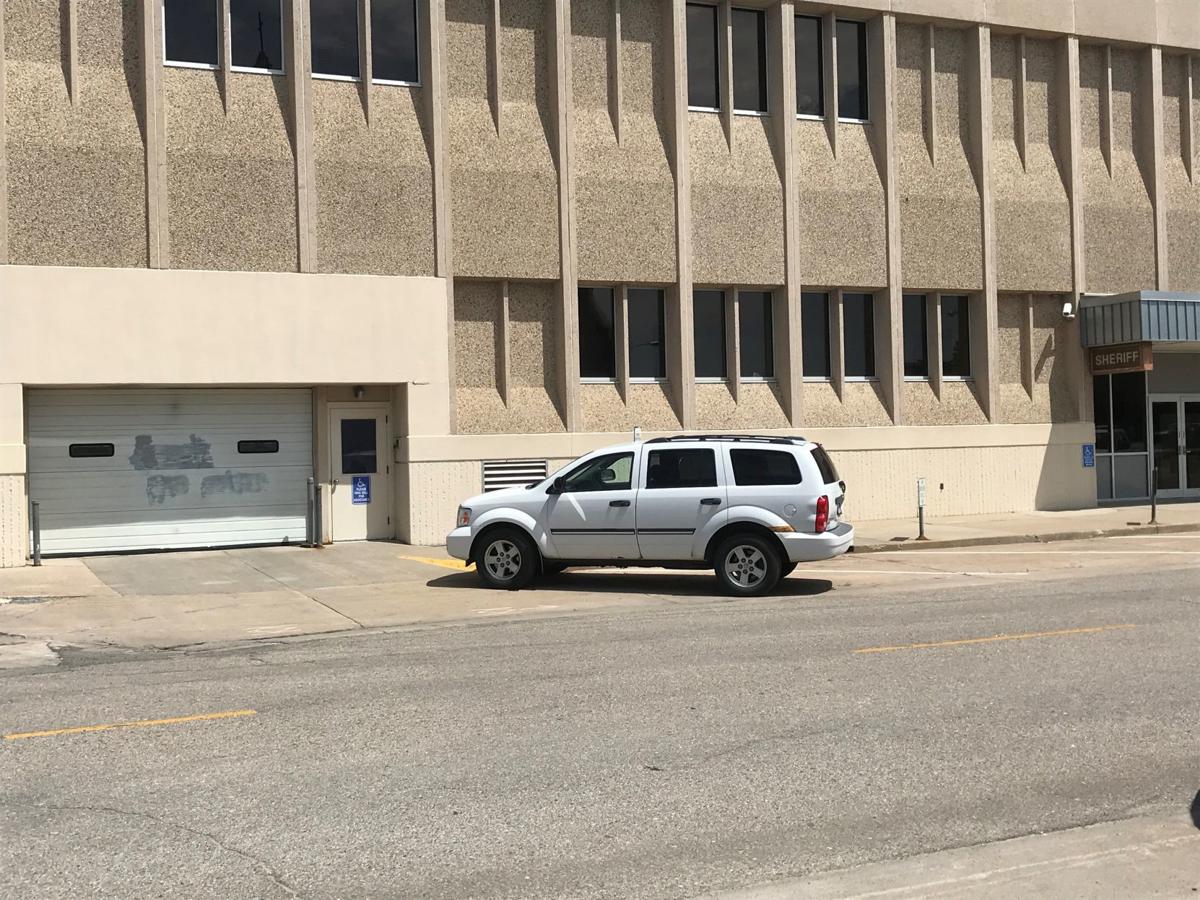 Residents of Columbus may have seen or heard about a graffiti message scrawled on the side of the Platte County Sheriff's Office on Monday morning.
The message, written in blue spray paint, read 'f*** the police.' It was written on a garage door on the 27th Avenue side of the Platte County Sheriff's Office.
As of early Monday afternoon, the sheriff's office had not filed a report about the vandalism with the Columbus Police Department. Columbus Police Capt. Douglas Molczyk said that meant the sheriff's office was taking care of the situation. By 3 p.m., the graffiti was painted over.
The graffiti wasn't the only incident to take place in Columbus over the weekend.
One block over, Tweet's Sport Shop on 13th Street was burglarized at 3 a.m. on Sunday. A handgun for sale was stolen from the shop, and a glass door was broken in the burglary.
The investigation into the burglary remains open. Anyone with information is encouraged to contact the Platte County Crimestoppers at 402-563-4000 or the Columbus Police at 402-564-3201.
While it's not the first time such an incident has occurred, Platte County Sheriff Ed Wemhoff said there has always been a supportive relationship between law enforcement and the people of Columbus and the rest of Platte County.
"The officers I know here in our community only have a strong desire to protect our citizens, continuously making this area a wonderful place to live, work and raise a family. I think it helps living in a smaller community where most everyone personally knows a law enforcement officer," Wemhoff said, in an email to the Telegram on Monday.
As a community, Wemhoff said, Columbus is better than the sentiment expressed by the graffiti.
In point of fact, cleaner, gloves, and some hand sanitizer were brought to the sheriff's office Monday morning by a local business to help clean up the graffiti.
The Columbus Police Department has also recently received community support in the form of meals donated by local restaurants. The meals were a thank-you to Columbus officers, who remain out and about in the community while COVID-19 keeps many at home. In May, Molczyk said the gesture meant a lot to the officers in Columbus.
Less than two weeks later, members of the Columbus Police and Fire departments joined a parade celebrating one Columbus resident's fifth birthday.
"We have a pretty positive relationship with the community in Columbus. We feel we have a lot of supporters for the police department," Molczyk said.
That positive relationship means a lot in light of recent national events. Protests against police violence have broken out across the country, including in nearby Omaha and Lincoln, in response to the death of Minneapolis resident George Floyd. Minneapolis police officer Derek Chauvin was fired and has been charged with Floyd's murder.
Members of law enforcement are "in the limelight now more than ever," and "need to be aware of our actions," Wemhoff said.
"As with any profession, there always seems to be those individuals whose negative actions result in negative consequences for the vast majority of others in their profession, who do practice proper sound judgment. Regarding the protests, I not only respect a person's right to their opinion, but also their lawful right to peacefully protest ... However, when a protest turns into a riot, I feel it loses the purpose for which it was intended."
Many of the peaceful protests across the country have turned into riots. At least five Midwesterners have been killed by guns fired into crowds of protesters. None of those deaths have been linked to the police.
In Omaha, a 22-year-old man, James Scurlock, was shot and killed Saturday during a protest in the Old Market and downtown areas of the city. On Sunday, the City of Omaha implemented an 8 p.m. curfew in response to Scurlock's death.Lincoln also imposed a citywide curfew for the second night in a row on Monday - Monday's curfew began at 9 p.m. (an hour later than the 8 p.m. curfew police and sheriff's deputies enforced Sunday night) and runs through 6 a.m. Tuesday.
Two others died in Davenport, Iowa, and another two were killed in Indianapolis over the weekend.
In many cities where deaths or riots have taken place, officials have indicated the violence is the work of a few people, rather than the efforts of the many peaceful protesters.
There were talks of a protest happening Monday evening near Pizza Ranch on 33rd Avenue in Columbus. Some people on social media began posting that a peaceful protest was scheduled to take place at 4 p.m. Tuesday at the same location.
Molczyk said there would a police presence at any local protest to monitor the situation.
Concerned about COVID-19?
Sign up now to get the most recent coronavirus headlines and other important local and national news sent to your email inbox daily.