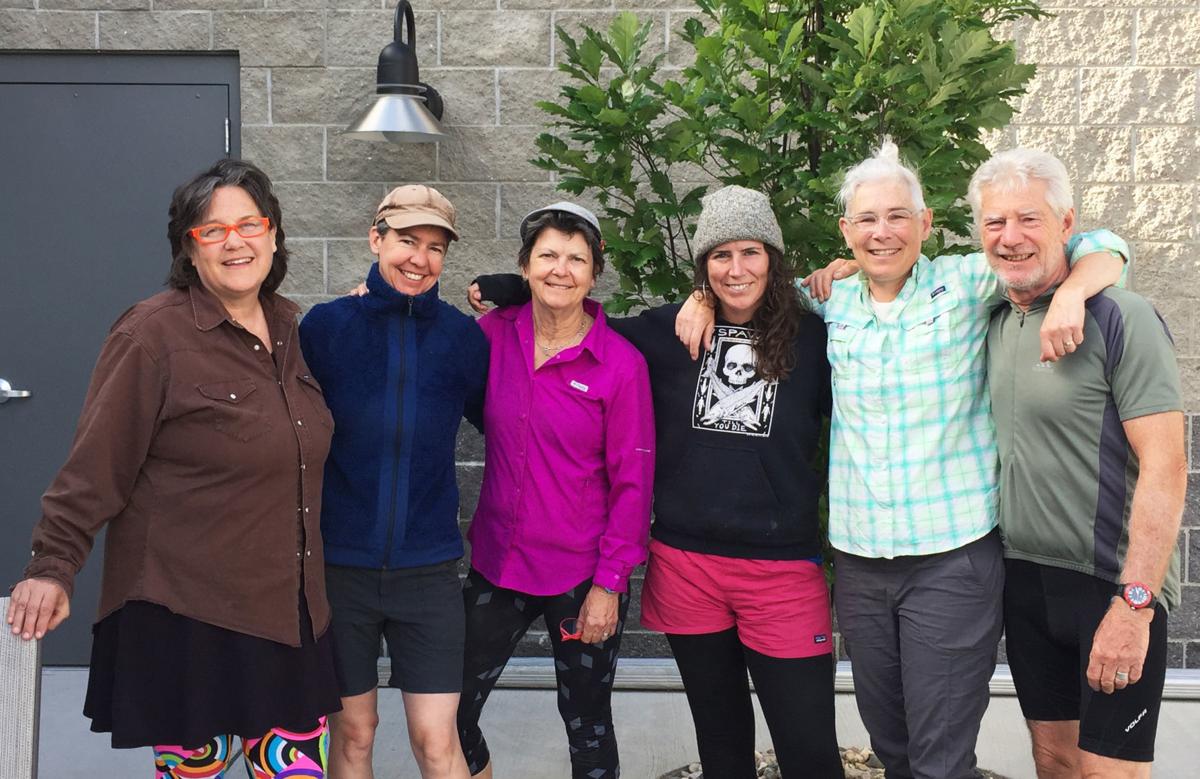 When Lisa Conrad was in art school she had an idea revolving around a unique type of art project.
She wanted to explore railroad paths that had been abandoned in favor of more direct routes through the country. After all, she was studying in Chicago, which has long been an epicenter of rail development.
"I started imagining, 'My gosh, what if you could bike across the country on old railroads?'" Conrad said. "Wouldn't that be amazing?"
Unfortunately, life simply got in the way of the project for some time. She graduated from the University of Illinois at Chicago art school, showcased her artwork at various exhibitions, participated in various residencies and ultimately became a librarian at California College of the Arts in San Francisco.
Biking across America was not a primary concern for more than 15 years; however, the idea always remained in the back of Conrad's mind. After an internship at Rails-to-Trails Conservancy, she decided to begin the project - called "4 ½ feet" after the original span of a track gauge - in 2014.
The project is a form of performance art that plans to draw an imaginary line from Seattle all the way to New York City. Conrad got the inspiration for the coast-to-coast trail from a map that she saw at Rails-to-Trails that showed a black line cutting through the country that could be converted into a trail. Thus, she decided to follow this path and make her art school dream a reality.
"I wanted to see if I could map a route (across the country)," Conrad said. "I started looking at trail data and coming up with a proposed route across the country. It slowly started to form over a number of years and once I seriously started staring at the map, then it got more and more real. I needed to just try this and see if we could do a series of rides across the country."
The first phase of the project went from Seattle to the eastern border of Montana. The second phase went through Montana and Wyoming all the way to northwestern Nebraska. Now, a group of six joins Conrad as they travel through Nebraska's Cowboy Trail, going from Valentine in western Nebraska all the way to Norfolk, following old railroad tracks as they go. The group completed the Cowboy Trail on Monday and now they soldier on, heading from Norfolk to Columbus, where they stopped Monday night to camp in Pawnee Park.
They also found time before hitting the Cowboy Trail to tour some of the sights and sounds of South Dakota, which was out of the general route, but a fun experience for all involved.
"We came down through the Black Hills on our way to Nebraska and we rode the Mickelson Trail (in South Dakota)," Conrad said. "It's not part of our cross country route, but it was so beautiful that we wanted to experience some of that."
Indeed, the experience of working with nature is one of the many facets of the trip that riders enjoy. Deidre Hayden has ridden with the group on the last two phases. She loves being able to explore the open spaces that line the trails while also being able to experience all of the wonders of the natural world.
"(It's) been a lovely experience to remind us of what our natural world is and how important it is to maintain it and sustain it," Hayden said. "One of my passions is the environment and making sure our Earth remains healthy. Getting out into the countryside reminds me (of) how important it is."
Although some may perceive nature as only something designated for specific places protected by a governmental body, Conrad noted that bike rides and the trails that they ride are perfect ways to experience nature in a different light.
"We typically have this idea that we have these places (old, unused railroads) set aside like national parks and state parks," Conrad said. "Riding on the railroads is somewhere in between. It's a less defined space (and) it's not as much of a sanctioned space. There's an openness to it that I find really compelling."
Conrad refers to the project as "a grand gesture" to nature and to the world around them. One of the other riders, Hope Windle of Hudson Valley, New York, agrees with her, also noting that the compassion and generosity of people in Nebraska impressed and heartened her.
"The people have opened their doors and showed us these historic photos," Windle said. "It's been really amazing to connect with folks on a basic way about love of the outdoors."
Eventually, Conrad said she hopes to continue her project in the coming years, moving next through Iowa on the way through Illinois to Chicago. She has been doing the rides every other year, allowing for the riders to rest and giving her time to prepare for future phases.
"While we were riding, I found myself already starting to think about the next ride," Conrad said. "The most challenging part of this is doing the fundraising. The fundraising helps support the photography (and) the cinematography. We have a support vehicle, (a) trailer and a person who's taking care of us. I think the next thing (that) I will do when I get back is look for someone to sponsor us."
Get local news delivered to your inbox!
Subscribe to our Daily Headlines newsletter.