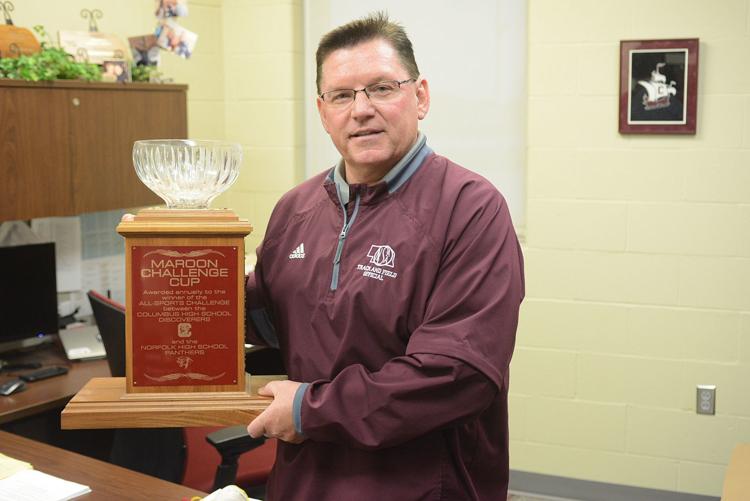 Tim Kwapnioski just finished his first school year as Columbus High activities director. That fact, and his hiring just about this time in 2019, should have been all about him.
After all, here was a former Discoverer returning to his alma mater; the place he once set school records in track and field and from where he earned a walk-on invitation to Nebraska football.
And as if his professional and athletic story isn't gripping enough, there's the heartwarming aspect of his personal life. Since Kwapnioski left Norfolk for Gering in 2016, and his family left Norfolk for Columbus, the two lived, worked and went to school apart from one another for three years.
In that time, he put over 160,000 miles on his truck, returning most weekends to still be a husband and a father.
Yet, even mentioning that will open more than a slight crack inside the joyful emotions he must have felt when he first realized his five and a half hour treks out west had come to an end.
Simply put, Tim Kwapnioski just isn't one for telling stories about his glory days or wearing his heart on his sleeve. He has work to do.
Even so, while he might not express it or verbalize it, Kwapnioski is all Discoverer.
"You can tell he bleeds maroon," Columbus High football coach Craig Williams said. "He cares about this school, and he cares about putting this school in the right place."
Although he'll only occasionally reach back into the past to spin a yarn about the early 1980s in Columbus, it's clear that what started then has carried forward in all aspects of his life.
Regardless of where one might fit on the roster, in the coaching staff or on the faculty, it's the big picture that matters most.
"I'm developing relationships with coaches and staff, I'm developing relationships and connections with our kids and you're also carrying that into relationships and connections with the parents and the community," he said. "All of those things are important to have this bigger perspective of what we're trying to do for our kids and our community."
Reality sets in
Although his hiring was noteworthy and received with much interest, for Kwapnioski, the fact he was leading his old school didn't take a firm grasp until these last few months when he hired two new head coaches.
As he thought back to his time as a Discoverer, he pondered what he would have looked for in a leader.
In past administrative positions, he had hired teachers and building superintendents. This was different. Now he was looking to fill jobs that had requirements in the classroom and on the field. Plus, he was doing it at the place where he once wore maroon and called himself a Discoverer. That brought an all new level of responsibility. He would be the one to inaugurate the next era in Columbus High athletics.
After 10 months on the job, the weight of what he was doing finally hit him upside the head. Admittedly, there was pressure.
"I think the answer is, and maybe I don't want to admit it, but the answer is 'yes,'" Kwapnioski said, about feeling that pressure, as self-inflicted as it may have been.
The pressure arrived as a result of a desire to carry on the tradition he enjoyed as a teenager.
One of Kwapnioski's first lessons in sports, that turned out to apply to life as well, was as a sophomore when the offense changed from the I-formation to the Veer. Columbus High had several quality running backs ready to carry the ball, and as a sophomore, he'd have to wait his turn.
That plus the nature of the system meant spreading the ball around. For it to work, everyone had to be on board and invested in shared success.
He never forget that concept.
"You didn't play for yourself. You played for the guys around you. It wasn't about you as an athlete," Kwapnioski said. "You felt more excited about the success of your team and your teammates than you felt for yourself and whatever you had been able to accomplish."
Kwapnioski carried that mentality through a variety of jobs as coach, teacher and administrator. Applying it at different levels gave him the type of unique perspective Columbus High was looking for when it started its AD search last year.
CHS Principal Dave Hiebner, who stepped down as AD to transition into his current role, was part of the selection process. He recognized Kwapnioski's unique outlook right away.
"He's got a view of things that can be very hard to find," Hiebner said.
Sharing a vision
As Kwapnioski engaged in his first candidate search and interviewing process as the head of Columbus High activities, the big picture was the top priority.
Discussing and sharing a vision is the most common topic of every conversation between coaches seeking a new job and management looking to fill one. But for Kwapnioski, it was much more involved than the presentation.
The right fit was someone who could not only aspire to big things but enumerate what it would take to get there.
Then, on his end, it was Kwapnioski's job to be a steward of his school and his community. Anyone he was going to entrust with CHS student athletes had to have an idea of how they would carve out their own personal and professional life at school and in Columbus.
"You have to look around our community and you have to envision yourself being a part of it," he said. "Whether it's you and your wife, or you and your wife and kids, is this a good fit for you?' I view the connections that I'm making in that sense as important because, as we bring teachers in, as we bring coaches in, I need to be able to share with them what kind of staff we have here, what kind of kids we have here and what kind of community we have.
"It's important that they understand all of that and that I have a good grasp of that and I can sell that to them."
New Columbus High boys basketball coach Jordan Hitchcock saw that up close and personal over the last few weeks as he encountered Kwapnioski and others at CHS in the interview process.
Initially unsure about Columbus High, it was the vision of Kwapnioski that quickly had Hitchcock on board with the Discoverers.
"He was very thorough. He had a plan and was going to execute a plan. I've had a lot of interviews in the past with ADs where things were up in the air. Tim was very professional," Hitchcock said. "The other thing was, his philosophy of working hard on the front end so he can put people in places where they can thrive and work to their strengths was attractive. That is exactly the type of AD I want to work for."
The stars align
Kwapnioski returned to Columbus after transferring from Nebraska to South Dakota State and earning his degree. He started as an elementary teacher at North Park and Emerson while also helping out on the coaching staff at Columbus High School for football and track.
It was the perfect career. He enjoyed it so much that back then he was beginning to imagine a future where, perhaps someday, it would all come together as the Discoverers' athletic director.
But after 10 years and no opening, he moved on to Norfolk, where he became the director of human resources and accreditation for Norfolk Public Schools.
When he was offered a job as associate superintendent at Gering, he saw a great opportunity.
He's proud of what he and the staff were able to achieve in his three years as a Bulldog, but yet, there was still something missing. His family was, of course, almost 400 miles away. But not only was he missing his wife, Kim, and children, Emma, Rylee and Sam, he was missing students.
As his career evolved into positions that sent him to central offices away from the hustle and bustle of high school hallways, Kwapnioski's daily interactions with students lessened and lessened to the point of almost nil.
Professionally, it didn't make much sense to transition from assistant superintendent to athletic director - a step down on the education ladder. On the other hand, it made a whole lot of sense when Kwapnioski again considered the bigger picture: Why did he get into this line of work in the first place?
"I got into education to be around kids, to be around teachers. I enjoyed that side of it tremendously," he said. "This position opened up, and the timing was right to say, 'Tim, there's something missing in who you are and the reason you chose this career, and here's a chance to be part of that again.'"
A detour not worth mentioning
As he looks back on it all now, Kwapnioski certainly took a non-traditional route just to get back to where it all started. While it included a lot of waiting and a fair amount of struggles, true to his fashion, you're unlikely to hear about any of that.
He likens it to road construction and a detour home that upsets the daily routine. Maddening and frustrating for a while, sometimes even months, it's hardly worth mentioning once its over. The irritation and indignation seems to fade rapidly.
So it was with him finally finding his way back to his school and back to his family. The past is simply details. The big picture now is what comes next.
"In the end, it all worked out, and I feel fortunate to have the opportunity to come back here and be a part of not just this school system but with this staff," Kwapnioski said. "I feel like we have a lot of fantastic people working in this building who have what's best for kids in their heart, and we have coaches who work extremely hard.
"I'm excited to be here and be a part of continuing to grow Columbus activities."
Get local news delivered to your inbox!
Subscribe to our Daily Headlines newsletter.