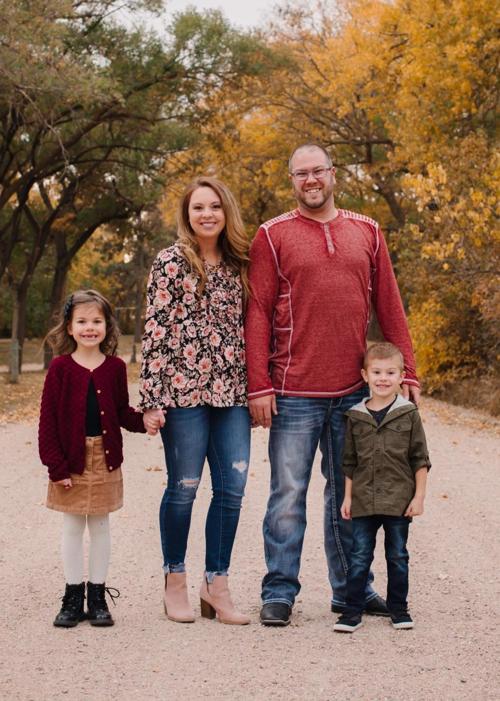 Practically a Columbus native, Scott Ackman to this day can vividly recall the unpleasant experience he and his wife had both times they tried to buy a home here in town only a few years ago.
"Both times we found ourselves in the same boat. You find something you like and it becomes a bidding war because there is not a lot out there. It's frustrating," Ackman said. "I think it's tough for a lot of younger families looking to take that next step. We need more affordable housing."
Ackman acknowledged the recent surge in housing and construction in the area; however, he's someone who believes it's important to be part of the solution rather than waiting for someone else to do it. That's part of the reason he ran for the City Council Ward 3 position in the general election this year. Although it didn't work out in his favor, don't expect Ackman to stay put. He's determined to help make Columbus thrive.
"Scott's a guy who cares," said friend Randy Baker, who worked with Ackman at CED Enterprise Electric in Columbus. "During his time at our location in Columbus, I could tell he had a vested interest in the community … I could just tell he cared about what's going on in the community and the future of the community."
COMING UP
Ackman grew up the oldest of three boys and learned the importance of a strong work ethic from his parents. His mother works at Nebraska Public Power District and his dad runs his own business, Ackman's Paintless Dent Repair. Between school and athletics, Ackman was constantly busy.
"It was great growing up, we had a lot of kids in the neighborhood. I was running around a lot, playing a lot of backyard sports," Ackman recalled. "I played competitive sports at Scotus, like football, basketball and track. I did club basketball."
Lifelong friend Scott Jarecke, who met Ackman in kindergarten and went to St. Isidore's and Scotus Central Catholic with him, said his buddy was constantly getting involved with different things throughout their youth.
"Whatever he did, he always wanted to make an impact," Jarecke said. "Even then, he always wanted to make a positive impact on those around him and was always willing to help another person. He always wanted leadership roles in whatever he was doing – sports, student council or a job."
Ackman, he noted, was and remains someone who can brighten your spirits.
"Scott's a funny guy," he said. "He's a person who can make you laugh."
Being a proud Nebraskan, Ackman didn't have to think hard about what he wanted to do post-high school in the mid-2000s. He was determined to become a Husker and go to the University of Nebraska-Lincoln.
"I didn't put my eggs in any other baskets, honestly," Ackman said.
He started out at UNL pursuing an engineering degree but quickly figured out it wasn't the path he wanted to take. So he ended up obtaining a major in marketing and a minor in psychology.
Following college graduation, Ackman put his marketing background to good use by working for the Omaha Nighthawks, a then-professional American football team in the now-defunct United Football League.
"It was a great experience," he said, noting he helped with game-day operations and ticket sales, among other things.
FINDING HOME AGAIN
Ackman came back to Columbus in 2011 after a family friend reached out about an inside sales customer service position in Behlen Mfg. Co.'s building division.
He spent nearly five-and-a-half years in that role when, in February 2017, he got an opportunity to become a project manager and estimator at CED Enterprise Electric, an electrical supplier specializing in knowing what the industrial facilities and contractors do. He now works out of the company's Norfolk office, but make no mistake, Columbus is home.
"I quote out all of the electrical components and services for new construction and manufacturing companies bringing in new equipment," he said.
Things are also going very well on a personal level. He and his college sweetheart Gessica, who was a year younger than him at Scotus, were married in 2013. They have two young kids, 6-year-old daughter Everlie and 4-year-old son Porter.
Ackman enjoys coaching his kids in T-ball and soccer. He also plays a lot of softball in the summer and officiates high school and junior high basketball games for area schools in the winter.
"My wife and I both have a lot of community ties here. Our families and friends are here," said Ackman, who has been involved with the Columbus Softball Association for many years. "Columbus is a great community as far as small-town feel, but we have a lot of amenities – there are plenty of things to do. And you can find things we don't have here nearby, in bigger cities like Omaha and Lincoln."
MAN WITH A PLAN
Ackman and his wife ended up finding the house they wanted to raise their family in and are quite happy. But, their experience to get to this point is something he often thinks about.
"Our personal experience of being through the home-building scene, it drove me to realize affordable housing is a problem for a lot of people, and unless it directly affects you, I don't think you notice," said Ackman, who is vice president of his neighborhood homeowners association. "There has been a step in the right direction, but unless someone gets in there and starts to make it be front and center, will it ever get taken care of?
"I feel it's my duty to bring this to the forefront and try to help the people that need the helping."
He said he believes tax-increment financing (TIF) is a great resource, but not a catch-all solution for everything. He noted he thinks sometimes there are positive intentions when a housing project is first developed and unexpected costs come about during the construction, which makes the purchase price or rent inflate.
"I would love to see the City of Columbus put together a plan to work with contractors," he said. "I think more needs to be done to police and lock (contractors) in so things don't change so frequently during construction. We need more check-ins along the way to make sure everything falls in range as it is supposed to."
Ackman acknowledged he was a bit disappointed he fell slightly short of being elected to the Columbus City Council in the general election; however, it didn't crush his spirits or deter his plans.
"I know his time will come in the future where he'll have the opportunity to take an active role in continuing to help Columbus move in a positive direction," Jarecke said. "He wants to continue to help Columbus with the progress it has made in moving in the right direction."
Ackman said he won't rule out running for City Council again in the future and that he's hoping to hear back from several local community committees he reached out to about open spots. Regardless of what happens, he'll be active in Columbus.
"I like being able to help, and I want to be involved in that change for our community," Ackman said.
Matt Lindberg is the managing editor of The Columbus Telegram. Reach him via email at matt.lindberg@lee.net.
Get local news delivered to your inbox!
Subscribe to our Daily Headlines newsletter.