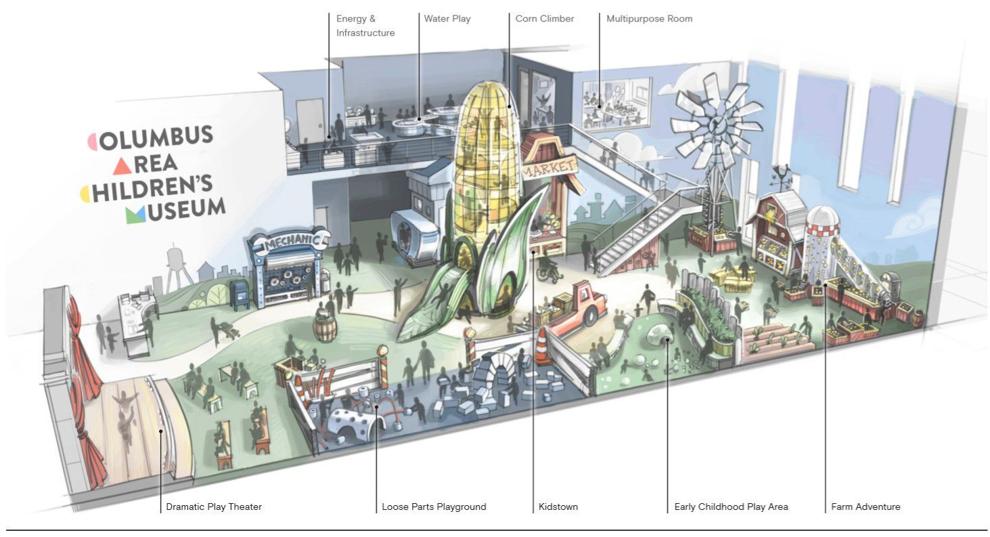 Officials with the Columbus Area Children's Museum have started reaching out to local businesses to receive sponsors and donations ahead of the Columbus Community Building's scheduled opening in 2023.
Once construction is completed, the three-story community building will house the Columbus Public Library, Columbus Area Children's Museum (CACM), a community room, an art gallery, City Hall and a coffee shop.
All but the City Hall portion of the project is funded by a $10-million bond passed by voters in November 2020, to be paid from an existing half-percent sales tax. City Hall's part of the building will be funded by the City's general fund revenue.
CACM Board President Tim Kacena said the concept and plans for the children's museum were shared during Columbus Days, which was held Aug. 13-15.
"Now we're at the schematic phase and fundraising," Kacena said. "It's going really well. We revealed everything at Columbus Days; we revealed the booklet and the master plan."
The children's museum -- which will contain age-appropriate experiences inspired by science, technology, engineering, art and math (also known as STEAM) style activities -- will consist of two floors.
The first floor will feature a dramatic play theater in which stories can be acted out, events such as puppet shows can be held and staff can hold demonstrations. A loose parts playground, early childhood play area and various games and activities in Kidstown and Farm Adventure areas will also be included on the ground level.
Kidstown will be the heart of the CACM with a Corn Climber, a two-story structure for kids to explore; a lookout at the very top of the climber from which kids can see the entire museum; an air cannon and a slide for younger children.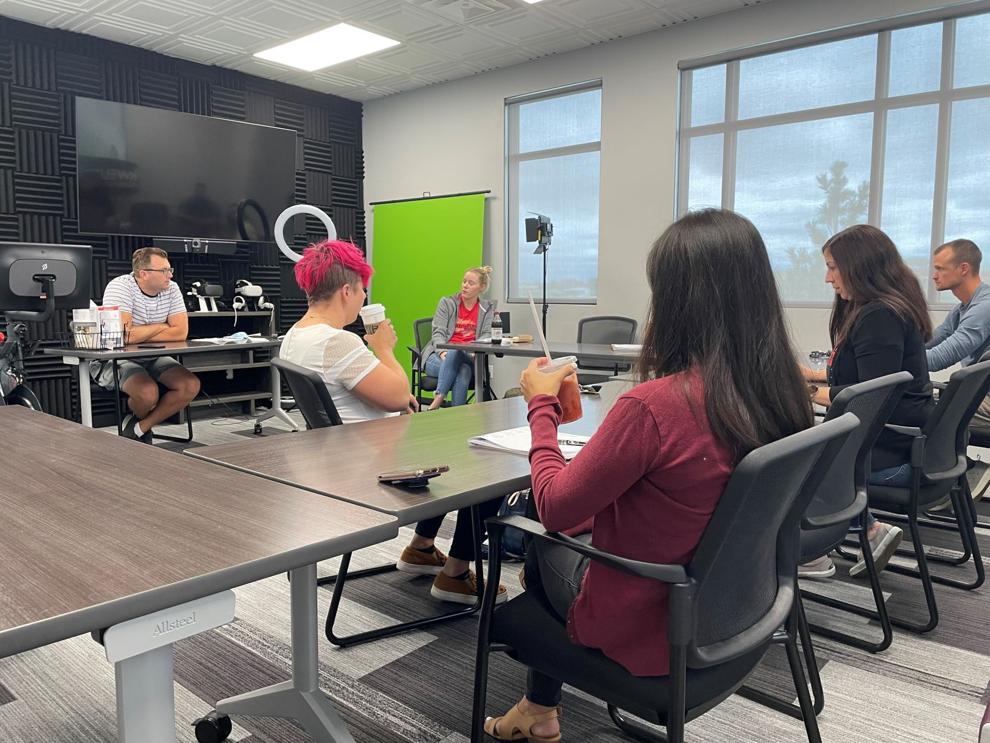 As for the second floor, visitors will be able to enjoy multiple water-based activities, an energy and infrastructure section for kids to learn things like how to build a windmill efficiently and a multi-purpose room.
Additionally, a play area is planned for outside of the building.
"What's included in the schematic phase is bringing people on to help develop the museum, the exhibits themselves," Kacena said. "That's why we're looking for partners right now in the community to represent the community within the library."
The museum has "Columbus area" in its name as it's for communities outside of City of Columbus limits as well, and board members are also contacting businesses in neighboring areas.
"The big thing that we're kind of wanting is if there are people that are a part of a business or if they're interested at all in being a sponsor, they can reach out to us. We can set up a meeting with them," CACM Board Vice President Nikki Behle said.
General donations are accepted as well. CACM is still in the progress of getting an official website and email addresses set up, but those interested can contact the museum at the Columbus Area Children's Museum Facebook page.
"We are going to be a 501c3," Kacena noted. "We're working on that final approval now through the state."
Earlier this year the former Columbus Public Library building, 2504 14th St., was demolished to make way for the Columbus Community Building. Once City Hall moves into its new home, the current City Hall – located across the road at 2424 14th St. – will be torn down for a parking lot. The library is temporarily being housed at the former Columbus Police Department building, 2419 14th St., until the new facility opens in 2023.
"The progress is moving for sure; it's coming along," Kacena said, of the CACM. "We still hope to be open with the library in 2023, and with the support of local businesses in the community, we'll get there."