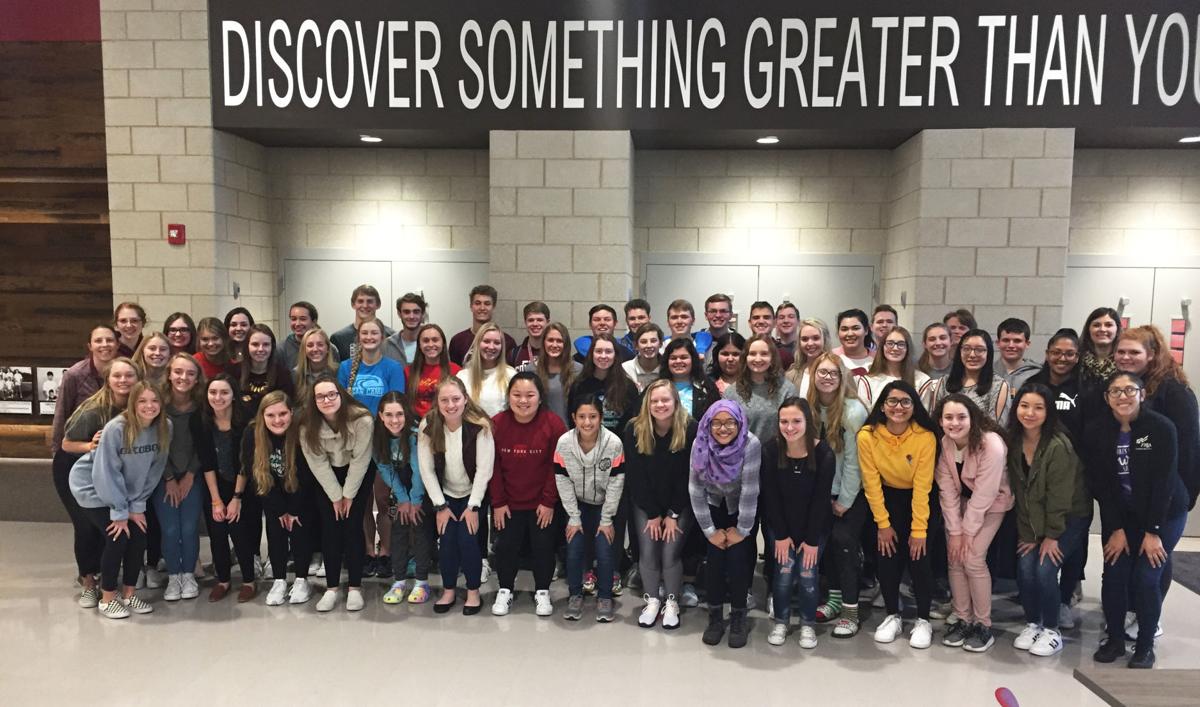 When Columbus High School started its CHS 101 mentoring program, it looked a lot different than today.
Instead of a hands-on course, talking about various in-school issues, it was a series of skits put on by people interested in teaching freshmen more about high school.
"They just did skits for the freshmen to get them to talk about bullying and GPA (grade point average)," said Julie Kreikemeier, sponsor for CHS 101. "We just thought it could be more and it's just grown."
More than a decade into its existence, CHS 101 has developed into an important part of the transition from middle school to high school for many students. The program's growth has been seen in the number of students willing to be a part of the program and willing to show the youngest members of the student body the survival skills needed to get through not just their first year at CHS, but the next four years, as well.
For those unfamiliar with how the program works, it goes like this: 60 upperclassmen mentors split up and meet with 18 freshmen homerooms and provide them with information carefully curated by the school's guidance counselors. This information helps teach the freshmen about getting involved in school activities and school events.
In addition to in-class work, the students and mentors meet on occasion outside the school day. At first, the students, mentors and Kreikemeier meet twice a month on Mondays. As the year progresses, the meetings are reduced to once a month, as students get used to their new surroundings.
Kreikemeier said that the program has seen a significant level of interest from students over the years. Indeed, it got to the point where it became almost too popular -75 students were involved one year.
"It's tough (to get in)," Kreikemeier said. "There is a bit of a commitment to step out of your own homeroom to come in and mentor."
It's now at a good size with 60 students and the program is continuing to evolve moving forward. Kreikemeier could see some of the mentors doing sessions at freshman orientation in the next couple of years.
You have free articles remaining.
"They pretty much run the freshmen orientation," Kreikemeier said. "The hope next year is that they can run a few sessions on questions like, 'How does this happen?' or 'Where do I go to get involved?' We're working on that for next year where they can run a few sessions on that day to even more help with that transition."
Everything within the program is designed to teach students something new. However, even the people in charge learn a few things about their school during the course of the class. That has been the case for Molly Hornbeck, a new assistant principal at CHS and one of the people in charge of CHS 101. When Hornbeck arrived in Columbus, she learned firsthand about just what the program is and noted how she is excited to see it all play out over the course of the year.
"It was extremely helpful for me, as a new administrator, having these kids who have been in the building for three or four years to be able to show these freshmen the ins and outs of the building," Hornbeck said. "It's really impressive. When I came in and was told about it, I just thought, 'Wow, this is a win-win no matter what way you look at it.'
"It provides some leadership opportunities for our upperclassmen who are good role models for these younger kids. It allows them to take ownership and design some lessons and then on the flip side, it allows these younger kids to hear some things from their peers instead of always hearing them from a teacher or an administrator."
One main goal of CHS 101 is to provide students with a sounding board; with someone that they can go to on a regular basis in order to ease the transition from middle school to high school. Kreikemeier likens it to building a family relationship, with students calling each other by name in the hallways.
"We're just building that culture, that community and that we're a family," Kreikemeier said. "I know the counselors have been working on kindness."
One thing that is on the docket for next month, just in time for the holidays, is a random act of kindness, something to leave their mark as they exit their first semester as CHS students.
The overall goal of the program hasn't changed in the slightest over the past decade, although the methods have changed with the times. At first, the program used the Seven Habits of Highly Effective Teens as a model. Now, it has its own unique style and approach, melded together by the counselors.
"I'm hoping that in the future, we can combine the two models," Kreikemeier said.