BLUE SPRINGS — The early week rain has gone but the wind has remained, bringing a chill to this sunny morning on the Chief Standing Bear trail, where an old man and a young boy prepare to perform their weekly service to the bluebird.
Xander Seeman is off to fetch the golf cart, running in his tennis shoes. He's just finished sixth grade, a boy with thick dark hair, a serious face and glasses.
"He's 12 and he thinks he's 30," says Maurice Cullison, a retired Air Force man, widower and lover of bluebirds. "He's my legs."
They are kindred spirits, says Xander's mom, Kandi Seeman.
Mr. C, she calls her son's friend.
And almost always after their trek down the trail, they'll head to Mr. C's place for a sandwich and an afternoon of fishing.
Sometimes they'll find themselves in Mr. C's workshop, repairing a bluebird box, or building a new one.
Xander loves nature. His Grandpa Swett introduced him to the outdoors and he joined 4-H, showing ducks and chickens and working his way up to cattle.
This is his second bluebird season.
He got started when his mom was working as a home health aide for Cullison's neighbor and she mentioned the 80-year-old next door was looking for help along his bluebird route — checking dozens of bluebird boxes along the abandoned Union Pacific rail line east of town. A commitment that stretched through three egg hatchings, starting in April and ending in August, when the last babies took flight.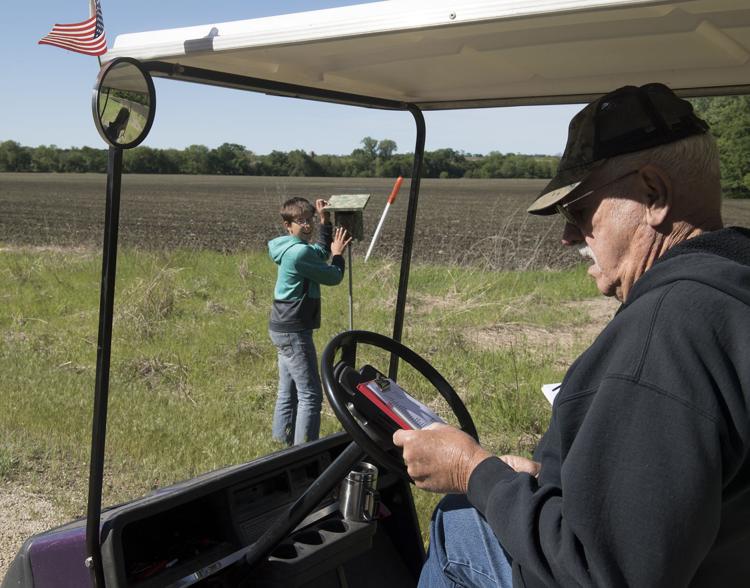 Xander would love that, his mom said.
On this windy Wednesday, they board the purple and black golf cart that Cullison's daughters bought him when he gave up riding his bicycle.
Today he carries a clipboard on which he will mark what they find in each of the boxes along the trail.
He holds up a bent finger to show the 2019 tally: 120 eggs. 81 hatched. 66 fledglings.
Then he puts it aside and turns a key.
The cart's engine putts to life and a small American flag on the driver's side starts to ripple.
Once upon a time, bluebirds were plentiful across America.
And then the house sparrows and the European starlings arrived. They took over bluebird homes and pecked their eggs to pieces or killed their babies outright.
There were other predators, too. Wasps and ants and raccoons. Habitat disappeared, plowed into farmland.
By 1970, bluebirds were in trouble, their population dwindled to 10% of what it had once been, and people who loved birds and wildlife began efforts to save them.
Bluebirds Across Nebraska began in 1974 with a dozen volunteers, says Sandy Seibert, the group's president. Now there are more than 1,000 people, like Mr. C and Xander, who set up and monitor bluebird boxes across the state.
"The bluebirds are just a symbol for people," she says. "People who like nature. People who like birds. Helping them gives you a sense you're doing something worthwhile."
They don't call them the bluebird of happiness for nothing, she says.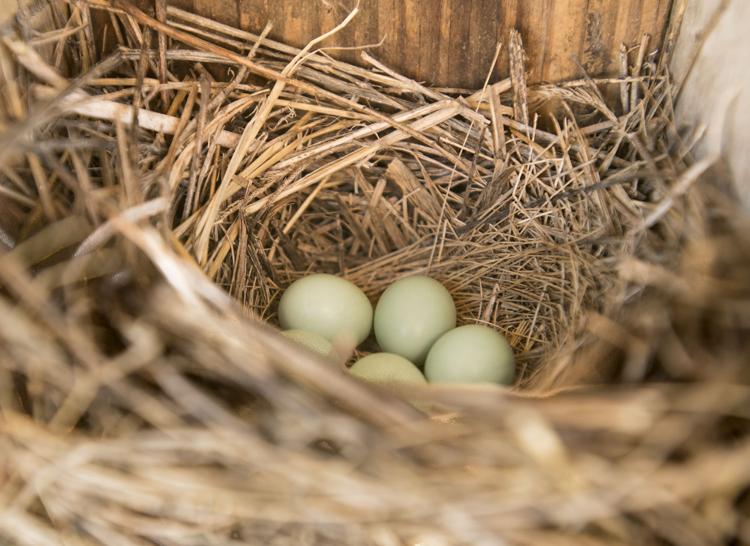 Seibert was at the trailhead near Blue Springs on May 4, when her organization, along with Ponca Tribe members and local civic groups, dedicated a memorial for three longtime volunteers.
Volunteers had set a wooden bench at the end of a patch of brick pavers — fired long ago at small companies in the Midwest. They edged the enclave with railroad ties in homage to the prosperity the railroads brought to the towns along their routes. They planted native grasses and Indian Sunset boulders from Colorado.
And they affixed a plaque to the largest rock: In memory of Sharon Holliday, Bert Hellmer and Kenneth Barnhill for their tireless efforts to restore the Eastern Bluebird population to the Chief Standing Bear Trail.
Sharon Holliday died in 2015, Seibert says. The Lincoln Northeast teacher and her family had a cabin near the Big Blue.
The teacher and mother of five put up bluebird boxes there and tended them faithfully. She became the bluebird coordinator for Gage County and brought other volunteers into the bluebird fold.
And they in turn brought more.
She put on workshops and seminars, Seibert says. Ken and JoAnn Barnhill, a couple from Barneston, came to one of them.
"He had been a farmer all of his life, and he saw that flash of blue out of a chimney pipe and he started building boxes."
With Holliday, the Barnhills became county coordinators and started giving their own workshops.
"That's where the Hellmers came in."
Bert and Bill Hellmer lived down in Oketo, Kansas, and started putting up their own boxes after attending a workshop.
They hooked up with the Barnhills to staff a booth at the Marysville flea market every year and talked about bluebirds, Seibert says.
The women entertained passing children, putting bluebird tattoos on their cheeks while the men instructed their parents on the art of protecting the small birds.
It was a ripple and the bluebirds benefited.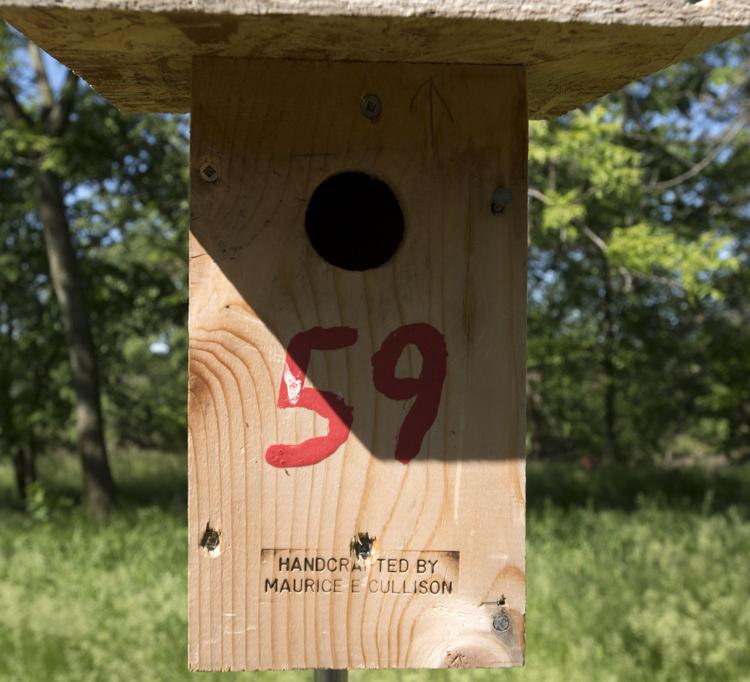 "Now we have a really healthy bluebird population," Seibert says, "but only because people put their boxes up."
It costs $20 for a three-year membership to Bluebirds Across Nebraska.
You have free articles remaining.
Register for more free articles
Stay logged in to skip the surveys
For another $5, they'll throw in a pair of bluebird boxes and two poles to put them on.
Mr. C stops the golf cart and Xander — his legs — hops off.
They've been tooling along the trail for nearly an hour, through sun and shade, river and woodland, stopping at numbered boxes spread out on both sides.
They give the birds elbow room, about a football field, tiny bluebird acreages.
The adult birds like to have a lookout tree nearby, Cullison says, but the boxes need to be in the open.
Xander pulls open the door of box No. 87.
"I got babies in this one."
Mr. C peeks at the huddled mass of speckled feathers, tipped in blue. He picks one up and the startled baby stares up like a cartoon bird, before he returns it to the box.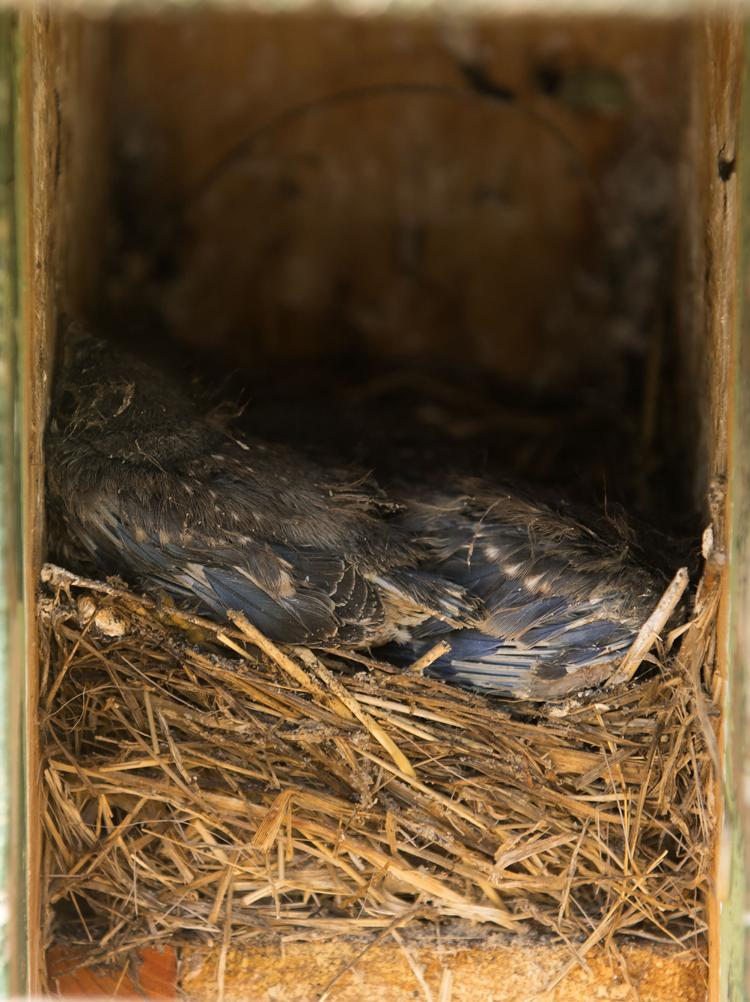 "They're pretty tolerant of humans."
He picks up the clipboard and makes a note: 4 fledglings.
He steps on the pedal and Xander keeps his eyes peeled for deer as they go. He spots one. And then another.
The pair once stopped to watch a raccoon climbing a grain bin off the trail and a rattler, sunning itself on nearby rocks.
Today, cardinals fly across the trail, and a pair of orioles.
A bluebird calls from a nearby tree.
"Once you hear it, you'll never forget," Cullison says.
After he retired from the Air Force, Cullison drove a concrete truck for Ready Mix and mowed lawns to make extra money.
It's been about 30 years since he started tending bluebird boxes. He put up boxes in the Blue Springs cemetery and along the country roads southeast of Wymore.
He and Becky, his wife and the mother of their five daughters, checked them together until her death four years ago.
Two years later, his kids bought him this cart.
He bumps along the trail to East Plum Road and calls to Xander.
He lost his Grandpa Swett last week and they laid him to rest on May 17, his 66th birthday.
It's hard and Mr. C knows that.
Xander's grandma is sick, too, with Stage 4 cancer.
"Never say never," the old man tells the boy.
The pair stop at box after box, many of them fashioned by Cullison in his shop.
When they find an empty nest where there should be eggs, Xander searches the grass and spots them, each pecked open. He cleans out the old nest with a putty knife, getting it ready for the second hatching of the season.
On and off the cart he goes. He finds wren nests — made from sticks — and more eggs. Another nest of fledglings.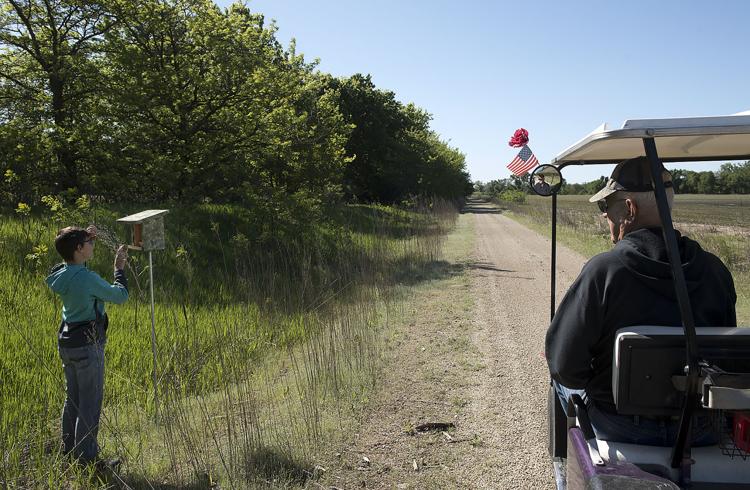 Xander knows a lot about bluebirds now. When his uncle talked about putting up a few boxes on his own property, Xander told him just how to do it.
He likes it out here, he says. Being in nature. Spotting wild creatures. Helping the birds.
A few days ago, he and his family moved from Wymore to Blue Springs. This summer he's going to help volunteers plant a tree in the town park.
And he'll be a lot closer to one special volunteer.
Something his mother took note of.
"They're both really really glad we moved to Blue Springs."
And on a windy May morning, a golf cart makes its way to the trailhead and a boy jumps off, slowly the old bluebird man follows.
Standing Bear Trail photos