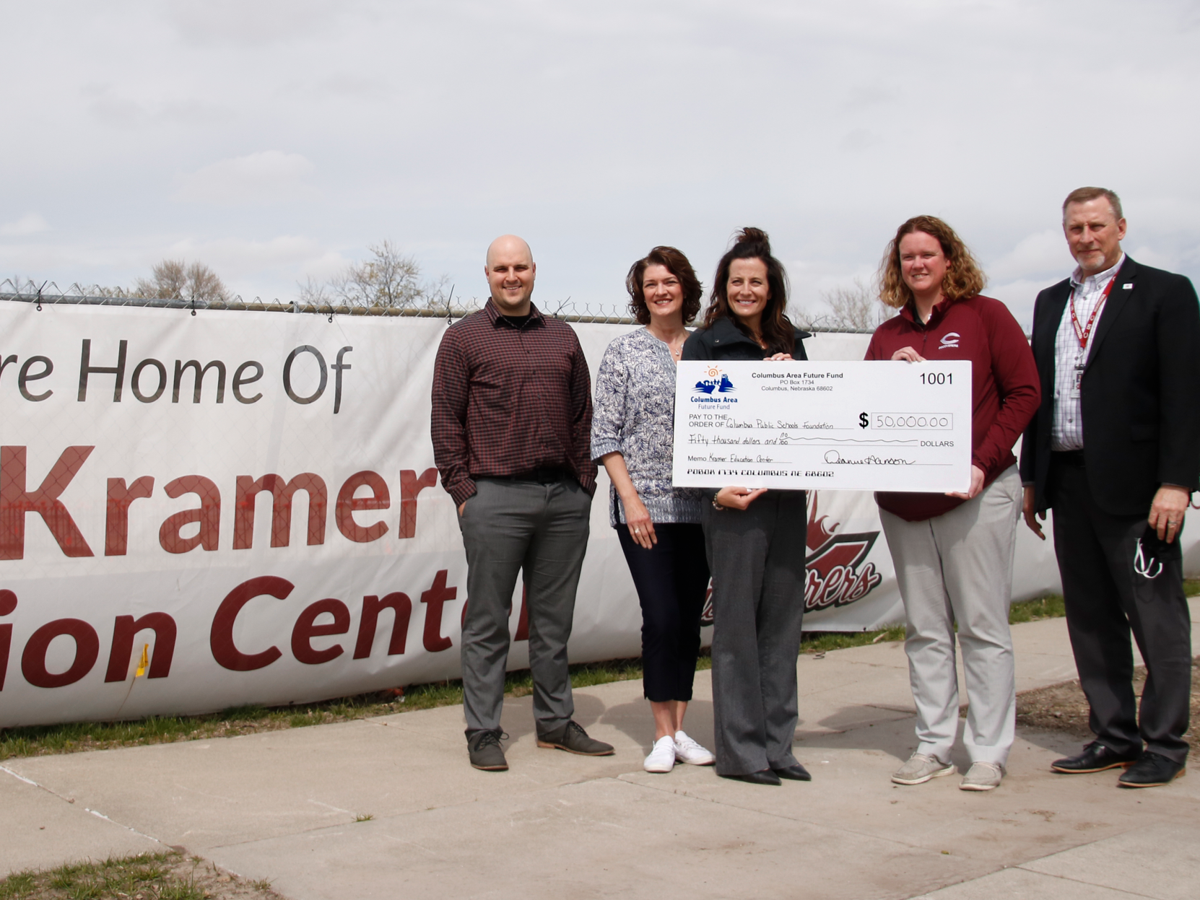 The Columbus Area Future Fund recently made a sizable donation to support Columbus Public Schools' Kramer Education Center.
CAFF has come forward and pledged a lead gift of $50,000 that will be paid out over five years toward the completion of Phase I. CPS in November 2020 broke ground on the new Kramer Education Center, which will include phases to build a preschool center followed by a child development center. In phase I of this project the preschool center will be completed and increase the number of preschool opportunities within the community of Columbus. Also, during phase I CPS will complete the outer shell of the child development center. In Phase II CPS will complete the internal structure of the child development center and add additional childcare and early childhood development opportunities within our community.
Research has shown over and over that an investment in early childhood education is not only a way to mitigate the negative consequences of poverty on child development and adult opportunity, but short-term benefits are seen in workforce gains as well as in the long-term benefits in the future workforce. Access to quality early childhood education for disadvantaged families is essential for a thriving economy.
The mission of the Columbus Area Future Fund is to empower the greater community to invest in philanthropic giving to enhance the quality of life, while establishing lasting legacies. Specific priorities are given to engaging youth and young people, building local leadership, expanding community philanthropy and energizing entrepreneurship.
"The Columbus Area Future fund is proud to be a part of the growth and investment in the future of Columbus through the Kramer Education Center Project," Columbus Area Future Fund Chairwoman Dee Hanson said "The Center will provide a needed service for our community, help fortify our labor force, strengthen the income potential of students, help sustain our employers, and boost the economy in our city. This project aligns well with our mission, vision and values and is a great step to help Columbus grow as a community."
CPS Superintendent Troy Loeffelholz said the district was appreciative of the CAFF for its donation, noting the center will be a great asset to the community.
"The partnerships and collaboration within this community is extraordinary. The commitment to Early Childhood Education and Development is the next step for our community in childcare, education and economic development. The pledged gift from the Columbus Area Future Fund is a great first step toward meeting our goal of providing the best early childhood development program for children ages six weeks to five years old," Loeffelholz said.
CPS Marketing and Foundation Director Nicole Anderson echoed his sentinment.
"We are thankful for the pledged partnership between the Columbus Public Schools Foundation, Columbus Public Schools and the Columbus Area Future Fund. This investment will impact the current need in Columbus for additional preschool and child development care as well as community growth to meet the needs of new families who move or return to Columbus," Anderson said.
To find out how you can help invest in the future of the Columbus area, please contact Deb Loseke, Columbus Area Future Fund coordinator, at 402-606-6783. To learn more about investing specifically in the Kramer Education Center, please contact Anderson at 402-563-7000 x 12847.
The Columbus Area Future Fund (formerly Columbus Area Community Foundation Fund) is an affiliated fund of Nebraska Community Foundation and strives to build a community endowment to promote local leadership development, entrepreneurship, youth engagement and community philanthropy. A volunteer Fund Advisory Committee works actively to increase charitable giving and award grants to local worthy causes and projects that are addressing emerging needs and future opportunities in the Columbus Area. Since 2014, CAFF has given over $882,000 into the Columbus Area Community. For more information, visit www.columbusareafuturefund.org.