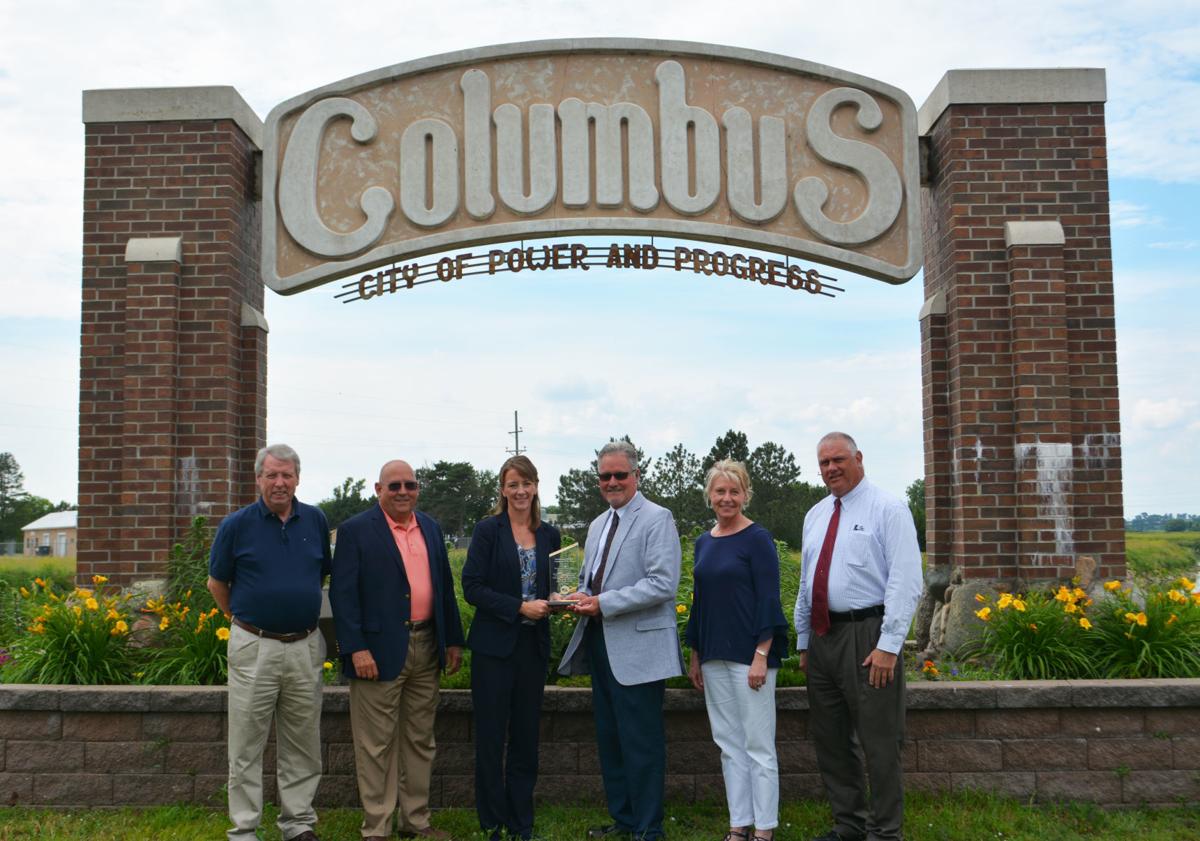 It's a good week to be a Platte County and Columbus resident.
The Columbus Area Chamber of Commerce, on Wednesday, revealed that residents living in and around Columbus are part of the area selected as the Northeast Nebraska Community of the Year. The award was presented by the Nebraska Diplomats and the Nebraska Economic Developers during their annual conference held earlier this month in Wayne.
Chamber President Jeanne Schieffer was present to accept the award and noted how Platte County and Columbus being collectively honored is fitting.
"I think that the award itself is great because the award is for Columbus and Platte County," Schieffer said. "We do a lot of things in a partnership that benefits all of our residents. Everything ties in with the collaboration through our businesses, their clients and the community as a whole. We all work together to make Columbus a great place for people to live and work and enjoy their lives."
Both the Nebraska Economic Developers and the Nebraska Diplomats are groups that promote economic growth and vitality statewide. This particular honor recognizes communities with strong economic development. With more than $93 million invested in Columbus and Platte County over the course of the last few years, it wasn't a shock to Columbus Economic Council Co-Chair David Bell that Columbus came out on top during the award process over some other Northeast Nebraska Communities.
"We won something similar to this seven or eight years ago," said Bell, who made the application on behalf of the city and county. "And we normally don't apply, but we did this year in light of all of the major investments – more than $90 million in investments over the last year or two. And it's ongoing right now. There's a lot going on in our community, and the economy is very strong."
A lot is right. Neal Suess, president and CEO of Loup Public Power District and co-chair of the Columbus Economic Council, highlighted through a news release the assortment of development projects underway.
You have free articles remaining.
Projects includes the new construction of Prairie Catalytic and Columbus Hydraulics and major expansions taking place at BD East and CAMACO. In addition, major investments have been made in Bomgaars, the Granville Office Building, Parkway Plaza, the Obrist Building, Prairie Village, Columbus Community Hospital, Loup Public Power District and Pillen Family Farms.
"It's a tremendous honor for the community that highlights all of the work done by so many people," Mayor Jim Bulkley said. "Everybody has a hand in trying to make things happen that have been a part of our great development here in Columbus. And David Bell spearheads so many different things and saw this opportunity and put our name in. And fortunately, we stood out among the other communities because we have actually had so much come (to fruition) and get accomplished."
Jerry Engdahl, chairman of the Platte County Board of Supervisors, piggybacked off of Schieffer's comments relating to collaboration being a key factor to the success of Columbus and the county at large.
"We are very excited about the cooperation we have had over the course of the past few years," he said of the county working with the city. "One of the big projects is the new E-911 Call Center – for years we had two call centers, and that might have led to some people not getting as good of a response.
"Now on Aug. 1, those centers will combine, and it's really a win-win for everyone – especially the taxpayers."
Bell noted that Columbus, for decades, has just been an optimal spot for business to happen. Especially, he said, relating to the manufacturing industry. Businesses scouting Columbus know that the workforce is strong, he added.
"Columbus has a long history with being successful in economic development," Bell said. "And we have more competition than we used to, so it's good to see that really good things are still happening here and that we are staying a strong community where businesses can thrive."
Sam Pimper is the news editor of The Columbus Telegram. Reach him via email at sam.pimper@lee.net.