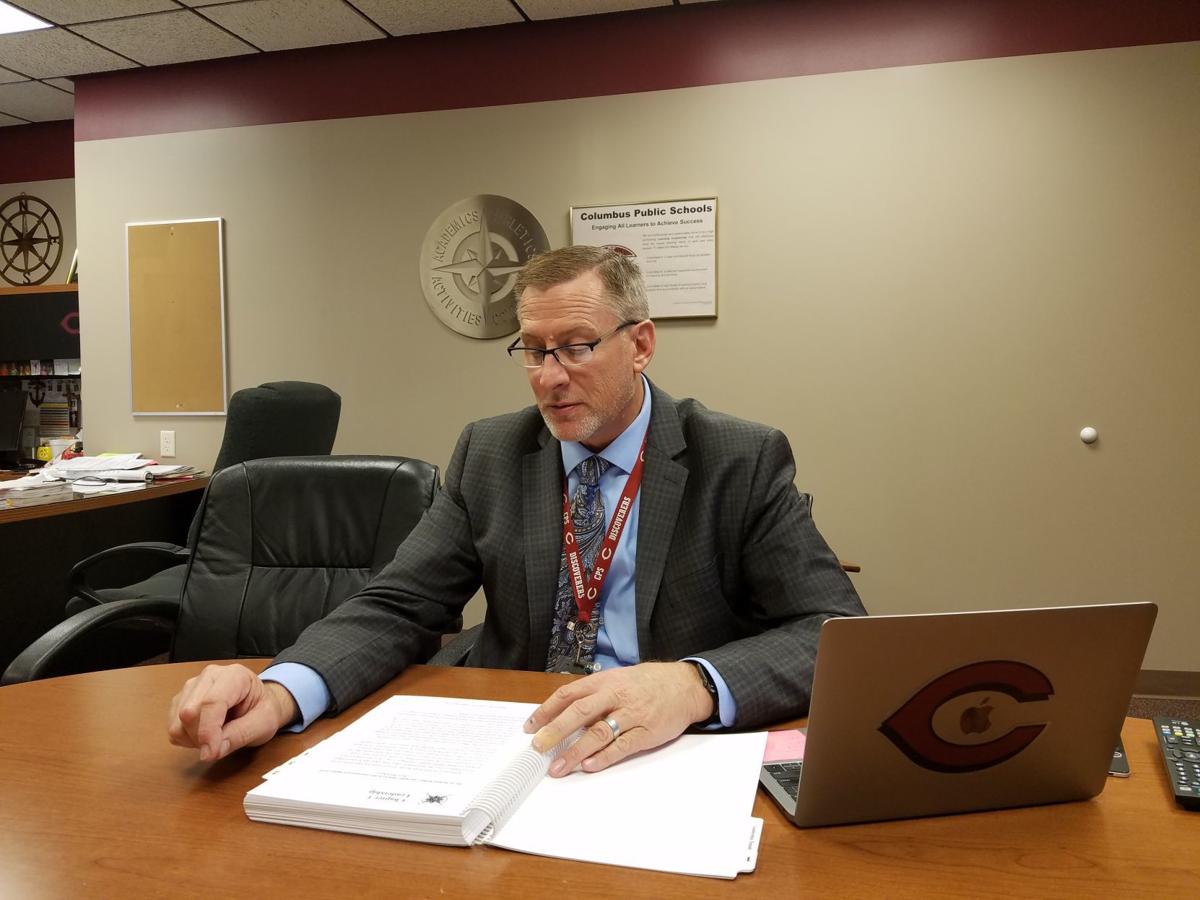 Columbus Public Schools has pushed back the start of the 2020-2021 school year by two weeks, hopefully giving teachers more time to plan instruction during the COVID-19 pandemic.
Instead of Aug. 12, schools will be in session by Aug. 24.
The district is also working on a plan to respond to the ever-evolving public health situation, to be announced July 17. The plan will include information on graduation, prom and expected safety measures. Columbus Public Schools (CPS) Superintendent Troy Loeffelholz said the revised calendar is part of creating that plan.
Students at different levels are starting on different days. Half of the CPS kindergarteners will attend school Aug. 17 with the other half attending Aug. 18. Their first day together is set to be Aug. 24.
Orientation will be Aug. 21 for high schoolers and Aug. 24 for middle schoolers. Grades one through four will begin school Aug. 24.
That schedule may change depending on Directed Health Measures (DHM). Loeffelholz said CPS has been working closely with the East-Central District Health Department (ECDHD) to plan for the upcoming school year.
ECDHD Chief Public Health Officer Chuck Sepers said phase four of the state DHM is set to begin Aug. 2 and will likely last four weeks.
So far, the capacity of hospitals to care for the sick has determined the progress of reopening Nebraska, not the number of cases.
Loeffelholz said the district has focused on an approach that's based on a COVID-19 threat risk dial with four settings – green, yellow, orange and red.
At green, life will have mostly returned to normal, although some universal precautions like hand sanitizer, masks and social distancing may be required.
At a yellow or orange risk level, Loeffelholz said education would take place in some kind of blended learning environment. If possible, it might mean having students attend school in person on alternating schedules, with half the students in the building at one time.
"It comes down to space. If I have to space students out 6 feet apart, I don't have enough room in the classrooms for all 20 kids," Loeffelholz said.
Depending on the risk dial, health checks may be required for students. In that case, Loeffelholz said ECDHD would be involved the same way they have been involved in conducting those tests at businesses in the area.
At a red risk level, schools would be shut down by the Nebraska Department of Education, governor or health department and remote learning would begin.
One of the reasons the district pushed back the start of school was to give teachers time to prepare for the possibility of remote learning.
The 2019-2020 school year ended with remote learning; students and teachers went on break on March 9 and didn't come back. From an instructional standpoint, there are some major differences between the teaching that took place at the end of the most recent school year and what will be required in the fall.
By March, Loeffelholz said, most classes had covered initial concepts and were building on that knowledge and working to maintain it over the summer. In the fall, though, there will be brand new material. What instruction looks like will depend on the learning environment – regular, blended or remote.
Loeffelholz said teachers have been resilient throughout the process so far.
"I know our teachers miss the kids. We had these parades at the end of the year so they could see their students. They're ready to get back to teaching and they love their kids, they want them in the classroom with them," Loeffelholz said.
In the meantime, Sepers encouraged people to avoid traveling to out-of-state COVID-19 hot spots like California, Arizona, Texas and Florida.
"We're not saying that traveling to South Dakota for a camping trip is dangerous, but you might rethink a flight to Miami or something like that," Sepers said.
Regardless of DHM restrictions, Sepers said mask-wearing and 6-foot social distancing will also be critical. In schools, he said, those measures will determine the necessity of quarantining a class or shutting down a school every time a classroom has a COVID-positive case.
"If the COVID-positive case is wearing a mask and the person they interacted with within 6 feet for more than 15 minutes is also wearing a mask, there's really no contact there. That's a pretty low-risk scenario," Sepers said.
Busing has also posed a big problem in ECDHD's conversations with schools, Sepers said – but mask-wearing can mitigate that.
"In the interim, mask-wearing is going to be the vehicle of safe conduct of daily operation," Sepers said.
Get local news delivered to your inbox!
Subscribe to our Daily Headlines newsletter.