Although last weekend's induction into the Nebraska Music Hall of Fame was a tremendous honor for Columbus-based band SideStep, what made it most special was knowing their friend and founding member Byron Gaskill was not forgotten.
Gaskill was a Columbus resident who handled drumming for the band and then transitioned to rhythm guitar and vocals before he passed away a couple of years ago. Gaskill and the other band members, fellow Columbus residents Ann Cattau (lead vocals), Chris Robbins (bass guitar/vocals), Cory Delp (lead guitar and vocals), Pierce's Randee Falter (drums) and former Columbus resident Mark Garrison (keys), were all honored for their musical contributions as a unit during the Nebraska Rocks concert extravaganza in Norfolk alongside The Greg Spevak Orchestra (big band) and The Wanted (1960s rock). 
SideStep members were honored to be recognized with their late friend and bandmate. 
"It's a proud moment for us," Cattau said. "Byron's passing was unexpected and the void is still painful. He was an original member and the heart and soul of SideStep. He originally drummed with the group but transitioned to rhythm guitar in 2005 to make us more musically complete. That's who Byron was – (he) always (was) willing to do what was best for the team! His presence is felt every time we're out and we know he's there in spirit!"
SideStep was founded in 1997, though went through some changes and formed its current lineup in the mid-2000s. They lost Gaskill in 2019 and chose not to replace him. Garrison left the band in 2018 due to health reasons and relocated to Lincoln, but was with them over the weekend.
Although SideStep has enjoyed entertaining the masses throughout Northeast Nebraska and beyond, including during the induction ceremony, their signature country/rock sound has evolved over time. They initially started with a focus on country, but throughout the years they've played everything from corporate parties and wedding receptions to festivals, street dances and private parties that inspired them to expand their catalog.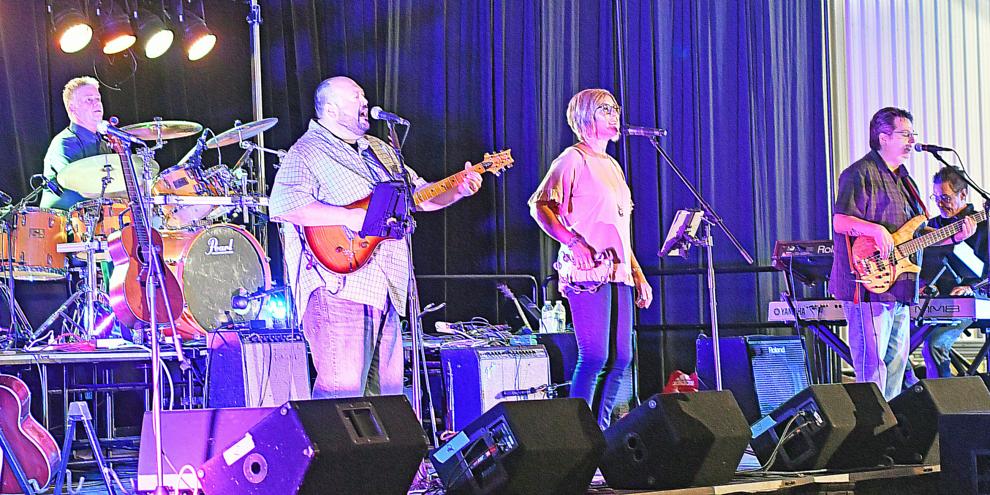 "Classic rock 'n' roll, classic and current country, pop, we do a little bit of everything but rap. I don't know any rap music," Cattau said, with a laugh. "This particular group, we knew each other before we even came together. We knew the talent was there, so we knew we could achieve success coming together."
Robbins echoed that sentiment, noting the band members just relish playing together and have great chemistry on stage. That's why they have continued to play together all these years.
"We just kind of feed off each other. We are really blessed with the talent we have," Robbins said. "It's nice to be recognized, but at the end of the day, we just go out, play music and have a good time. You try to spread joy as much as you can. I'm not one for accolades or awards, you never expect anything like that."
SideStep has garnered a reputation as one of the best bands in Nebraska, having traveled across the state and country performing at festivals, county fairs and more. Cattau said they're all grateful to their families for their constant support so they can pursue their passion of playing music.
Despite the success they've had on the road, SideStep has and will never forget their Columbus roots. They've performed at the Platte County Fair numerous times, are fresh off a hot performance at the Cattlemen's Ball in June and are gearing up to play Columbus Days on Aug. 14.
"We appreciate the support of our local community. It means the world to us," Cattau said. "These are the people in our community, people who know us. So it's special for us."
Matt Lindberg is the managing editor of The Columbus Telegram. Reach him at matt.lindberg@lee.net until Aug. 6.