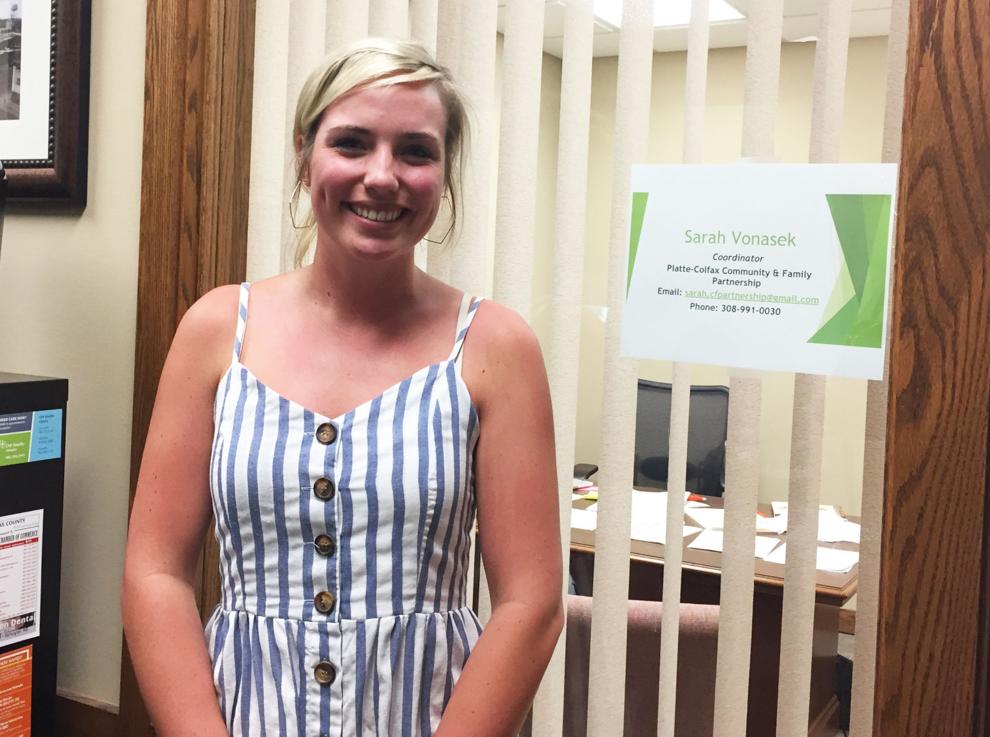 Nonprofits and service providers in Platte and Colfax counties are working together to achieve a common goal: Bettering their respective communities.
The Community Collaborative is comprised of partners, such as church communities, basic need agencies, health care and child care schools, that assist in identifying current and/or potential issues and possible solutions to help alleviate those problems.
"It's just like a group of people that gets together … every other month and talks about different services or gaps in services for children, youth and families within our local areas," Community and Family Partnership (CFP) Collective Impact Director Sarah Papa said.
The majority of providers are from the Platte and Colfax counties area, though CFP also serves Boone and Nance counties.
The group – often referred to as Community Collab – has been around for a few years now, though things look different these days as compared to previous years.
"It's been actually developing and growing within our community for, I would say, approximately 10 to 11 years," Columbus Area United Way Executive Director Hope Freshour said. "It's just evolved over that time in regards to how it looks and how entities work with one another through getting out of silos and working in a system where we are collectively and collaboratively drilling down into kind of big picture issues."
Freshour was involved in Community Collab before she started at the United Way, back when she worked for Center for Survivors, a Columbus nonprofit that helps victims of assault and domestic violence.
"The collaborative is focused a lot on prevention, and especially on early childhood development - definitely that is a big focus - as well as (the needs that) keep rising in regards to mental health as well," Freshour said.
Papa noted she's been leading the meetings since becoming CFP's collective impact director in 2019. But, she added, these types of meetings have been taking place since 2010 or 2011.
"The benefit of the collaborative, in my perspective, is that it is a way to be able to bridge partnerships, connect with providers and resources to streamline services to make the most impact at the local level," Freshour said.
An initiative born from the Community Collab is youth mental health vouchers in which children needing assistance of that kind can receive up to 10 free sessions with a mental health professional.
"In 2020, Community Response funded 422 therapy sessions for local youth in Platte and Colfax counties," Papa said.
Community Response is a system of support and services for children and families to prevent unnecessary entry into high-end systems of care, such as the child welfare system, according to CFP's website.
Service providers a part of Community Collab noticed concerns rising regarding the mental health of area youth and, Papa said, suicide rates had been increasing at that time.
"They came up with a system that currently exists today, where we have partnerships with local school districts, and if they identify a youth having mental health barriers (who) also (have) financial barriers to accessing mental health care, they're able to (be referred) to Community Response," Papa said.
Following recent Community Collab meetings, CFP shared surveys – which have recently closed – for data-gathering purposes regarding race equity and inclusion within its services, youth and family engagement and leadership opportunities.
"What we're going to do with that … captured some data … (and) we're going to take that a little further and create action steps," Papa said. "So here's what we're what we're hearing and now, what are we going to do about this feedback that we've gotten?"
Freshour noted the topics of race equity and inclusion and youth and family engagement have been priority focuses this year.
"(It's) in the context of the prevented presentative matters within the community well-being system, meaning, you know, we want to intervene prior to a family getting in a position where there's has to be higher elements of care, like HHS, child welfare, etc.," Freshour said.
Community Collab isn't limited to just service providers; Papa said those involved with a serious interest in improving family and children services are welcome to pitch in as well. People wanting to find out more can contact Papa at sarah.cfpartnership@gmail.com.
"If someone contacts me wanting to get involved, I add them to my email (list) and they get all of the get different community resources, happenings and events. And then I send meeting invites as well," Papa said.
"Anyone who has a vested interest in services for children, youth and families is welcome to join, even if you don't work in it but have a passion or an interest. Come one, come all is kind of our motto."