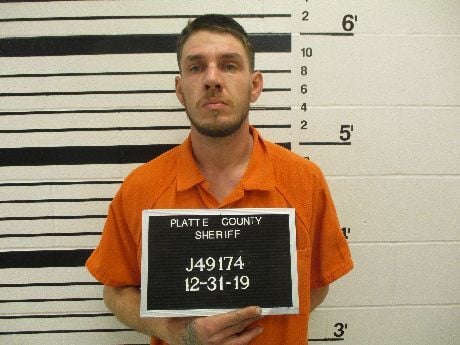 A Columbus man who had been facing charges related to sexual assault received a plea deal in district court this week.
Shawn E. Finch, 29, of Columbus, was arrested last December on charges of sexual assault in the first degree, a Class 2 felony; two counts of terroristic threats, a Class 3A felony; and possession of a deadly weapon by a prohibited person, a Class 3 felony.
Platte County Attorney Carl Hart told The Telegram Wednesday afternoon that, following Monday's court hearing, Finch is taking a plea deal in which the sexual assault charge and two counts of terroristic threats charges will be dismissed with Finch pleading guilty to the attempt of a Class 3 or Class 3A felony. This last charge – the attempt of a Class 3 or 3A felony – is in itself a Class 4 felony.
The charge of possession of a deadly weapon was amended to the attempt of a felony as part of the plea bargain.
Hart noted that the victim in the case was unwilling to participate in court proceedings and did not want to travel to Nebraska to testify, so he was unable to proceed with the sexual assault and terroristic charges.
Nebraska state statute defines terroristic threats as threatening to commit any crime of violence with the intent to terrorize another; with the intent of causing the evacuation of a building, place of assembly or facility of public transportation; or in reckless disregard of the risk of causing such terror or evacuation.
In Finch's case, he had allegedly threatened to commit a crime of violence against the victim.
In public documents, Officer Lauren Polak of the Columbus Police Department stated that at 1 p.m. on Dec. 31, 2019, she received a call from an individual who advised a family member was in an abusive relationship.
Polak met with the complainant and the victim who said that Finch had been verbally and physically abusing her for the past year. There had reportedly been multiple times in which Finch had struck her and slammed her face into a wall, among other alleged violent acts.
The most recent incident had occurred Dec. 25, 2019, during which time the victim had been in bed around 10 or 11 p.m. when he approached her and started initiating sexual contact. The document states that the victim had reportedly been sexually assaulted by Finch, though she had expressed her disinterest in the act. He shortly left the Columbus Inn, where they were staying at.
The following day, on Dec. 26, Finch returned to the hotel room around 4 or 5 a.m. and the victim asked him to stop making a lot of noise. Finch allegedly grabbed her by the neck and jaw and said not to tell him what to do as he can kill her. The victim attempted to call the police but Finch told her he would beat her to death in front of the police.
Investigator Jeremy Zywiec had been conducting surveillance at the hotel and had observed Finch leaving the area in a black Chevrolet Silverado; Zywiec followed Finch to the 1400 block of 27th Avenue in Columbus.
Polak responded to the area and located Finch in the described vehicle. While exiting the vehicle, Polak reportedly saw a black knife concealed in the driver's side door.
Finch was then placed under arrest. His bail had been set at $150,000 with 10% to apply; court records indicate that he placed bond on or around Feb. 6.
Public documents also indicate that Finch was charged with possession of a deadly weapon by a prohibited person as he is a convicted felon. Records state that he was convicted of robbery, theft and armed robbery, all in Grant County, Indiana, in 2009.
Hart added that at the county court level in Platte County, Finch is also pleading guilty of theft of services from the Ramada Hotel and River's Edge Convention Center and theft of tools, which are considered misdemeanors.
Finch will have a sentencing hearing for the felony charges in district court at 10 a.m. on Sept. 18. Following district court, he will immediately appear in county court for sentencing on the theft charges.
"We'll recommend concurrent sentencing," Hart said, noting that the court has final say in sentencing terms.