COLUMBUS — Investigator Keith Bignell has witnessed the human wreckage of methamphetamine addiction firsthand when he and fellow drug task force officers raided the homes of suspected drug dealers throughout the Columbus area.
The 23-year veteran of the Nebraska State Patrol said when officers show up to serve search warrants a parent or caretaker with children at home is typically implicated in the illegal drug activity. The suspects then go through the arrest process at the scene.
"Typically, suspects are ashamed ... they are not proud of what they do," said Bignell, adding that meth users have a drug addiction they find extremely difficult to shed.
Meanwhile, children inside the home often show great interest as officers go through arrest procedures.
"The children engage with (officers) in conversation and often want to play games," said Bignell, a leader of SNARE (Specialized Narcotics Abuse Reduction Effort), which includes 11 law enforcement agencies in northeast Nebraska.
"You can see the children are starving for attention," Bignell said. "Meth tears families apart ... it destroys families."
Bignell, of Columbus, said the "most disappointing" thing about illegal drug issues is the direct impact they have on children, oftentimes leading to them being abused and neglected.
The Platte County Attorney's Office has experienced a jump in possession and distribution of controlled substances cases in the last couple of years, but Bignell hasn't detected any specific indicator that meth usage and dealing is increasing or decreasing in the area.
"We've been battling usage and distribution for a long time," the investigator said. "It's been around this area as long as I've been around. It's sometimes more prevalent (for a period of time), and then recesses back a bit."
Bignell has observed some consistencies in the circumstances of people arrested for meth and other drug violations. The investigator said most come from broken homes that provided little support and positive encouragement and many lacked a positive male role model.
"Hands-down, those are the most frequent commonalities among those arrested," Bignell said.
Columbus Police Drug Investigator Jeremy Zywiec, also a leader on the SNARE task force, said while meth usage and distribution has remained pretty steady overall, authorities seem to be dealing with smaller quantities the last couple of years.
In previous years, law enforcement busted small-time users, got information and flipped them to become informants, allowing officers to work up the food change to arrest their suppliers, Zywiec said.
"We've made a dent in usage that way," he said.
The goal of local drug enforcement is to get people into treatment so they can deal with their addictions, but they've got to want the help to gain coping skills and recover from their addictions, Zywiec said.
Drug dependency is also the catalyst for many thefts, burglaries and domestic assaults, Zywiec said.
"It all plays hand in hand," he said.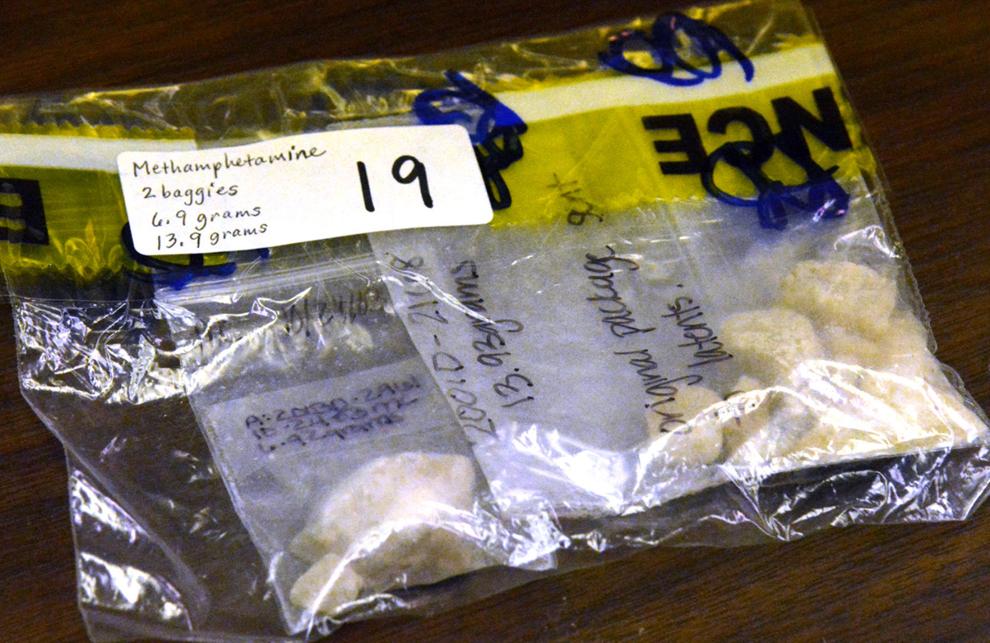 The CPD drug investigator looks to the community to come together to battle deep-rooted issues related to local illegal drug use.
"We need a lot of partners to step up and work together to have some success with the problem," said Zywiec, pointing out the contributions of probation officials and community mental health providers.
"We need a lot of people working together," he said.
One of the local mental health counseling providers who has joined the fray is Jill Colegrove of Colegrove Counseling Center.
She agrees with law enforcement that there hasn't been a downturn in the number of people suffering from drug and alcohol addiction issues.
"I don't see it improving," Colegrove said.
She believes drug and alcohol abuse issues run in trends, depending on many factors such as usage, price and the focus of law enforcement.
Drug offenses tend to run in cycles, she said, shifting from meth and alcohol to prescription drugs and, with a number of states relaxing marijuana laws, pot usage.
Colegrove has felt like a partner in arms with Columbus-based District 5 Probation the last few years as her counseling center has embraced the district's direction toward expanding local mental health services.
"We feel so fortunate in our relationship with probation and the extra support they bring that has benefited a ton of people," said Colegrove, whose counseling service has held drug and alcohol abuse pretreatment and relapse prevention group sessions at the district's reporting center for about four years.
"It's such a great collaboration," said Colegrove.
District 5 has spent the last three-plus years ramping up to take on more responsibilities to provide community-based services for nonviolent offenders and send fewer of them to overcrowded prisons.
The district is also responsible for the SSAS program (specialized substance abuse supervision) in Columbus that targets probationers at a high risk of reoffending. Lawmakers also put probation in charge of post-release supervision, which focuses on offenders' re-entry to the community after prison for certain felonies.
Colegrove Counseling, located at 1460 35th Ave., offers counseling during 12-week classes at the probation reporting center. There are two relapse-prevention groups and one evening pretreatment group a week.
"Unfortunately, drugs and alcohol are so intertwined with people's world today," Colegrove said.
The pretreatment and relapse-prevention counseling has created a buffer to counter the treatment waiting periods that some probationers had to endure.
Pretreatment is learning the "basics" in how to stay off drugs, Colegrove said.
"It's prep work. People can dive in and start working hard," she said.
If there is a waiting period for relapse-prevention treatment, she said, probationers have the foundation and extra support they need to keep from slipping up.
"We counsel people to share experiences, support each other and, most of all, participate," Colegrove said.
The mental health provider also offers individual and couples counseling services at its office location.