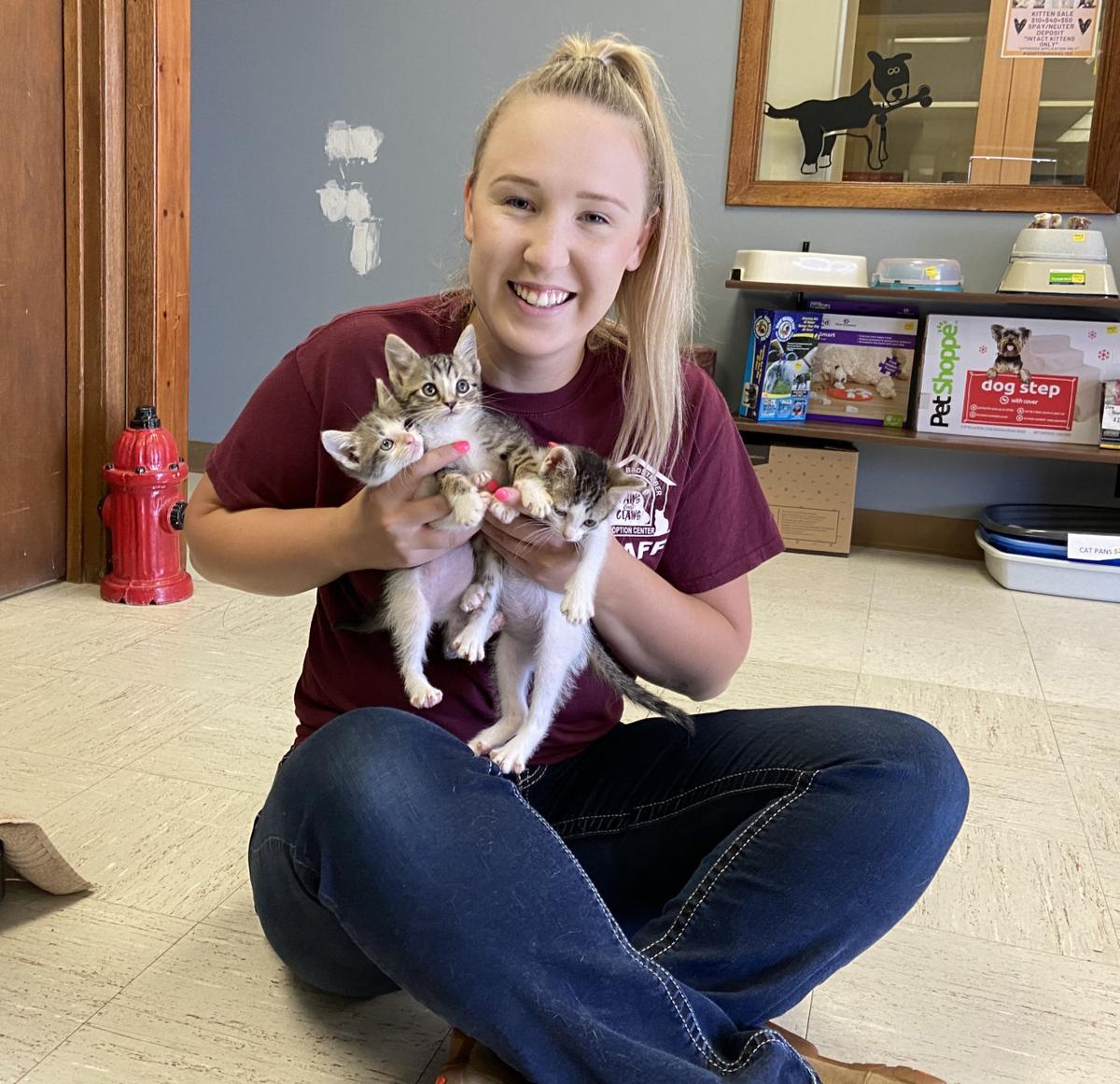 Visitors to the Erna R. Badstieber Paws and Claws Adoption Center in Columbus will see a new face as Caitlin Davis is the new manager of the facility.
Having grown up on a farm in Waverly, animals have always been close to Davis' heart.
"We had everything from goats, horses, cows, kittens, dogs, chickens, ducks, the whole works. I just kind of feel like that's always been so integrated into my life, it just feels right," Davis said. "I like the veterinarian aspect… that could cause a positive impact on an animal's life."
While attending the University of Nebraska-Lincoln, she began studying animal science, switched to hospitality and ended up graduating in 2018 with a degree in agricultural education.
"I started out wanting to become a veterinarian, ended up being a wedding planner. I tried that but the time came to try something different, so I wanted to get out of the 'big city,'" Davis said. "(This position) was the first one that popped up on Indeed and it kind of felt like an epiphany. I was like, 'Yup this is what I should be doing.'"
Davis started as the manager of Paws and Claws on July 20. So far, she noted, she's been learning quite a bit about shelter operations.
Her duties as manager include running the day-to-day operations of the facility, as well as working with Animal Control for the intake of strays, inventory of the animals, working with the veterinarians to ensure cats and dogs are and remain healthy and assisting with the majority of adoptions.
"Any difficult cases such as dogs with special needs, I work a lot with those families to make sure they're going to the best home," Davis said.
She works alongside the Platte Valley Humane Society's Board of Directors; the Humane Society operates as Paws and Claws.
"It's super great to see people come in, especially with the cat sale we've got going on right now. Just seeing them interact with the animals and find the cat's personality that will best fit them," Davis noted. "I really enjoy that aspect of the job."
Paws and Claws is having a special on kittens for $50 per kitten. Ten dollars will be reimbursed to the adopter once the animal gets spayed or neutered.
Her college courses in animal science have definitely paid off, she added.
"Luckily, a lot of the veterinarian stuff has come full circle. I got a lot of that experience at the very beginning stages of college and now, six years later, I'm back to it," Davis said. "The vets are helping me, too. When I say, 'Hey, it's been five years since I've taken a pharmacology class, can you help me out?' They're super helpful."
The most important part of her position, though, is the well-being of the animals.
"At the end of the day, that's really my biggest job – making sure they are cared for, no matter what, to the best of our abilities," Davis said.
Lori Hecker, a full-time employee at Paws and Claws for two years, noted that she believes Davis is a nice addition to the adoption center.
"She's doing really good," Hecker said. "She's easy-going and she teaches me different things like how to clean eyeballs on kittens."
As an outsider moving to a new area, Davis has been learning a lot about the Columbus community.
"I've been so blessed to meet so many people already… (I've) gotten absolutely overwhelming support, this feeling of welcoming from businesses, clientele, staff, everybody's been so helpful," Davis said.
Davis and her boyfriend recently signed a lease for a home in Columbus and her dogs will be joining them next week.
"They're kind of the lights of my life. They were all adopted so I'd like to continue that," Davis said. "I know the impact they've had on me so I can only imagine the impact I can have, hopefully, by assisting every day as people go home with these animals that will change their lives."
Get local news delivered to your inbox!
Subscribe to our Daily Headlines newsletter.