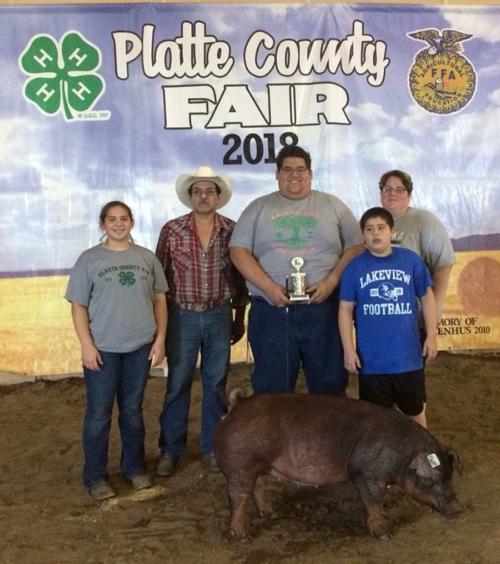 Editor's note: This is the second of three stories highlighting some of the kids participating in the local 4-H and FFA programs at the Platte County Fair. The fair is happening this week at Ag Park; however, it is not open to the public and will not include vendors, entertainment or the carnival. It is only proceeding with 4-H and FFA activities.
This is the last year Jose De La Cruz will participate in the 4-H livestock competitions at the Platte County Fair.
De La Cruz, 18, said he has been participating in the 4-H program since he was 7- or 8-years-old. He lives in Columbus, but rents space to keep livestock at a family friend's place. He said he started doing 4-H and Future Farmers of America because of his mom, who participated in the programs as a child.
"He has been very, very involved with lots of things over the last 10 years. Right now he's one of very few 4-H kids who shows multiple livestock species," Platte County Extension Educator Jill Goedeken said.
De La Cruz started out showing rabbits, then chickens and finally pigs and cattle.
"When I started showing larger livestock I started showing pigs and I've shown pigs ever since. Last year I got into cattle," De La Cruz said. "It was an idea that I had bouncing around but I just never really got on board with the cattle thing until last year."
De La Cruz will compete in the senior hog showmanship competition and cattle show. The hog show starts at 9 a.m. Saturday and the cattle competition kicks off at 10 a.m. Sunday.
"I'll show two pigs on Saturday and I'll show two calves on Sunday in the cattle show," De La Cruz said.
He noted he participated in several cattle progress shows over the summer and has a good idea of how to improve upon his performance at last year's fair.
"I've worked on setting them up faster and when it comes to cattle, setting them up and making them presentable for the judge. Just making for sure that they're really halter-broke and ready to go when it comes time to go in the ring," De La Cruz said.
Goedeken said De La Cruz is finishing his 4-H career this year.
"I'm kind of hoping I go in there and I just want to have fun and at least come out with a purple in my pigs and cattle, that'd be nice. In showmanship, I want to try to win grand this year – that'd be big for me, in both cattle and hogs," De La Cruz said.
Two years ago, he was named hog showman reserve champion.
"And then the last four years I made it to final drive for trying to get grand or reserve," De La Cruz added.
COVID-19 public health precautions limit the number of people allowed at Ag Park at one time. Most fair events were canceled as a result, but the 4-H and FFA competition events have still taken place.
"Honestly I'm just glad that I'm able to go to the county fair and show. It's better than the idea of doing a virtual show, where we have to walk them around at home and videotape them and send in a video entry. I'd rather be there and just show," De La Cruz said.
Although his 4-H career is ending, De La Cruz said he plans to compete in FFA livestock shows at the state fair until he is 21 – as long as his schedule allows it, anyway.
De La Cruz currently attends the Nebraska Technical College of Agriculture (NCTA) in Curtis.
"I'm there for my first two years getting an undergraduate of applied sciences in animal science," De La Cruz said. "I just finished my first year this spring."
After he finishes at NCTA, De La Cruz said he plans to transfer to the pre-veterinary program at the University of Nebraska in Lincoln.
The Nebraska State Fair livestock competition schedule has also changed due to COVID-19, but De La Cruz said he still plans to be there for the FFA events, which will take place the last weekend of the state fair.
Get local news delivered to your inbox!
Subscribe to our Daily Headlines newsletter.