Area medical professionals are urging residents to stop wondering about if the coronavirus will show up in Columbus and Platte County and be proactive so they're ready when it does.
"It's inevitable at this point. It's a question of when and to what extent," said Dr. Kurt Kapels, clinical director of IPA hospitalists at Columbus Community Hospital. "It's not a reason to panic, but it is a reason to be vigilant."
Dr. Luke Lemke, a family physician at Columbus Medical Center, agreed.
"It's inevitable – I don't think there's any debate about that," Lemke said. "It's not a matter of if, it's about when. We know that there are going to be people who are carrying the virus and may not be showing symptoms, so we need to contain the spread.
"The best offense for this is a good defense."
Officials with the East-Central District Health Department, CCH and the entire Columbus health care community are working collaboratively and proactively, staying well-informed with the Centers for Disease Control and Prevention and the Nebraska Department of Health and Human Services.
Collectively, local medical professionals are advocating for residents to buy into the "flattening the curve" model. "Flattening the curve" refers to an epidemic curve that is commonly used to visualize response to disease outbreaks and helps show why public efforts to contain the spread are critical.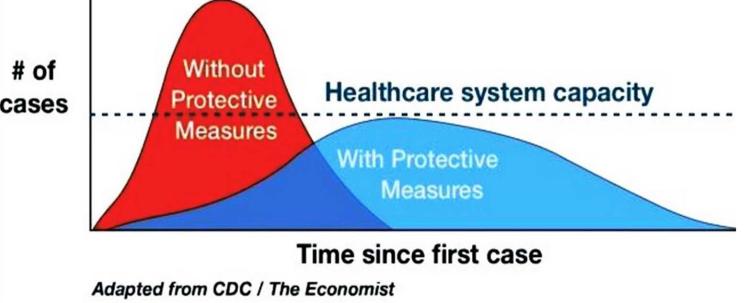 Although the virus can't be stopped in its tracks, it can be slowed. "Flattening the curve" refers to slowing the infection rate, leaving health care systems in a better position to treat people.
"If we do this right, we can help try to control the impact, 'flatten the curve,' because there's a finite number of resources to manage all of these people," said Dr. Daniel Rosenquist, another family medicine specialist at Columbus Family Practice, of efforts to make sure health care providers can deal with the COVID-19 virus when it gets to Platte County.
The most effective way to go about "flattening the curve" is simple: Self-quarantine. Quarantines aim to restrict the movement of people who may have been exposed to the contagious disease but haven't tested positive. The CDC recommends 14 days to see whether flu-like symptoms develop. The 14-day incubation period is based on what researchers know about the incubation period of MERS, which is in the same family as the novel coronavirus.
"The virus can be spread before people know they have it. That's the dangerous part about viruses like this," Lemke said.
Kapels and Rosenquist shared similar perspectives, noting people who think they may have been exposed need to stay away from others and make smart choices about how to proceed.
"Contact your primary care physician for further guidance," Kapels said, noting people who think they have symptoms of the illness should call before just showing up to get treatment so it can be dealt with properly. "A phone call goes a long way in protecting not only yourself but the community. Always err on the side of caution."
East-Central and CCH hosted a COVID-19 Employer Forum on Friday at the Wellness Center and also enabled an online video service for people to access and participate remotely. Among the topics discussed were symptoms, prevention and treatment of coronavirus; planning considerations in the workplace to prevent community spread; interim guidance and employer resources for protecting employees from coronavirus and considerations for creating an infectious disease response plan.
"If you're able to work from home, definitely do that," Kapels said. "Avoid large gatherings of people, unnecessary trips out of town and unnecessary social trips. Contact with other people is the biggest risk factor."
Other recommended tips for protection are to wash your hands often with soap and water for at least 20 seconds, or use alcohol-based sanitizer if soap and water isn't an option; avoid touching your eyes, nose and mouth with unwashed hands; covering your nose and mouth with a tissue when you cough or sneeze then throwing the tissue away in the trash and cleaning your hands immediately afterward; as well as cleaning and disinfecting frequently touched objects and surfaces.
The doctors also recommended people not visit individuals who are considered "high risk," such as elderly people, as well as immune-suppressed and cancer patients.
"It boils down to everyone doing their part," Kapels said, stressing the importance of practicing good hygiene habits and avoiding large crowds.
The virus outbreak is certainly concerning and important to take seriously, Rosenquist said. But, he noted just like the H1N1 pandemic of 2009, the community can get through this latest health crisis by working together.
"Unfortunately, we have people who will overreact and think they have it, and then we have some people who won't recognize they have it or have been exposed," Rosenquist said, noting Southern Italy is a great example of a place that successfully flattened curve after watching the epidemic spike in Northern Italy. "We have to be all hands on deck. It's going to spread to Columbus, there's no way to stop it – it's just a matter of time. So we need to be doing what we can when it comes to containment."
Lemke had a similar opinion.
"Containment will be key. Learn as much as you can and take the warnings of these health officials seriously. I don't think this is a time for panic," he said. "I think it's a time for calm and decisive action. We have a window of opportunity to contain the virus. If it has the chance to spread, it will spread rapidly."
Matt Lindberg is the managing editor of The Columbus Telegram. Reach him via email at matt.lindberg@lee.net.
Concerned about COVID-19?
Sign up now to get the most recent coronavirus headlines and other important local and national news sent to your email inbox daily.