COLUMBUS — Sarah Kwapnioski was feeling like a movie star.
The cameras were rolling as she worked on a lathe machine inside the STEM Academy at Columbus High School.
The CHS senior is in the lab throughout the school week developing skills she hopes to use when she goes to college to become an electrical engineer.
Though she works with the equipment often, it was a different experience Wednesday with the presence of a film crew.
She and other Discoverer students were in the spotlight for a short documentary being produced by Nebraska Loves Public Schools, a nonprofit group that promotes public education in the state.
"We have been hearing a lot of great things about Columbus for a long time," said Brittany Mascio, marketing director for the Papillion-based organization that started in 2011.
Two areas the group was focusing on in Columbus were the STEM Academy and CHS drumline.
Mascio said footage of the STEM Academy, which included the automotive and technology areas, will be made into a short film that could be ready for viewing in November. It will be posted online at www.nelovesps.org.
A short film or commercial featuring the drumline could also be in the works.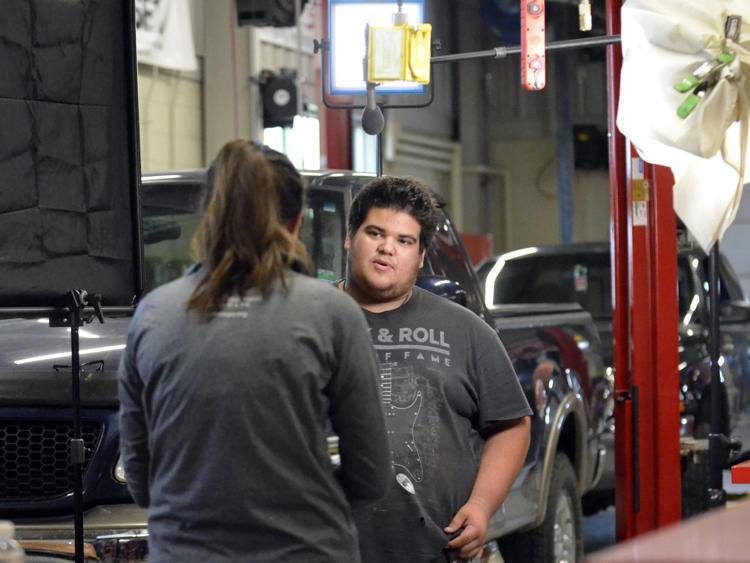 Nebraska Loves Public Schools has made about 50 short films that focus on programs, students, parents, teachers and administrators at public schools.
This is the first time CHS has been highlighted by the group.
Promoting the "good stories" that public schools have to share is the group's goal, and Mascio said it's an important time to spread the word.
"People in public education are having to speak up a little more and tell the community that they live in what's really happening in their schools. I think we are raising the conversation in the state," she said.
CHS landed on the organization's radar because of information about the STEM Academy shared on social media.
"They approached us about some footage they saw on our Facebook account. We told them about some of the things we have going on in our STEM Academy and they were very interested in knowing more details," said Heidi Elliott, STEM career coordinator at the school.
Taking part in the production serves as a vehicle to promote what the students are learning.
"One of the things that I think is very important is to showcase the work our students are doing and how that really connects them from high school to their next step, whether that be a certification, going to a community college or going to a four-year university," Elliott said.
Kwapnioski, one of a few students who were interviewed and filmed, said the STEM Academy gives her more opportunities than ever before.
Backed by the district and area businesses, the academy includes numerous pieces of equipment for students to use and certifications are also offered. The number of classes focusing on science, technology, engineering and mathematics has also expanded because of the academy.
Kwapnioski said she is one of only a few females in most of her STEM classes, but she hopes the film will inspire more girls to think about careers in engineering and related fields.