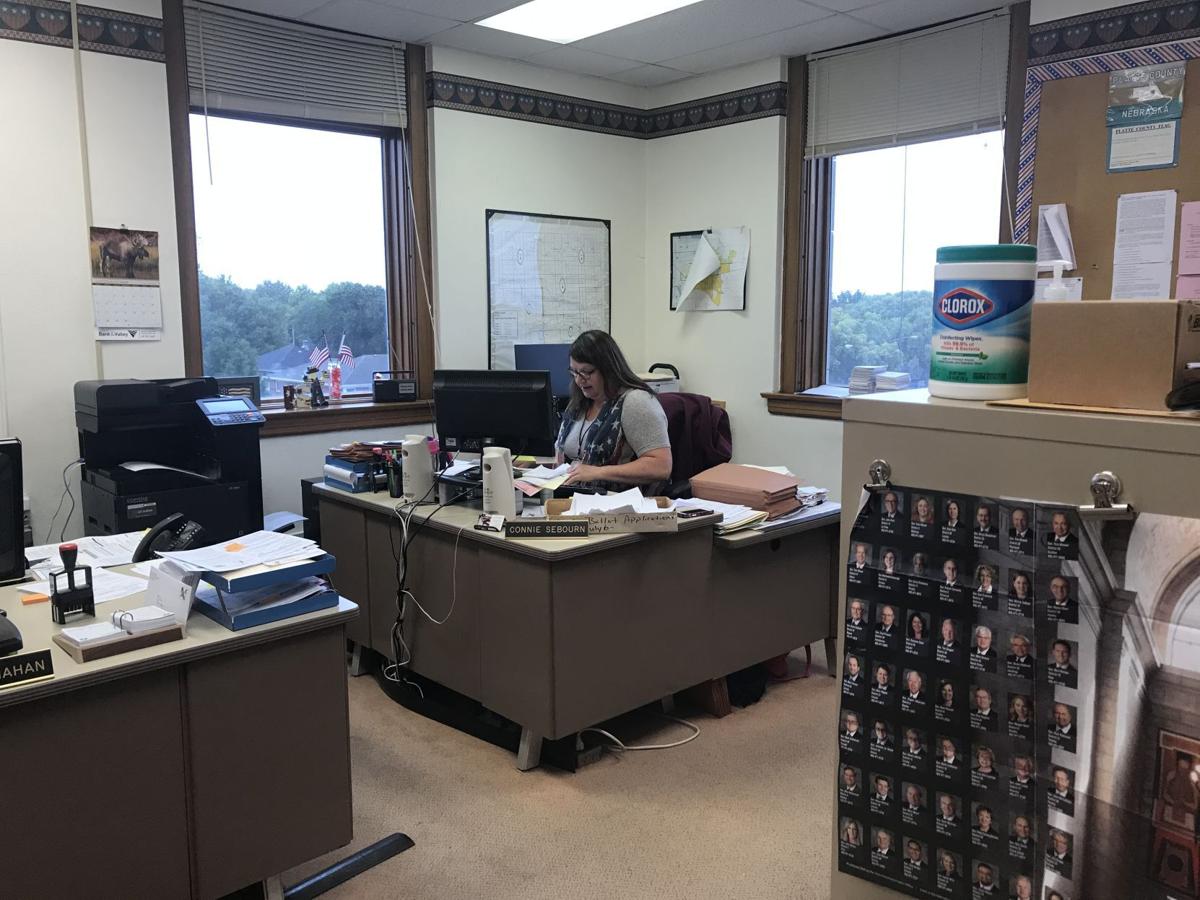 With more people expected to do early voting due to the ongoing COVID-19 pandemic, election results may be delayed.
Late results due to early voting seem counter-intuitive, but it's because much of the early voting may be done by mail.
"It's not because we're not up here doing anything, it's because there's such a massive amount of mail that's coming in that we're just trying to keep ahead of it," Platte County Election Commissioner Connie J. Sebourn said.
Sebourn said her office would normally begin scanning early voting ballots on Election Day, but she is allowed to begin opening them the week before Nov. 3. Whether she does open them before Election Day will depend on how many people do early voting, she said.
The Nebraska Secretary of State's Office has begun mailing people early voting ballot applications. People who want to do early voting must turn in those applications to their respective counties by Oct. 23.
On Sept. 28, voters will be able to start going to the Platte County Courthouse to pick up an early voting ballot in person. Sebourn said the ballots will be mailed out starting Oct. 5.
The early voting ballots themselves must be returned to the county office by 8 p.m. on Nov. 3 to be counted.
Sebourn said if her office has to wade through incoming early voting ballots on Election Day, people may have to wait on the results until the next morning.
"If they're still bringing them in and we've got tons and tons of them at 8 p.m., the other ballots that come from the polls aren't going to be started until after all those absentee are all scanned and counted. So it could delay the process, depending on how many we get in," Sebourn said.
If many places around the country experience similar problems, though, the delays could pile up.
When the Telegram spoke to Sebourn on Tuesday afternoon, she said her office had gone through 661 early voting ballot applications.
Sebourn said her office has also seen an increase in first-time voter registrations.
"People in their 70s, 60s, who have never voted in their whole life, have come up here to vote," Sebourn said.
Meanwhile, there are some races in Platte County with more seats up for election than candidates on the ballot. That's the case in Humphrey, Newman Grove, Platte Center and Duncan.
Although there are two at-large council member seats up in Humphrey, only one person – the current Council President Bob Preister – is running. No one is running for mayor in Humphrey.
Two seats are up for election on the Newman Grove City Council, but only one person – a non-incumbent, Cris Elznic – will be on the ballot.
The situation is the same in Platte Center, where only one person – again a non-incumbent, Jessica Hake – is running for one of two seats up for election. In Platte Center, Village Board Chairman Jacob Jarecki is the incumbent in the other seat.
"I heard through the grapevine that there were going to be other people wanting to run. When I heard about that I didn't put my name on the ballot," Jarecki said.
Jarecki has been on the board for six years.
"I wanted to make sure that other people had a better chance if you will," Jarecki said.
The deadline to be included on the ballot has passed, so anyone who wishes to run for Jarecki's seat on the board will need to be a write-in candidate. But for a write-in vote to count, the write-in candidate must file a write-in affidavit with the county. Otherwise, the write-in vote is not valid.
The deadline to file write-in affidavits is Oct. 23. If no one files a write-in affidavit by then, Jarecki will be required to stay on the board until a replacement is chosen.
Jarecki said if no one steps up by January or February, he may request to be voted back onto the board.
"I don't want to leave the town hanging," Jarecki said.
In Duncan, Sebourn said three people have filed write-in affidavits for the three seats up on the village board. In addition to Joseph Boruch, who will be on the ballot, people in Duncan can also place write-in votes for Steven Langton, Seth L. Gurley and Nick Wagoner.
Get local news delivered to your inbox!
Subscribe to our Daily Headlines newsletter.