The Columbus High School auxiliary gym saw a total of 300 people as of early Friday afternoon during an East-Central District Health Department COVID-19 vaccine clinic.
Held throughout the day on Friday, the clinic had 400 available doses, said ECDHD Emergency Response Coordinator Libby Finochiaro. She noted those getting their first dose vaccine on Friday included several Columbus Public Schools staff and community members at 18-plus years of age.
The first part of the day had been extremely busy, Finochiaro said in the early afternoon, with a small lull during lunchtime.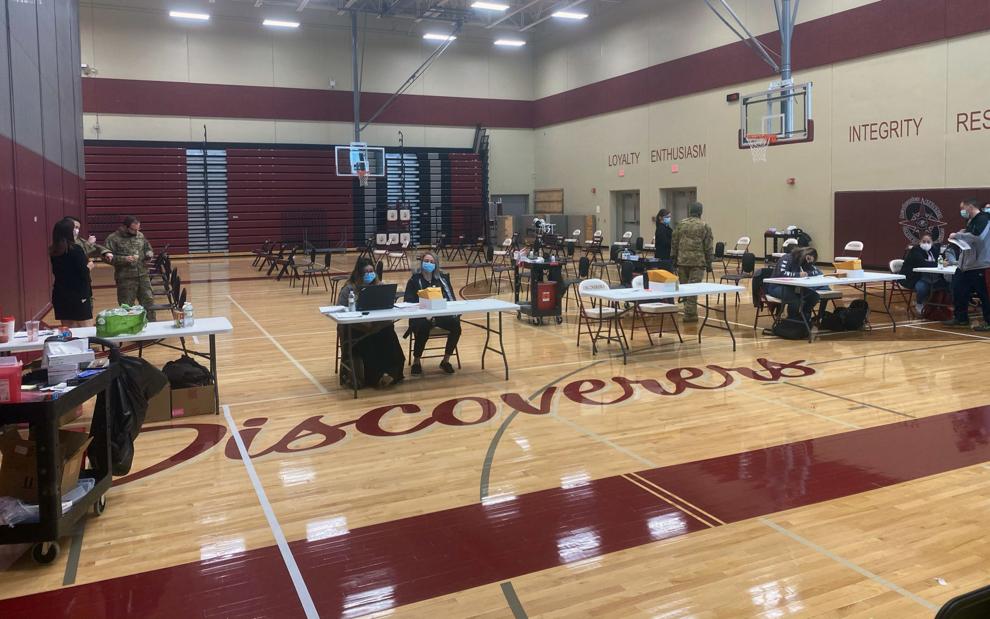 "This is the final push for schools that we're doing," Finochiaro said. "We really liked pushing vaccinating (of) the educators."
East-Central distributed vaccines to area educators this month, with a clinic being held at Lakeview Jr/Sr High School on Friday, March 12; Scotus Central Catholic on Thursday, March 4; and Columbus Middle School on Sunday, March 7.
The CHS clinic on Friday came as earlier in that week, Nebraska officially moved into Phase 2A of vaccine rollout. Phase 2A includes persons aged 50- to 64-years-old.
"A lot of folks in the 50-64 category (are) wanting to be vaccinated but not as many people in that age group registered (for Friday's clinic)," ECDHC Chief Public Health Officer Chuck Sepers said.
Also during the clinic, a staff member from the Nebraska Department of Health and Human Services (DHHS) was on-site to set up iPads and related technology to allow for electronic registration.
East-Central has been encouraging residents in its district to sign up online at vaccinate.NE.gov as registration is available to Nebraska residents via DHHS. DHHS has been working with local health departments to move vaccine registration into the state portal, according to dhhs.ne.gov.
"This has been the first clinic we've used that platform," Sepers said.
Sepers said that the number of available doses is plugged into the platform and the computer then randomly selects already-registered residents to receive their vaccines.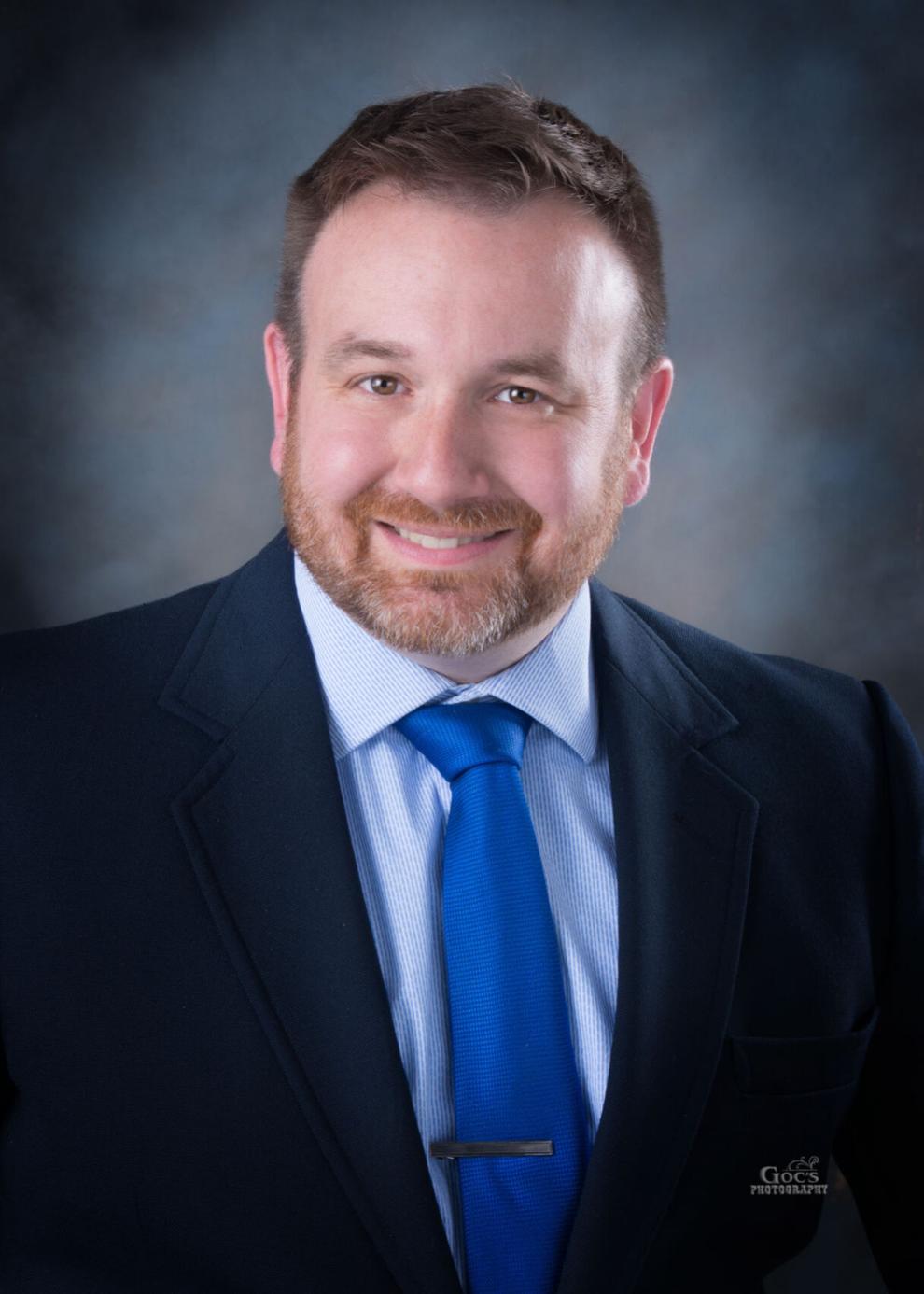 Sepers said that things had been going well so far during Friday's clinic as of early afternoon.
"One of the biggest things we need to do right now is to get everybody registered," he added.
One of the health district's residents who received the vaccine Friday was Anna Harmon, an immigration attorney who has been living in Columbus for 2.5 years.
"I'm kind of excited," Harmon said while filling out paperwork before getting her shot. "It's been a long time coming."
The Iowa native noted that she's looking forward to life getting back to pre-COVID times.
"The main reason (I'm doing this) is the safety of others and getting back to normal," Harmon said.
As for Central Community College-Columbus student Maria Leon, her desire to get vaccinated also revolves around helping to keep others healthy.
"I'm happy I finally got the vaccine," Leon said, noting that her parents are older and thus more susceptible to the virus. "I'm relieved to get it."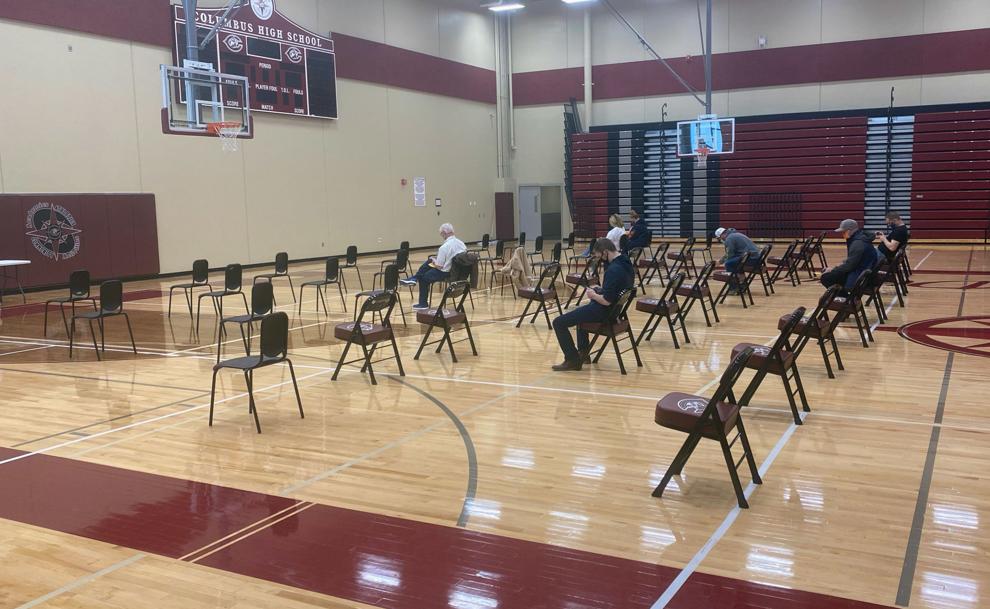 Leon, who spoke to The Telegram while waiting 15 minutes after her shot in case of an adverse reaction, said that her parents were stopping by the CHS clinic later that day to get their vaccines.
Platte Center resident Jake Jarecki opted to get vaccinated against COVID-19 as well.
"I'm not too worried about it," Jarecki said, of getting the shot and the vaccines' potential side effects.
"(I) just want to be safe from the virus."
Sepers noted that East-Central's goal is to push vaccine efforts to as many residents as possible.
"We want to get people vaccinated as quickly as possible," Sepers added.
In addition to the allotment received by ECDHD, he said, the Columbus Hy-Vee and Walmart and Albion's Wells Drug are also receiving and providing COVID-19 shots.
"It really takes all of us to get the vaccines out," Sepers said.