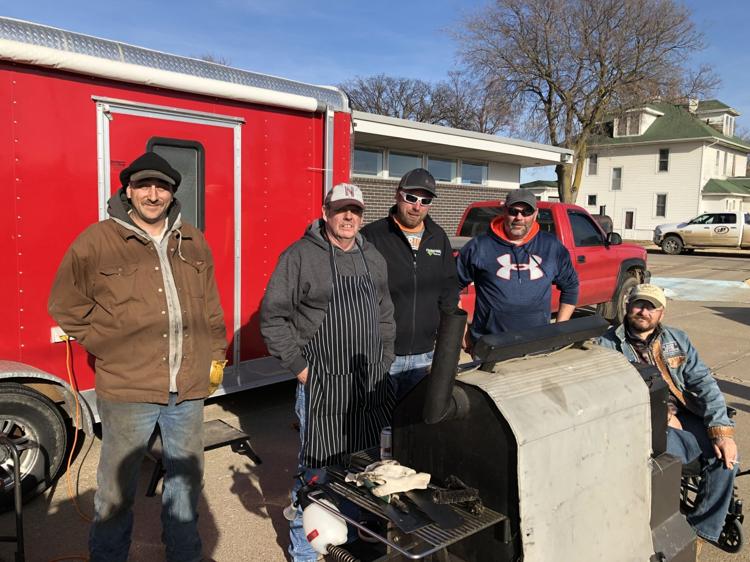 Those wanting a good meal or to pick up meat the day before the Super Bowl can do so at the 5th annual Cooking for a Cause fundraiser.
Held by Pitmasters, the Feb. 6 event includes free will donation meals of smoked turkey or pork, chips and a side. Starting this year, supporters can preorder smoked turkey and/or pork with a suggested free will donation of $8 per pound.
As in the previous four years, proceeds will benefit Center for Survivors, 3103 13th St. in Columbus., a nonprofit that serves area victims of domestic violence, dating violence, sexual assault, stalking and human trafficking. 
Pitmasters is essentially a group of men who enjoy having the chance to barbecue.
"It's just a good time. Just get together and all the meat and stuff is donated," Pitmasters member CJ Brewster said. "And then all the cookers normally make their own side dish. A lot of times it's made right there on the smoker."
Held from 1 to 5 p.m., this year will be a drive-up service in the parking lot in front of Center for Survivors. Brewer said visitors can pull up and receive a meal from volunteers without having to leave the safety of their vehicles.
"It'll definitely look different but the Pitmasters have been very smart meeting the needs to make sure it's a successful event and still keep everyone safe," Center for Survivors Volunteer Coordinator Denise Kollath said.
Additionally, Kollath noted, literature will be available for those who want to learn more about the nonprofit and its impact on the community.
"…They have had a lot of support in the past for it, you know, of people coming and getting that delicious food and getting the money for Center for Survivors," Kollath said. "The proceeds on that goes to support the work and the client services we offer here through the center."
Brewster said the yearly fundraiser has steadily been attracting more visitors.
"It's getting bigger and bigger," he said. "Two years ago, it was kind of small but we had really bad weather."
Normally held the first weekend of December, Cooking for a Cause was rescheduled due to the COVID-19 pandemic, Brewster noted.
"We thought Feb. 6, the day before the Super Bowl, would be a great time for people to get their preorders in if they're going to have a little get together at their house they can … preorder a couple pounds of pork or turkey or whatever they want," Brewster said. "We're hoping for a really big turnout this year as far as that goes."
Preorders can be made by calling Brewster at 402-270-5250 or Waylon Teller at 402-270-4942. Preorders are due by Feb. 4, and the majority of preorders can be picked up during the event or will be delivered separately.
"Like a couple of preorders I got already, we'll probably deliver if not Saturday night then Sunday morning so that way they can have it in time for the game that night," Brewster said. "If they want it Saturday night, we can make it happen but it's just a matter of, well, waiting for all the meat to cook."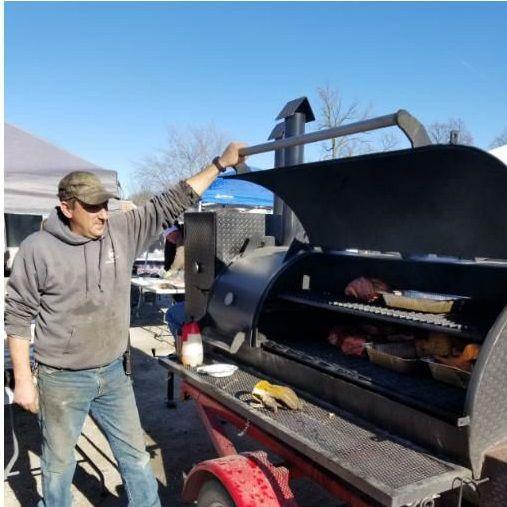 Brewster is hoping the weather cooperates that weekend so more people will be inclined to stop by the fundraiser.
"It's mostly not the cold that bothers us; as long as we don't get an ice or snowstorm the night before or the day of because that keeps a lot of people at home," he said. "We like to see nice weather so that people come out. Especially after the holidays now and the mask mandate is being lifted now, people won't be so afraid to come out."
Kollath said that any donation, big or small, is greatly appreciated by the Center for Survivors. Especially as within the past few months, she added, the nonprofit has seen an increase in clients.
"One of the most difficult parts of a pandemic is the isolation people experience. This leads to many (domestic violence) victims being isolated with their abusers which makes it even more difficult to reach out for help," Kollath said, in a Monday email, noting that added stress from factors such as job loss, financial problems and substance abuse often makes those situations worse. "As restrictions were lifted and more clients began reaching out for help, we found the cases were more complex and the need for resources and advocacy has grown."
Although community members are stopping by to support the center, Kollath hopes they show their support to the Pitmasters as well.
"They've been doing this for five years and they work so hard and donate so much of their time and their energy to do this," Kollath said. "Just even to come by and say hi to them is a fantastic thing."
Editor's note: To finish off 2020, staff members of The Columbus Telegram's newsroom are tak…