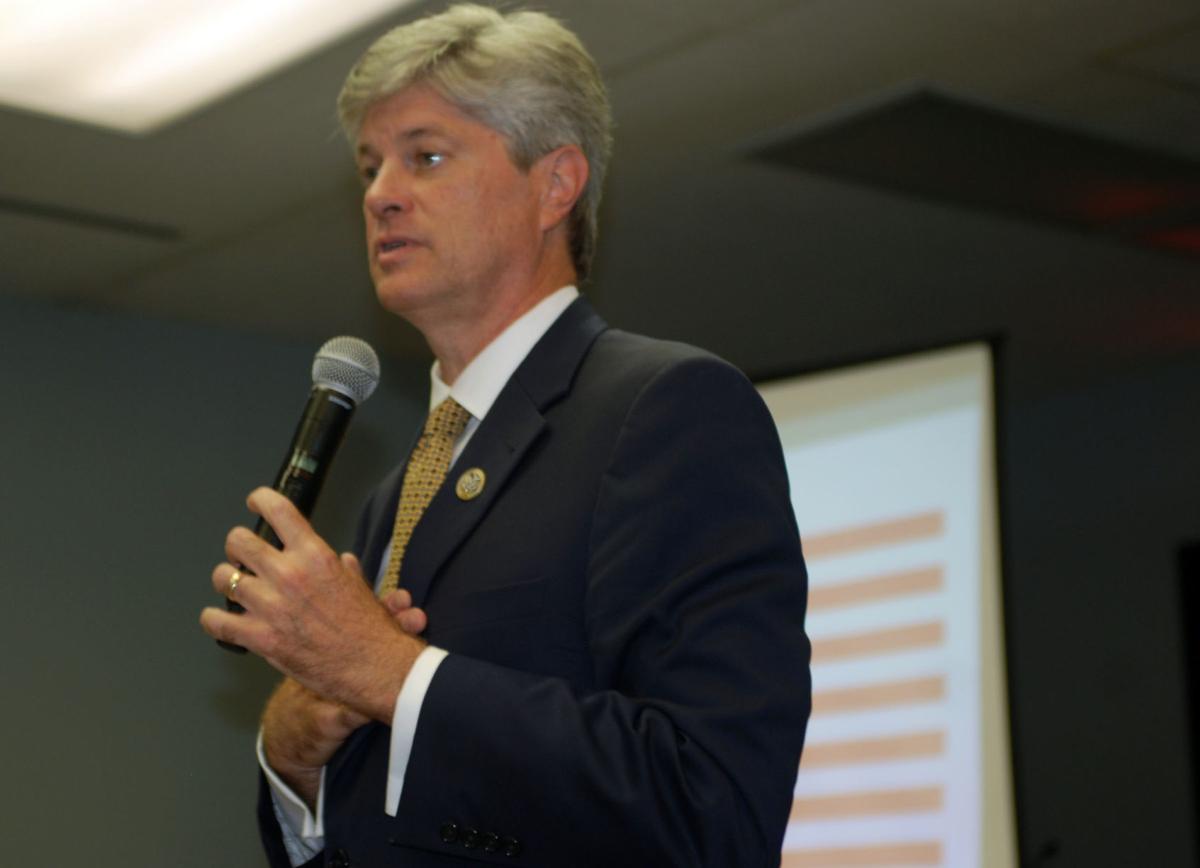 Nebraska Congressman Jeff Fortenberry told a Columbus town hall meeting attended by a crowd of about 50 people Tuesday that he is working toward health care reforms that will offer more affordable health care insurance that will slow the spiraling costs now facing rural communities.
As a member of the House Appropriations Committee, the Republican representative is currently working on crafting the Rural Health Insurance Act and ensuring it remains embedded in the five-year 2018 Farm Bill that is expected to come up for a vote in the House late this fall or early in 2019.
"I'm proud of this partial health care solution," Fortenberry told a packed crowd with potential voters in this year's Nov. 13 general election inside the Columbus City Council Chambers.
Fortenberry, first elected to Congress in 2004 and seeking his eighth two-year term this fall, said the provisions of the act have some basic ideas of how to help small rural businesses and farmers with access to health care.
"It could be some significant help (for a problem) that is a drain on the farm economy," he said during the approximately 90-minute session.
A local small business owner in attendance described a health care situation that chews up his employees' salaries, often consuming one-third of their income in insurance premiums and up one-half when deductibles are added into the equation.
"I have farmers come into my business to buy seed corn and they're afraid it'll kick 'em off their health care," the businessman said. "It's just a total mess."
Fortenberry didn't take any convincing.
Farmers and small businesses in rural communities often have to buy insurance on the individual markets, sometimes paying as much as $35,000 to $40,000 a year for coverage, Fortenberry said.
He said other individuals have to leave the farm unwillingly to work at a job they don't like because of the availability of health insurance benefits.
"They have to pay it and it's not necessary," he said. "Why can't we have a mechanism for farmers and small businesses to access group policies. It would be a dynamic change."
The Rural Insurance Act now includes health savings accounts, insurance policies in the case of catastrophic health issues and enhanced policy choices that would substantially reduce insurance price pressures fueled by younger, healthier people pulling out of the insurance risk pool, Fortenberry said.
These reforms, he said, would help farmers and people who work for small businesses around the Columbus area.
Those attending the town hall also peppered Fortenberry for his views on enhanced security and Congressional funding for President Donald Trump's wall along the southern border aimed at curbing illegal immigration.
"I support enhanced border security," the congressman said.
"We need to be smart about it," he said, adding the southern border already has about 600 miles of barriers.
Fortenberry told his audience he supported moving away from an immigration lottery system and he backed DACA, Deferred Action for Childhood Arrivals, an immigration policy that allowed some individuals who were brought to the United States illegally as children to stay here over time.
DACA did not provide a path to citizenship for recipients. The Trump administration initiated plans in September 2017 to phase out the program.
Jim Osborn is a reporter for The Columbus Telegram. Reach him via email at jim.osborn@lee.net.