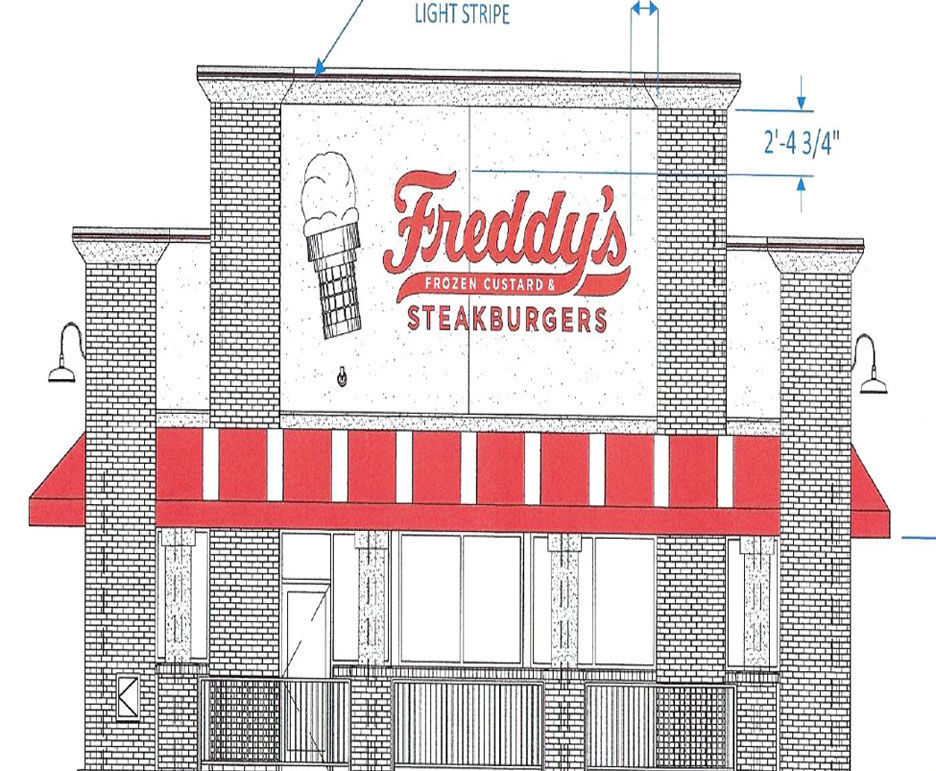 Lincoln-based WHO Development, the face behind the Bomgaars, Hampton Inn Hotel and four-story interior corridor apartment complex projects happening along West 23rd Street, is in the process of trying to bring a Freddy's Frozen Custard & Steakburgers restaurant to Columbus.
Freddy's Frozen Custard & Steakburgers is an American fast-casual restaurant chain based in Wichita, Kansas. Its menu includes steakburgers, Vienna Beef hot dogs, and chicken sandwiches. The company also provides frozen custard with a variety of specialty sundaes and more.
This week, the first step in bringing the fast food chain to town was checked off when the Planning Commission unanimously recommended that the Columbus City Council vote in favor of a second supplement to the redevelopment plan entitled "Amendment to the 33rd Avenue and U.S. Highway 30 Redevelopment Plan" for Phase II of the WHO Development Redevelopment Project.
The estimated $3,351,000 project if approved by the council is slated to take about 11 months to build and would bring in eight new full-time jobs and 10 part-time jobs to Columbus, according to information provided by City staff. The project aims to benefit from tax-increment financing, just like projects in WHO's Phase One of building. Staff Report information shows that estimated TIF-eligible project costs, available for areas in a municipality deemed blighted and substandard, sit at about $351,000.
Planning Commission Representative Steve Anderson said that the action taken earlier this week was necessary to get the ball rolling on Phase Two of the project.
You have free articles remaining.
"What ends up happening is that this is a multi-phased project, and so there was a plan and agreement about the entire project," Anderson said during an interview with The Telegram. "… And then as phases come up – and the first phase was Bomgaars, the hotel and apartment building, that phase was approved (by council) … And now, what came up yesterday was the second phase, and that is the restaurant."
According to Staff Report information, if Freddy's makes its way into town, it will generate a projected $20,000 annually in sales taxes for Columbus, and the goal would be to use local constructors and contractors if possible. The restaurant falls into all the right parameters with joining a B-2 zoning district, meaning additional action wouldn't have to be taken on that front.
Columbus Mayor Jim Bulkley, echoing Anderson's sentiment, noted how various components of the Freddy's project will now have to make their way through council, and in reference to the TIF component, the Community Development Agency.
"I just think it's great, it's another movement forward with the redevelopment of that old Walmart site," Bulkley said. "Freddy's is a nice addition to town and we are excited about it."
While a definitive time frame is not intact, the mayor said he anticipates the project coming together in a timely fashion.
"It's moving forward quickly," the mayor said. "I know we want to get going on this pretty fast."
Sam Pimper is the news editor of The Columbus Telegram. Reach him via email at sam.pimper@lee.net.